---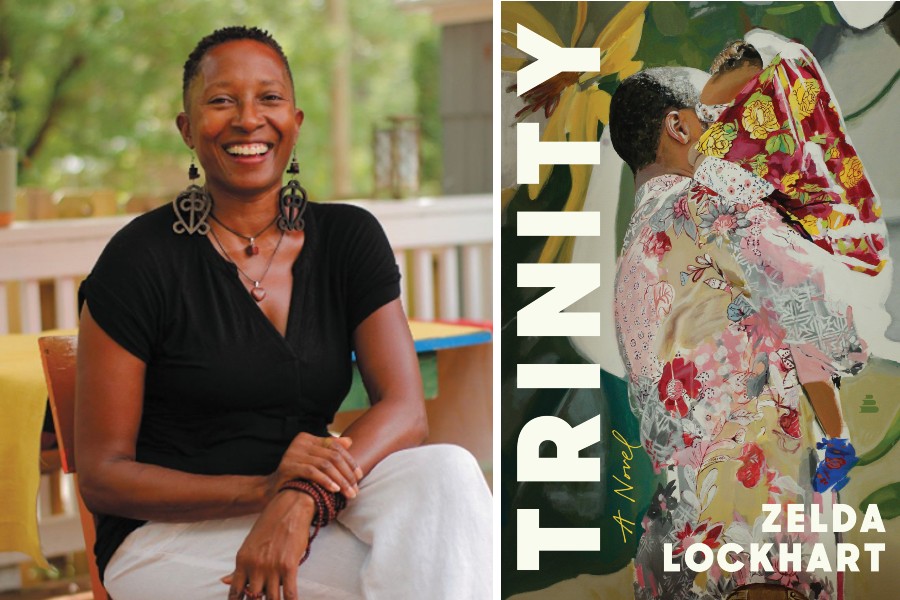 by Editor Eartha Watts Hicks and Judy C. Andrews
I'm Eartha, and it's no secret that I love books. I am so immersed in the publishing world that I often find myself inundated with copies from writers I have known for many years.
I recently promised myself I'd return to reading the books I would choose because I like them, and however unusual, something about the book itself appeals to me. Trinity by Zelda Lockhart is one of those books.
I have asked my sister-friend and fellow member of the Harlem Writers Guild, author/publisher Judy C. Andrews, to partner with me on a critique of this masterpiece, almost in a fashion Gene Siskel and Roger Ebert would have delivered if they were alive and well today and were Harlem-affiliated, Black women.
From Judy C. Andrews
Trinity is one of the best books I've read in a long time, and I didn't want it to end. Trinity, which debuted in July 2023, is a spiritual journey detailing the sacrifice, struggle, and love of an African American family experience over several decades and generations, from The Great Depression to 2003. The passionate narrative takes readers to rural Mississippi, Missouri, and North Carolina. It also covers the encounters of the major characters during World War II, The Korean War, and the Vietnam War, and also takes readers to Ghana. The book's first line lets the reader know that a spirit of love from the Motherland will be a guide that will travel with the reader while protecting the characters.
The book's language and use of personification and imagery are so powerful and profound that they can bring a reader to tears or even joy. Trees have lashes and wooly hair. Cicadas sing or cry in the background. Wind sings along with characters in a car ride through Ghana. The rain whispers. There are hundreds of more examples throughout the book. Lockhart captures the comforts and tragedies of nature, the longing for a connection to The Motherland, the spirit world, and the symbolism of Sankofa throughout the novel in prolific, endearing, and stunning ways, especially the symbolism that represents Sankofa, as well as its symbols of the bird and the heart, often connected to motherhood, nurturing, and parenting. After all, Earth nurtures humanity.
The first line in the prologue grips the reader: "When the Black bodies have to let go and the spirits exist, they are able to come to folks and tell them all of the mistakes made in the flesh and lessons learned after the flesh." That carried me to a world reminiscent of my own experiences that I related to in the novel, such as my father and great-grandfather leaving loved ones to fight in wars that they presumed would aid in their freedom, economic stability, and respect upon returning, but failed them miserably in reality when they did return. I 'knew' the men and women in this story, from their spirits of hopelessness to their spirits of resilience. They reminded me of the people in my own family and the African American neighborhoods I've lived in, from the Chinese restaurants that sprinkle most blocks in those neighborhoods with plastic, bullet-proof protection to the accompanying liquor stores that mostly sit parallel to the restaurants.
Amidst the riveting tragedies of remnants left over from African American enslavement, the idea that a 12-year-old girl can be exchanged for land as payment as well as property and wife to a man in his 60s, and the ravages of mental illness created by war are the heart-stopping histories of a people who still found enough humanity to love one another. There is a belief that the spirit of ancestral motherhood 'walks' with them. The endearing love of mothers and their children comes alive in the body and spirit of Lottie Rebecca, who also carries the spirit of generations of mothers as well as forgiving love for generations of fathers. Her presence honors her family. Her present connects her to her family's past. Her presence prepares her for a future where her spirit will surely be.
Trinity reminds me of books I've read by Toni Morrison and Alice Walker. This book is a healing treasure. It shares how true freedom can overcome a world plagued by heartache.
Eartha Watts Hicks
Yes! If you love books by Alice Walker and Toni Morrison, Trinity is right up your alley! Trinity, the novel by Zelda Lockhart, is pure art in its magnificence, both whimsical and fiercely courageous. In every Black American's family history, some unspeakable and unthinkable trauma leads us to recognize that we are miracles simply by existing. Zelda Lockheart nailed that concept and gave us balm for generational curses through her character, Lottie Rebecca. Like the seeds that we are, Lockheart transplants her characters across the United States, to and from Ghana, and through these travels, she nourishes readers with the landscape of mother lands. Lockhart also connects readers to each character through their labors, the works of their hands, and the settling of their unsettled spirits. Trauma is a bell that rings continuously without resolution. While readers may recognize those in our lineage waded through the deep end of turmoil, this novel offers an opportunity to reconsider our connections, let go of judgment, reconcile, and set them free with gratitude.
From the Publisher
Trinity (Amistad; July 4, 2023; $27) is the riveting story of the daughter-spirit born to stitch love back into the scattered wombs of her Black mother and call love back into the fishing blues songs of her Black male kin. Lottie Rebecca Lee is the Divine-spirited daughter born to set everything back upright again in this daringly original novel.
Eartha Watts Hicks is the founder of Earthatone Enterprises and publisher of Love Changes and A Planner is a Girl's Best Friend. She's the Executive Editor at Harlem World Magazine. Connect with her across Social Media @Earthatone or visit https://Author.to/Earthatone for more information.
Judy C. Andrews received a Master of Arts degree in English/Creative Writing and a Bachelor of Arts degree in Liberal Arts and Sciences from The City College of New York. Judy has worked as an educator, freelance writer, and editor, and she is the author of A Gift to Treasure. For more information about Ms. Andrews, visit www.Blessedbrown.com.
Photo credit: Book cover and Zelda Lockhart.
---