---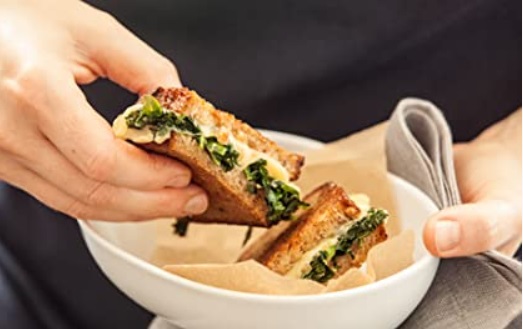 Sneak soft-cooked greens into the middle of a warm grilled cheese sandwich to add a bit of nutrition to this comforting meal. Substitute your favorite greens for kale if you like, and try with oozy Taleggio cheese for a sophisticated twist.
Method
In a large skillet, heat 1 teaspoon olive oil over medium-high heat until hot.
---
Add kale, garlic, salt, and pepper. Cover and cook, stirring occasionally until kale begins to wilt, about 5 minutes.
---
Uncover, reduce heat to medium and continue to cook, stirring frequently, until kale is very soft, about 5 minutes.
---
Arrange 4 bread slices on a work surface. Top each with one slice of cheese, an even layer of the kale, another slice of cheese, and then a piece of bread.
---
Brush both sides of each sandwich with remaining olive oil.
---
Heat a large nonstick skillet over medium heat until hot.
---
Place stacked sandwiches in the pan and cook until bread is golden brown and cheese has melted, pressing flat with a spatula occasionally, 4 to 5 minutes per side. Serve immediately. Depending on the size of your skillet, you might need to cook these in batches. If so, the first batch can be kept warm in a 200°F oven while finishing the second batch.
Ingredients
2 tablespoons

 extra-virgin olive oil, divided

1 clove

 garlic, thinly sliced

1 bunch

 (about 8 ounces) kale, thick stems removed and leaves shredded

8 slices

 whole grain bread

8 slices

 Swiss or Le Gruyère cheese (about 8 ounces total)

1/4 teaspoon

 kosher salt

1/8 teaspoon

 ground black pepper
Nutritional Info
Per serving: 410 calories (200 from fat), 22g total fat, 11g saturated fat, 50mg cholesterol, 350mg sodium, 31g carbohydrates (5g dietary fiber, 4g sugar), 24g protein.
Note: We've provided special diet and nutritional information for educational purposes. But remember – we're cooks, not doctors! You should follow the advice of your health-care provider. And since product formulations change, check product labels for the most recent ingredient information.
Via source.
---