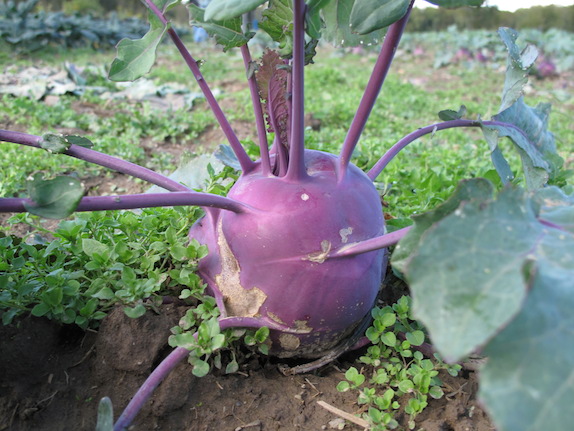 Locavore Chef Deborah Madison always has a way with words, but we were particularly struck by her feelings about kohlrabi. According to Wikipedia, the name kohlrabi comes from German, with "kohl" meaning "cabbage" and "rabi" implying "turnip." It's a German cabbage turnip.
Perhaps that's why in her book Vegetable Literacy, Madison gives it to us in this way: "Kohlrabi are oddballs, I must say." (page. 165) But aren't oddballs often the most lovable sort? We venture to say that's the case here. Madison goes on to recommend using kohlrabi as you would turnips, "braised with radishes, roasted with thyme, in a soup," for example. Ok, sounds intriguing…
We'd like to share a favorite kohlrabi recipe from our online Recipe Box, especially given that it also features juicy Hudson Valley apples. It originally comes from the Farm Girl Cooks blog. Its author, Kasha, is not a classically trained chef. Rather, she is a farmer who gets inspired by what grows around her and creates excellent recipes with her seasonal produce.
Eaten raw, kohlrabi is cool, crisp, and mild. It's the perfect partner to a sweet apple — Macouns and Jonagolds come to mind. This recipe brings kohlrabi in from its misfit status and gives it a home, right in the middle of an autumn salad. We hope you enjoy it as much as we do.
Kohlrabi & Apple Salad with Walnut Vinaigrette
Ingredients
1 tablespoon cider vinegar
3 tablespoons roasted walnut oil
1 1/2 teaspoon honey
salt and pepper to taste
1 medium apple, unpeeled, cut into matchsticks
1 kohlrabi, medium to large, peeled and cut into matchsticks
1/4 cup walnut pieces, toasted in dry skillet
1 tablespoon minced chives
1/2 teaspoon minced lemon thyme
Whisk together first 3 ingredients then season with salt and pepper. Stir in apple matchsticks as you cut them and the acid will keep the apple from oxidizing and turning brown. Stir in remaining ingredients, taste for seasoning and serve. If you prefer it crisp, eat it right away. If you like things not quite so crunchy, the salad mixes well overnight and will have a soft texture the next day.
Related Articles
---