---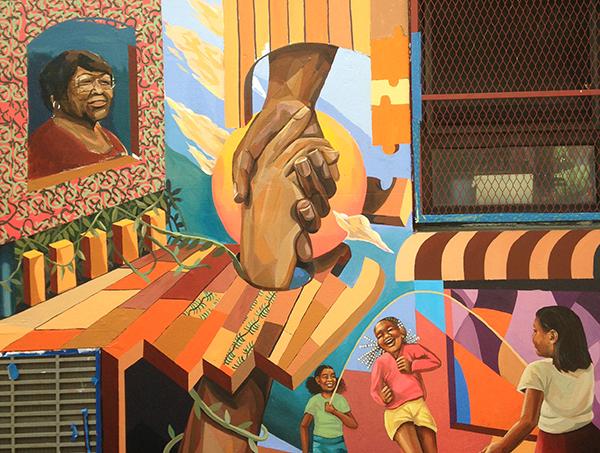 In Harlem, a team of young artists engaged local elders through the creation of a mural that has transformed the entrance to the Saint Nicholas Houses Senior Citizens Center.Their mural brought together different generations to inspire new perspectives on technology, community engagement, and youth activism. This mural is the third and final community mural in a series created with the nonprofit Groundswell to recognize the rich history of the Saint Nicholas Houses.
The mural, entitled "Bridges," will be unveiled at a dedication on Wednesday, August 31 at 1 pm.
The youth artists worked as part of Groundswell's two-month long flagship summer youth employment program, the Summer Leadership Institute, presented in collaboration with the Saint Nicholas Tenant Association, New York City Council Member Ritchie Torres, and New York City Housing Authority (NYCHA). In lessons facilitated by Lead Artist Jose de Jesus Rodriguez and Assistant Artist Marina Perez-Wong, the young artists researched, designed, and fabricated the mural.
This mural is part of Groundswell's larger "Public Art / Public Housing" Initiative, in which five developments identified from the Mayor's Action Plan (MAP) for Neighborhood Safety, one in each of the five boroughs, have co-created three mural projects, for a total of 15 new public artworks throughout the city.
The design uses architectural elements of the exist wall-such as windows, vents, and staircases-to break-up the composition of the mural, and to introduce new narratives. From the team's research phase, the youth artists found four common threads in the conversations they had with members of the community: technology, respect, recreational activities, and comfort zones. These keys words influenced their choice to center the mural on public communal spaces, such as parks and gardens. Both young and old are seen interacting in harmony and respect. Hands reach out for one another throughout the mural, to further emphasis connectivity between generations. Throughout the mural, children play games which have been played for decades, uniting the community of Saint Nicholas across time.
"Groundswell's programs, including the Summer Leadership Institute and the 'Public Art / Public Housing' Initiative, which engages youth in public housing, have resulted in astonishing murals throughout the City depicting themes of social justice and equality. They truly are inspirational and will leave a lasting impact on public housing developments. Groundswell and the City Council have had a successful collaborative relationship to lift up public housing residents and the results will now be visible throughout the City," said Council Member Ritchie Torres of the Bronx.
"Thanks to the hard work and creativity of our young resident-artists, five developments across New York City are more beautiful than ever before," said NYCHA ( www.nyc.gov/nycha) General Manager Michael Kelly. "Vibrant public spaces like these give residents more reason to be proud of where they live – and NYCHA could not be prouder to share these works of art with all New Yorkers. With the leadership of Council Member Torres and the Groundswell team, our residents were able to tell their stories through painting – and those stories will live on at our developments for years to come, creating more connected NYCHA communities."
"Throughout the creation of 'Bridges,'the young artists worked closely with elders to develop narratives, themes, and images for their design. The result of these dialogues is a series of lovingly rendered snapshots that capture the vitality of intergenerational mentorship and support at Saint Nicholas Houses. Elders and young people are brought together across these painted walls to play, learn from one another, and strengthen their community through social engagement," said Groundswell Interim Executive Director Rob Krulak.
Through the mural-making process, the artist team became energized to become more involved in their communities. Youth artist Samantha Pierre-Paul (17) said, "I always knew there was a disconnect between the elderly and youth, but I didn't realize how big the gap was. I've become more connected with my own community. I speak to at least two elderly women regularly because I want to connect us better after finding out there was a separation. I'm more aware. This awareness makes me want to be a part of the community in a physical way, like showing up to community meetings, creating events, and so on."
By using art as a tool for social change, Samantha and her fellow young artists will strengthen the bonds between different generations at Saint Nicholas Houses and will inspire future generations of leaders in Harlem.
uitable world. Our projects beautify neighborhoods, engage youth in societal and personal transformation, and give expression to ideas and perspectives that are underrepresented in the public dialogue.
www.groundswell.nyc
Mural Dedication: Wednesday, August 31 at 1 pm
210 West 131st Street, New York, NY 10027
Related Articles
---