---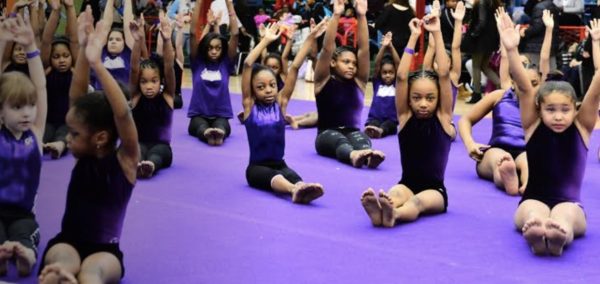 Wendy Hilliard Gymnastics Foundation (WHGF), a not-for-profit organization that provides free and low-cost quality gymnastics programs for urban youth, is proud to present the fourth Annual Harlem Gymnastics Invitational.
The fourth Annual Harlem Gymnastics Invitational will be featuring competition for Women's Artistic, Rhythmic and Trampoline and Tumbling participants along with new youth Parkour and Power TeamGym competition.  Youth athletes from all over the nation, including approximately 100 local Harlem students, will compete at the invitational Friday, February 19th through Sunday, February 21st. 
Extending the WHGF mission to bring the sport of gymnastics to urban and underserved communities, admission to the event will be FREE so friends and family of competitors as well as the Harlem community can come enjoy this exciting competition.  On Sunday, spectators will be treated to "Showtime in Harlem," a performance by all of the WHGF's students, ages 5 to 17 – giving the opportunity for gymnasts of all skill levels, from beginner to elite, to be a part of a live, sanctioned gymnastics competition!
The event will take place at the historic Harlem Armory, which is managed by the Harlem Children's Zone (HCZ).  The HCZ partners with the WHGF to provide gymnastics programs to their students as well as the community throughout the year.
Founder Wendy Hilliard, Hall of Fame rhythmic gymnast and the first African-American to represent the U.S. in international competition says, "We are thrilled to continue to grow this annual competition bringing visitors from all over the United States to the heart of Harlem while being able to share the sport of gymnastics with the local community.  I'm excited for my students of all skill levels and their families to experience a live gymnastics competition in their own neighborhood.  Interest in the sport is exploding especially since the recent Rio Olympics.  Our goal is to ensure that all aspiring athletes have access to affordable training specifically in underserved urban areas."
"The Invitational is an inspiring event on many levels. We are delighted to help create the opportunity for so many young athletes to compete and to make this great event easily accessible for our kids locally," says Anne Williams-Isom, CEO, Harlem Children's Zone. 
After two decades of successful programming in Harlem, NY serving more than 17,000 local youth, developing elite athletes and international gymnastic performers in the process, Hilliard recently expanded her foundation and is now offering gymnastics programs in her hometown of Detroit, MI. 
To register for programs or for more information on the WHGF, please visit: www.wendyhilliard.org
Be sure to check out the WHGF blog throughout February for our tribute to Black History Month which profiles dozens of Black Gymnasts in History.
Related Articles
---