---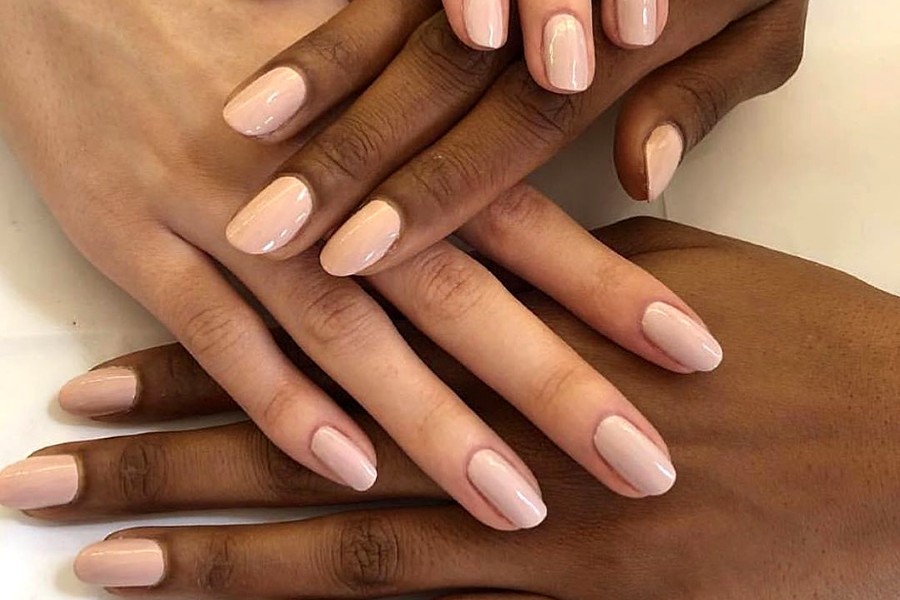 Maybe you are planning to get your first manicure in a long time, or perhaps you are interested in trying a different manicure style at your upcoming appointment.
Even if you know the basic differences between dip powder and gel manicures, deciding on a manicure type and knowing what you want when you walk into the salon requires a bit more information. To help you decide what manicure style to embrace at your next nail salon appointment, check out this complete guide on all the ins and outs of gel polish and dip powder manicures. 
Dip Powder
Basics: Essentially, dip powder is a pigmented powder that a technician will apply to your nail using a tough adhesive and then "cure" using another liquid. The application process from start to finish, however, is more complicated and involves many steps.
Application Process: To start, the technician will gently remove any old manicure left on your nails and have you thoroughly wash your hands and nails for a fresh, clean start. Once the nails are clean and dry, the nail tech will apply an adhesive coat to the nail, which will then be "dipped" into a powder. The powder will be colored already. Sometimes, to achieve the true color you selected, this process will have to be repeated multiple times. Once the desired color is achieved on each nail, the technician will harden or "cure" the nails using what is called a sealer activator. This is a liquid coat that unites and solidifies the layers of adhesive and powder. After applying a clear top coat, the manicure is finished.
Time and Cost: One benefit to choosing a dip powder manicure is that this type of manicure requires no extra drying time. However, because of the many steps involved, the manicure will still take around 50 minutes to complete. The cost for this manicure style will vary depending on your location, but as a general rule of thumb, dip powder manicures do tend to be more expensive than gel manicures.
Longevity: Another thing to note about dip powder manicures is that they tend to last longer and are more durable than gel polish manicures, lasting upwards of 3 to 4 weeks compared to 2 weeks for most gel manicures.
Removal Process: As far as removal goes, dip powder is a bit tougher to remove because of its overall durability. To make sure you do not damage your nails during removal, ideally you should aim to have a professional nail technician remove your manicure for you. To soften the manicure for a damage-free removal, your technician will soak your nails in acetone using cotton and foil. Once the manicure is softened, they will gently scrape and/or file away whatever remains. The longer it has been since the manicure was applied, the easier it will be to remove.
Try these instructions for removing dip powder at home, developed by SNS.
Gel Polish
Basics: Gel manicures are very similar to traditional manicures, as they use coats of liquid, pigmented polish. However, unlike traditional manicures, gel polish needs to be cured between each coat of nail polish using a UV light.
Application Process: Like traditional polish, gel polish is applied to the nail in liquid form, and the polish itself is already pigmented. After cleaning and prepping your nails, your nail technician will apply the base coat of gel polish, which is clear, to the nail. Once applied, you will have to place your hands under a UV lamp to harden the coat of polish. This process is repeated with the colored polish and again with the top coat, which is applied after all layers of colored polish have been applied and cured.
Time and Cost: Between each layer of polish, the nails will have to stay under the UV light for 30 seconds to a minute. Because of this, the manicure can take up to 45 minutes, start to finish. Like dip powder manicures, the cost of a gel manicure will vary depending on location, but generally the price point for gel manicures is very close to dip powder, typically slightly less.
Longevity: As discussed above, gel manicures do not typically last as long as gel powder manicures. For most individuals, a gel manicure will last approximately 2 weeks. However, the lifetime of a gel manicure, like any manicure, can be shortened or extended depending on wear and tear and how well you treat your hands and nails.
Removal Process: The removal process for gel manicures is very similar to that of dip powder. However, because gel manicures are not as thick or hard as dip powder, it is generally easier to remove.
In Summary
Dip powder and gel manicures have different application processes but are very similar in terms application length and the amount of steps involved.
Dip powder tends to be more expensive than gel manicures, but price varies depending on location.
Dip powder lasts weeks longer than gel polish and is more durable, making it ideal for those who work a lot with their hands or who want to space out salon appointments as long as possible.
Gel manicures are less likely to be contaminated in the salon and are therefore more hygienic.
Neither manicure type requires any drying time, unlike traditional polish.
Gel manicures require the use of a UV light, which can be harsh on the skin.
Both gel and dip powder result in a bright and brilliant finish, but gel will be thinner and look slightly more natural than dip powder manicures, making them ideal for those who prefer understated nails.
The removal process for both manicure types is essentially the same; however gel is typically easier to remove.
Gel manicures are generally more widely available than dip powder manicures. As of 2019, only 62% percent of salons in the US offered this service, compared to 85% that offered gel manicures. 
Both dip powder and gel manicures are considered minimally damaging to nails, as long as they are applied and removed correctly.
---