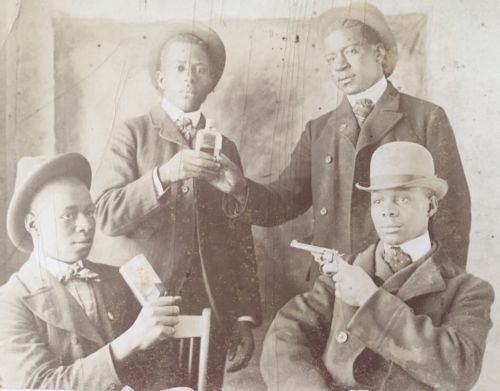 Here's a great prohibition photograph of young Harlem gangsters with guns, serving up whiskey bottles, and dressed to impress in ties, hats, heavy winter coats and suites in Harlem, New York, 1920's.
It's not too far-fetched that these young men could have worked for Stephanie "Queenie" St. Clair, "Queen Of The Harlem Racket," during the era of prohibition from 1923 to 1935 where there were hundreds of illegal drinking holes speakeasies – which were often just a hidden room with barely drinkable booze – like these youngsters in this cabinet photo. The prohibition also included legit Harlem hot spots like Small's Paradise, Ubangi Club, the Cotton Club and many, many more.
Via source
Related Articles
---
VIDEO
---
"Dr. Harry Delany is a renowned Harlem born and raised surgeon, the son of the great jurist and civil rights leader, Hubert Delany...." This monthly post is made in partnership with Harlem Cultural Archives.