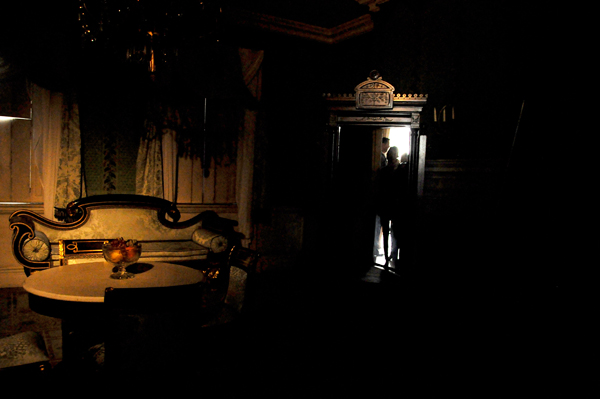 By Johanna Vermeer | Photos by Diane Allford
Upon entering the Morris-Jumel Mansion there is a room to the left.  Looking in, there is a mirror showing us, the visitors, ourselves.  Or does it?
So begins the narrative of this strange but remarkable show by the English-born Nigerian Artist, Yinka Shonibare MBE: Colonial Arrangements. Shonibare's art explores identity, race, gender and the cross-pollination of cultures through the use of life-sized mannequins adorned in period costumes made of African print fabric.  Colonial Arrangements is a site-specific exhibition and marks the 250th anniversary of the Morris-Jumel Mansion, who commissioned the work.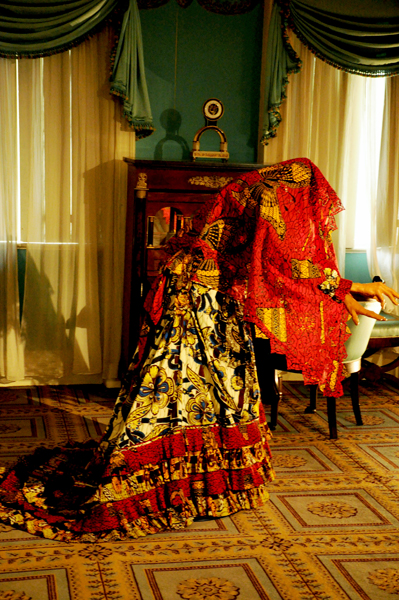 Set within the Mansion's interior, Shonibare's work examines Morris-Jumel's multilayered history.  The mannequins are spread over several period rooms and they appear to have invaded the mansion as if the outside finally has been let indoors.  The main character and the work especially created for the show is Eliza Jumel, wandering like a ghost, arms stretched forward.  She also makes a surprise appearance if you watch closely. The other mannequins are of children at play.  They each inhabit a period room, are all headless, insular and frozen in the midst of their activity.  It is when turning away that they come to life.  Wandering from room to room, floors are creaking and slowly the story unfolds and breathes air throughout the mansion.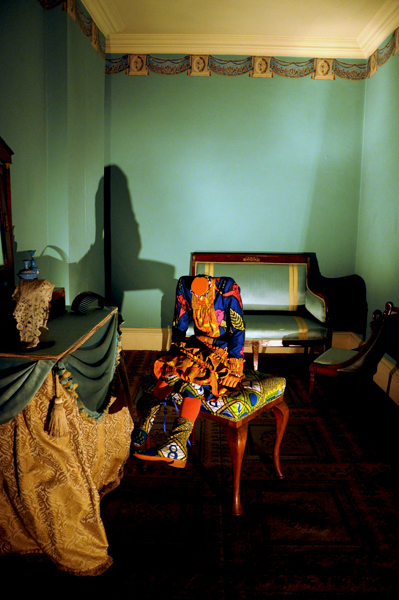 By the way, those African wax print fabrics originated in Indonesia. The batik textiles were then introduced to Africa by British and Dutch merchants-colonizers. This, and the presence of the not quite African-dressed, certainly not white but also not black, headless mannequins in the colonial Morris-Jumel Mansion raise a host of questions.  All the more reason to go and visit.

Yinka Shonibare MBE: Colonial Arrangements

Continuing to August 31, 2015
Morris-Jumel Mansion, 65 Jumel Terrace, New York, New York, 10032, 212.923.8008.
---
---
Related Articles