---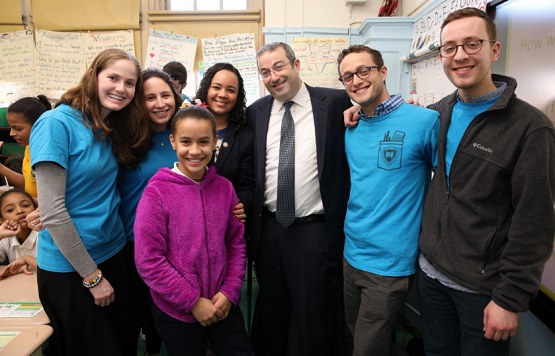 On April 20, 2018, Yeshiva University students were joined by YU President Rabbi Dr. Ari Berman and New York State Assemblywoman Carmen De La Rosa as they led an educational science module for fourth grade students at P.S. 189.
The students are members of the START (Students, Teachers, and Researchers Teach) Science club, a group which has been running science modules in local public schools since it was founded by YU students Yair Saperstein '13YC '16E and Ari Cuperfain '13YC in 2011. This year, more than 300 YU students have led START Science modules in 10 different classrooms across three different schools.
"In START Science, participants have the opportunity to both enrich the students in the local area and be enriched by them," said Dr. Berman. "The program exemplifies the type of leadership and personal initiative we try to instill in everyone who comes through the doors of Yeshiva University."
Along with Dr. Berman and Assemblywoman De La Rosa, YU students led a module that taught elementary students about phases of matter and freezing point depression through the process of making ice cream. The YU students work to make all modules both engaging and instructional; past activities have included everything from building baking-soda volcanoes roller-coasters to dissecting frogs, a student favorite. They also add notes in both English and Spanish to the slides to make sure all the students can understand them.
"The most rewarding moments are when the students tell me that they saw a practical application of one of the experiments at home," said START Science Co-President Lily Ottensoser said.
"We hope that our students will carry those positive associations with the STEM topics throughout their academic careers," said START Science Co-President Akiva Schiff. "When they have the choice to take a science or AP elective in high school, they will be less intimidated, and more confident in their abilities to participate in these fields."
In addition to joining START Science on April 20, Assemblywoman De La Rosa attended the fourth grade START Science graduation ceremony last June. "I'm proud of the collaboration between Yeshiva University's START Science and P.S. 189," she said. "It shows our children that they too can learn about science and reach their potential as future scientists. It makes a big difference in the lives of our students as part of a working class community to be mentored by the YU students in their own community. They have the ability to all come together learn science together and it is magical."
"Yeshiva University and the entire Washington Heights community is fortunate to have a strong partner in Assembly Member De La Rosa," said Director of Government Relations Jon Greenfield. "We're pleased that she could join Rabbi Berman and students at P.S. 189 and experience first-hand the great work our START Science students are doing to educate the next generation of New Yorkers in critical STEM fields."
"START Science is P.S. 189's best-kept secret," said Principal Juana Estevez.
Photo captions: (right to left) Lily Ottensoser, Aleeza Dessau, AM De La Rosa, President Rabbi Dr. Ari Berman, Akiva Schiff, Ben Katz.
No related posts found...
---