---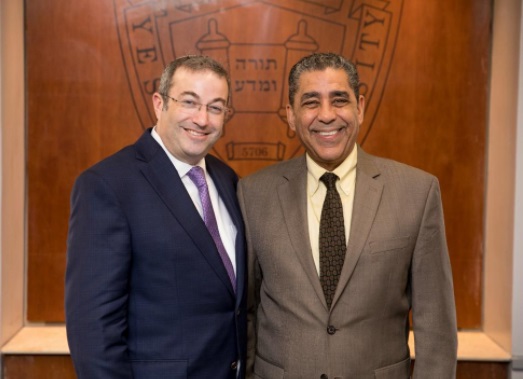 Congressman Adriano Espaillat, representative of New York's 13th congressional district, visited Yeshiva University's Wilf Campus. He was greeted by YU President Rabbi Dr. Ari Berman and Andrew Lauer, vice president for legal affairs, secretary and general counsel at YU. Together, they discussed community engagement opportunities for the University.
"Yeshiva University is an epicenter of education in the Jewish community, both in the United States and around the world," said Espaillat. "I look forward to working with President Rabbi Dr. Ari Berman to further Yeshiva University's mission as an educational institution and a strong partner in our diverse upper Manhattan community."
Espaillat also sat down with student club representatives to hear about ways in which YU is already giving back to its community. These clubs included START Science, whose members teach science through fun activities at local public schools; Music Vs., whose students share their musical talents with elderly nursing home residents and hospital patients; and The Eruv, a club that runs programing with senior citizens in the area as well as in local soup kitchens.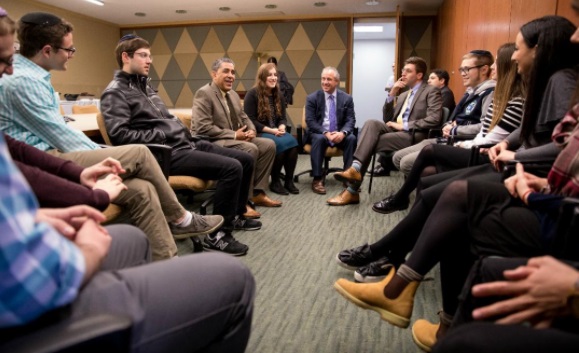 In addition, Espaillat spoke with students interested in government-related fields and was able to answer questions and offer career advice. "Congressman Espaillat showed his devotion to the cares of his constituents as well as broad national concerns. As someone potentially looking towards a career in civil service, his character inspires me," said Reuven Herzog, a Yeshiva College student who hopes to attend graduate school for urban planning.
"Congressman Espaillat faithfully executes the duties of his office and we are proud to have him serve as our representative," said Dr. Berman. "I look forward to exploring how Yeshiva University can further integrate into the broader community in a way that is mutually enriching."
Visit the YU Web site at www.yu.edu.
Editor's note: This is part of a little known art form called "diplomacy," or speaking to your neighbors. It's an art form that is as old as the seas, but seems to have been lost in recent years.
Related Articles
---