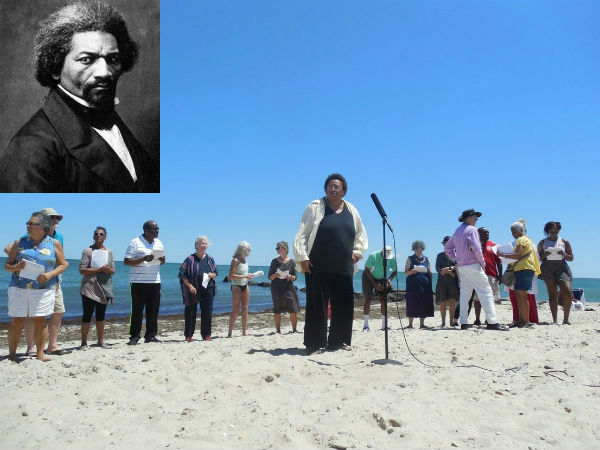 Readers of all ages, races and backgrounds are invited by Renaissance House: Retreat for Writers & Artists in Martha's Vineyard to celebrate Independence Day by being a part of one of the most powerful speeches of all time in America.
The speech, "What Does the Fourth of July Mean to the Negro?" by legendary human rights activist Frederick Douglass taking place at the historic Inkwell Beach in Oak Bluffs on Monday, July 4 at 12:00noon. It's free to the public.
Now in its 10th year as an annual attraction on the island, organizer/host Abigail McGrath, founder of Renaissance House, is calling for more voices to read different sections of the 10,000-plus word address written in 1852 in the midst of slavery.  Following the July 4 readings, there will be a communal potluck lunch on the beach.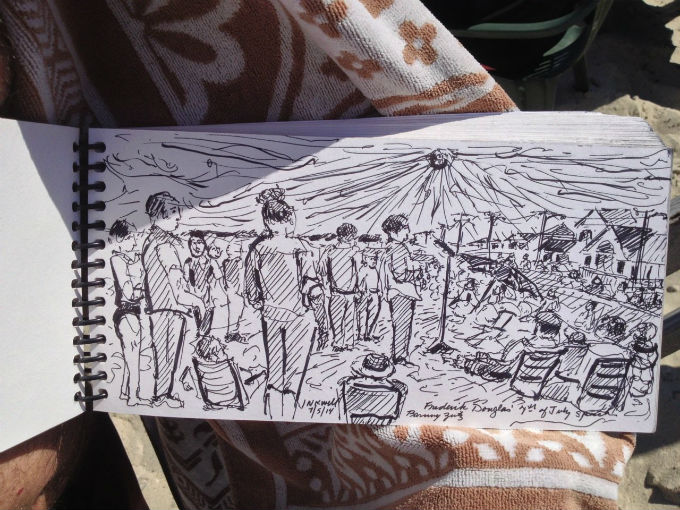 "Each year, the speech performance continues to be an inspiring and invigorating experience.  The readers bring a vibrant life to the words of Frederick Douglass, the first black citizen in U.S. history to hold a high ranking government office," said McGrath.  "Although its been over 150 years since Frederick Douglass delivered his Fourth of July speech at a convention in Rochester, New York, the message still resonates throughout these times and throughout the world where freedom is elusive and the human rights of people are ignored. Some problems which existed in Douglass' time exist today, making his message timeless and universal."
---
Become a Harlem insider - Sign-Up for our Newsletter!
---
But it's Martha's Vineyard that appeals to McGrath who is delighted that her project inspires others off-island. "There is just something about people of all ages, all backgrounds, reading these words, and those words being carried out over the Atlantic waters where millions lost their lives during the Middle Passage," she said.  "And each person brings their own light and energy to these words."
The public is encouraged to be a part of the poignant reading on July 4th. The project's architects include Frederick Collins, a law professor at John Jay College, a fan of Mr. Douglass and a cultural advocate and resident of Oak Bluffs. The editor-producer is Makani Themba, former executive director of the Praxis Project, a grass roots media policy non-profit in Washington, DC.  She has taken the 10,000-plus word address and separated it into selected sections. Readers have also included noted poet Jacqueline Jones LaMon and artist Barney Zeitz.
The Atlantic Ocean, edging the Inkwell Beach at Martha's Vineyard, was the resting place for millions of Africans en route to enslavement in America during the Middle Passage.  On this July 4, the azure depth will form the perfect natural backdrop for public open-air readings of the most powerful anti-slavery message of all time – the Frederick Douglass' 1852 Independence Day Speech.
One of the readers will be young poet Alejandro Grant. "He is a child prodigy poet and the winner of the Afaa Weaver Award for poets outside of the cultural mainstream," said McGrath.  "I would like to thank the many Vineyarders who sent contributions for his scholarship to Renaissance House. He will also be attending Pam Benjamin's Sense of Wonder Camp."
Renaissance House is an annual writers retreat sponsored by the Helene Johnson and Dorothy West Foundation. West, the author of the award-winning novel and film The Wedding, and her poet cousin Johnson (Mc Grath's mother) were writers during the Harlem Renaissance. It was founded by McGrath, an author, playwright and filmmaker, who was the inspiration for the novel The Wedding. Renaissance House provides writers and other artists with a subsidized retreat away from life's responsibilities and the space in which to create new works of art. It is one of the few retreats designed for issue-oriented writers, writers of color and writers of social justice.
To participate in the Frederick Douglass reading on July 4, please call Renaissance House at 917-747-0367 or email Renaissancehse@aol.com. Please check out the website on http://www.renaissance-house-harlem.com/.
Related Articles
---
VIDEO
---
"Dr. Harry Delany is a renowned Harlem born and raised surgeon, the son of the great jurist and civil rights leader, Hubert Delany...." This monthly post is made in partnership with Harlem Cultural Archives.