---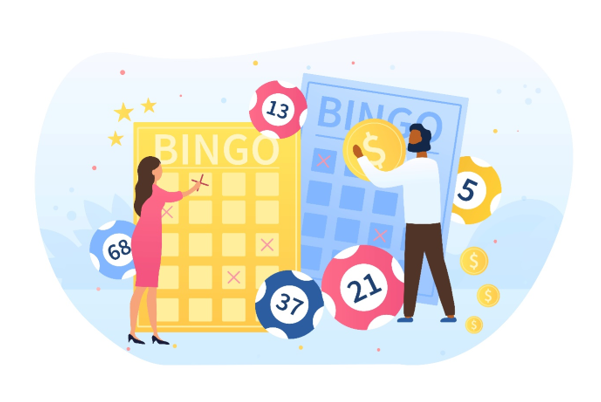 With Bingo landing itself at the forefront of online casino gaming, it's no wonder that there's questions about the game on everyone's lips. When was the game invented? Where did the name come from? How many different varieties are there? Whilst those questions are certainly worth asking, they're all a tad boring – so we've pulled together some of the more exciting facts around, that you can use to wow your friends when you next get together to play online Bingo games on your mobile phone or around the dining room table.
Read on to find out more.
Fact #1
As the story goes, when Carl Leffler was working on creating Bingo cards with a whopping 6,000 combinations, he began to go insane. Leffler worked so hard to ensure that none of the numbers repeated themselves that it eventually tipped him over the edge, and overwhelmed him.
Fact #2
Speaking of combinations, there are approximately 552,446,474,061,128,648,601,600,000 possible number arrangements that could come up on each Bingo card. No wonder Leffler lost the plot!
Fact #3
Out of all the different places in the United Kingdom, Bingo has been found to be the most popular in Scotland. One in five Scottish people play Bingo on a regular basis, compared to the South of England where only one in every 20 people indulge in the game on a regular basis.
Fact #4
However, in the UK it was found that the British people spend a lot more on Bingo tickets than on all forms of football events combined! With this, logic tells us that some of the most avid of football fans out there must also be dabbling in a game or two of Bingo as well.
Fact #5
Although the game might have generated a reputation for being a game more suited to an older audience over the years, Bingo is not only popular with the older generations. The average age of Bingo players is actually under 35! The rise of online gaming has probably played a large part in the surge of younger players, as well as making it accessible for a wider portion of the population. What would we do without the internet, eh?
Fact #6
Bingo is played, and endorsed, by a lot of well-known celebrities, such as:  Kylie Minogue, Denise van Outen, Elle MacPherson and Gary Barlow. Speaking of Mr. Barlow, the Take That star actually used to work as a Bingo caller in his younger years, before he found his fame. His love of the game has remained strong over the years; he even incorporates the game into his touring shows, as a way to entertain his crew. Barlow has also been known to use Bingo has entertainment for his family get-togethers – he just loves the game that much!
Fact #7
When the game first hit the masses in America, it was referred to as "Beano". At this time, players would use beans to cover the numbers on their cards as they were called, instead of using the comically large markers that we favour today. The name we know today wasn't coined until Edwin S. Lowe – a toy salesman from New York – introduced the game to his friends, and one of them mispronounced the name when yelling out to signify their win. They shouted out "Bingo" and Lowe loved this new name so much that he took it onboard and boxed up the game, going on to sell it all across America, and finally the world.
---