---
By Sam Mattingly
The Harlem School of the Arts is one of the oldest and most prestigious arts organizations in the Harlem community.
They offer a diverse portfolio of arts programs for students interested in Dance, Music, Theater, and Media & Design— all under one roof. 
The Media & Design Department, headed by the highly respected visual artist A.K. Lovelace, a well-known Comic Book Artist, Illustrator, and Instructor, is expanding to include filmmaking, photography, animation, and comic book development, in addition to traditional visual arts.  The department is already looking ahead at branching into video game design and production, as well as fashion and design.
Last year the students staged their first major exhibition titled The Black and Blue Exhibit, showcasing the tremendous array of talent housed under founder Dorothy Maynor's 37,000 square-foot facility, located on St. Nicholas Avenue and 141st Street in Harlem. 
Earlier this year the students had the opportunity to work with Webtoon, the world's largest digital comics platform and this past Spring, their work adorned Wollman Rink, when it was transformed into a Pickle Ball court.  Just recently students from the Media & Design group had their artwork selected for a special project that involved a partnership with H&M's Harlem location and Harlem Fashion Row.
But on one of the sunniest and most unseasonably warm weeks in October, HSA students were invited back, to participate in the creation of a mural decorating Wollman Rink as it prepared for the opening of ice-skating season.
Wollman Park Partners is thrilled to welcome back the talented students of Harlem School of the Arts to help us bring an extra dose of festive cheer with their creative mural at Wollman Rink," says Bret Pidgeon,
General Manager of Wollman Rink. "The reaction to last year's mural was outstanding and we feel honored that the young artists of HSA are once again using this platform to share their gifts with New York City."
The 70-year-old rink, located in the heart of Central Park has served as a welcoming place for all New Yorkers, visitors, and out-of-towners. And to celebrate New York's unique cultural tapestry and Wollman's outreach to all communities, the students, under the supervision of AK Lovelace and Azekiwe Providence, created a tribute to one of the most spectacular and important figure skaters of African descent – Surya Bonaly, French Olympic and world figure skating champion who stunned the world with the first competitive back flip in Olympic history.  They were also inspired to create their vision of inclusion on the ice.

Opening day events included welcome speeches by Brett Pidgeon, Wollman Rink's General Manager, NYC Parks Commissioner, Sue Donoghue, author, Harlem restauranteur Melba Wilson, and performances by several ice-skating medalists and by the young members of Figure Skating Harlem who danced to the theme from the movie Barbie.  Following the opening ceremony, the rink was opened to the public, who were also invited to peruse the work of the students.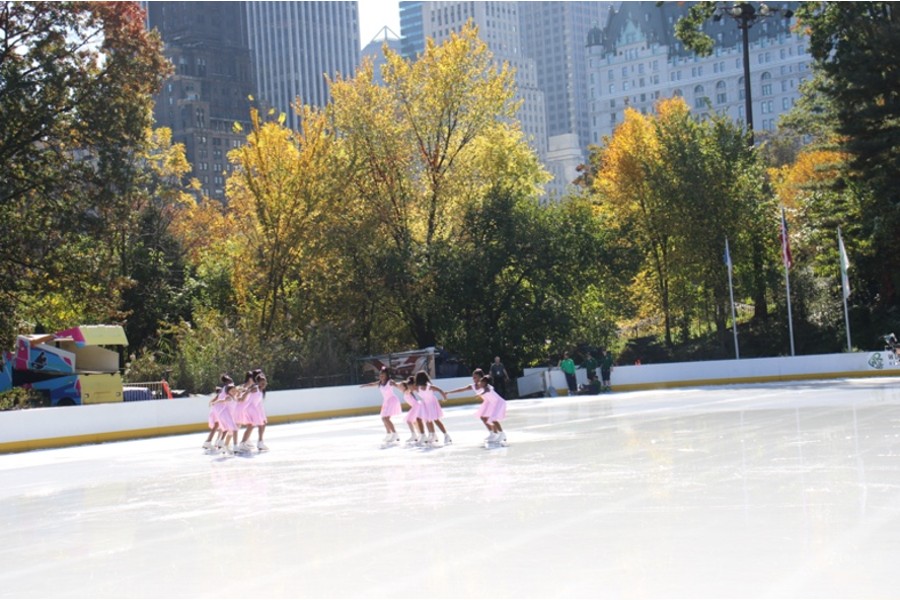 For information on Harlem School of the Arts and its arts programs, visit – www.hsanyc.org
For information on Wollman Rink, visit – https://wollmanrinknyc.com/the-rink/
Photo credit: 1) Photo courtesy of SMC Solutions. 2) Murals created by the students of HSA, Media & Design Department. 3) Bret Pidgeon, Gen. Manager, NYC Parks Commissioner, Of Wollman Rink, Restauranteur Melba Wilson, Sue Donoghue. 4-5) Members of Ice Skate in Harlem. 6) Photo courtesy of SMC Solutions.
---