---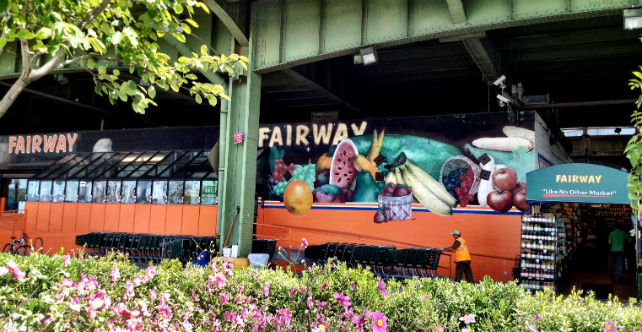 NY Times reports that today, Fairway shares trade around $1.80 — a little more than the price of three tangerines.
"Fairway has had some expectations issues," said Diya Iyer, an analyst at Standard & Poor's Ratings Services. "They have had some difficulties executing on their growth strategy."
Fairway, which operates 15 stores in the New York metropolitan area, reported on Thursday yet another quarter of bleak financial results and announced a retrenchment and shift in strategy. Now, instead of dotting the East Coast with Fairway stores, the company's executives said they planned to "flood the boroughs," referring to New York City.
"It is the most important and easiest way for us to grow this company," Jack Murphy, Fairway's chief executive, told Wall Street analysts in a conference call late Thursday.
But for now, the flood may be more like a trickle. Only one or two store openings are possible until Fairway shores up its balance sheet. The company said on Thursday it was looking to raise capital to reduce its large debt load and to fund future growth.
For decades, Fairway operated as a small family-owned business on the Upper West Side. What started in 1933 as a fruit and vegetable stand run by Nathan Glickberg became a uniquely Manhattan shopping experience where food lovers and gourmands pushed and shoved their way through crowded, narrow aisles stacked high with goods, on the hunt for baby octopus from India, barrels of Gaeta olives or wedges of Moliterno truffled cheese.
The turn in Fairway's history came in 2007 when it sold an 80 percent stake to Sterling Investment Partners, a private equity firm based in Westport, Conn., for $150 million, of which $79 million was in cash and the rest was debt put onto Fairway's balance sheet.
Sterling had never owned a grocery store. It had more of an industrial background, investing in transportation and logistics companies, specialty manufacturers and business services firms.
Still, remaining with Fairway as its chief executive was Howard Glickberg, a grandson of the founder. Together, Sterling and Mr. Glickberg embarked on an ambitious expansion strategy. Soon, stores were opening in Paramus, N.J.; Stamford, Conn.; and, in 2011, the Upper East Side. Much of the growth was funded by debt.
In the spring of 2013, Fairway took advantage of a hot market for initial public offerings and sold its story to Wall Street. Fairway was also trying to ride the same wave as competitors like Trader Joe's and Whole Foods, which were rapidly opening new stores and targeting baby boomers and affluent shoppers in urban and suburban communities with farm-fresh organic produce, cage-free eggs and specialty items like pink Himalayan sea salt.
Fairway told investors that it would rapidly expand from its New York base into a market that stretched from New England to Washington, an area that it said could support another 90 stores. It then had plans to open another 200 locations across the rest of the country.
In April 2013, Fairway sold shares at $13 in an I.P.O. A big part of the proceeds — $86 million — went directly into the pockets of Sterling; Mr. Glickberg, who had stepped down as chief executive in 2011; and others through dividend payments. On top of that, Fairway paid more than $25 million in various fees to Sterling over the years. Sterling has sold $23 million worth of Fairway stock, retaining about half of the company's shares.
In the months after its market debut, investors pushed its stock higher, to more than $28 a share.
But at the same time, competition in the organic and specialty-food retailer space had intensified. Whole Foods and Trader Joe's were expanding rapidly, and traditional grocery stores were also increasing their organic offerings and stocking hard-to-find items.
In February 2014, just 10 months after its I.P.O., Fairway said its quarterly earnings had come in way below expectations, and it was slowing the pace of its store openings. Its chief executive, Herb Ruetsch, a 15-year veteran of the organization, abruptly resigned.
The next day Fairway's shares tumbled 29 percent.
Its financials worsened through last year. Mr. Ruetsch was replaced on an interim basis by Fairway's president, William Sanford, who was an operating partner with Sterling. In September 2014, the company hired as its chief executive Mr. Murphy, the former head of Earth Fare, an organic and natural foods retailer based in North Carolina.
Today, Mr. Murphy is overseeing a slightly less ambitious grocery store chain. While he has told Wall Street analysts that Fairway still intends to open new stores, it will do it at a much slower pace than what was expected a few years ago. The company paid $3.5 million this spring to terminate a lease that would have made it the anchor grocery store in the enormous Hudson Yards development project on Manhattan's west side.
On Thursday, Mr. Murphy said Fairway needed to respond not only to competitive pressures from traditional and upscale grocery stores, but also to e-commerce sites like Fresh Direct and Blue Apron, which deliver directly to the home. Fairway, he said, is starting its own e-commerce site for a limited test audience next week.
"There is an e-commerce thing going on. There is more competitive pricing pressure going on than ever before," Mr. Murphy said. "Stores are popping up everywhere you look. Everybody is rushing to open a store on top of a store on top of a store. It's more competitive than I've ever seen it, and everybody, quite candidly, is upping their game."
---