---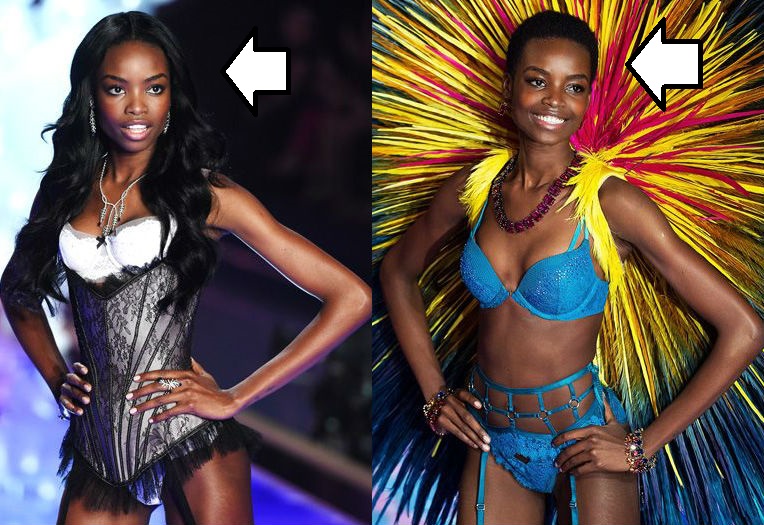 When you hear the words "Victoria's Secret hair," one image probably comes to mind: BIG, lush, shiny, smooth, long waves. The phrase is so widely recognized, some hairstylists even use it to describe their salon services.
And while the look is certainly pretty, it's fundamentally problematic to define "sexy hair" in any one way says Refinery29.
And it looks like Victoria's Secret is finally catching on to that.
In a huge stride for the industry, the beautiful Angolan supermodel Maria Borges walked last night's Victoria's Secret Fashion Show while wearing her short, natural curly hair for the first time. (In years prior, she wore long extensions — see the before above.) "I told my agent I wanted to walk in the Victoria's Secret show with my natural hair," Borges, who cut her hair into a TWA (teeny-weeny Afro) earlier this year, told Essence. "I was nervous, but I had to do it. When they said 'yes' I didn't expect it, but I was so happy!" An empowered Borges shared the moment on social media in true Harlem style, posting on Instagram: "Tomorrow, this Angolan-born dreamer will be walking her 3rd #VSFS in a row, whilst rocking her Afro natural hair. All I can say is THANK YOU, I don't take it for granted!"
While there's absolutely nothing wrong with choosing to wear weaves or extensions, we love that Borges was able to express her beauty and individuality on her own terms — and didn't have to fit into a strictly defined box. It's a move that is gaining traction in the rest of the fashion industry — even if there is a long, long way to go. (All Identity diversity is next on the list.)
When asked about this year's more natural approach, makeup artist Dick Page says: "It seems redundant to take a whole room of these girls and change them. We're effecting change in this environment." Hairstylist Sarah Potempa adds, "What we want to do is enhance everyone's natural beauty. There are 47 models, and everyone is different. Everyone has different hair types, different hair textures. So if someone has shorter hair, we'll just enhance it. We don't want to make anyone someone they're not." We say amen to that from Harlem to Harare.
No related posts found...
---