---
By Stephanie Woods-McKinney
The 92NY Center for Culture & Arts, aka 92nd. Street Y has been a force in bringing storytellers, entertainment, educators, and thinkers to the Tri-State area since the 1800s.
It began in the home of Dr. Simeon Newton Leo. Dr. Simeon would gather German and Jewish professionals together to discuss the spiritual needs of the Jewish community. As years went on and the world changed the organization has become even more diverse and has changed with the times. This cultural institution continues to promote and support all genres and ethnic groups, as it is home to all who crave mental upliftment and or enlightenment.
The New York Association of Journalists was invited to this cultural community center for an intimate conversation with New York Times best-selling author "Kwame Alexander" as he takes on a road trip. The evening was curated by Christine Platt- a passionate advocate for social justice and policy reform as well as managing director for the Antiracist Research & Policy Center at American University. Christine is an author who believes 'storytelling' may be used as a vessel for social progress, economic growth, and development. The two were the perfect couple for an intimate conversation promoting Kwame's newest memoir titled: Why Father's Cry at Night.
The Wrong Way
Kwame digs deep as he gives the audience a glimpse of his childhood and tells us why working with his dad helped mold him into a 'bookworm' and is candidly open when discussing his personal struggles with his dad and the mother of his children. As an author, poet, and speaker writing his memoir was difficult, but as he struggled to complete the book, he was able to recognize healing. According to Kwame, talking about one's family and being transparent about their lives may rub family members the wrong way-fortunately for the reader, Kwame took his chances and spills all the tea about his family and himself. He talked about his struggles of opening up during the conversation, sadly the struggles of being vulnerable did not come easy for him. As of today, Kwame wished he had not written a 'memoir' due to the dismay of a few members of his family but luckily, he went with his gut and the end result: A masterpiece that helped him heal and aided in the regeneration of his relationship with his father.
As many families struggle with deep-rooted issues, Kwame admits appreciating his dad much later in life. Kwame's father-an even bigger bookworm at times-treated books better than he treated his children-as a moment of silence took over the humorous feel in the room, and Kwame became deeply saddened as he reflected on their relationship. Kwame grew to respect his father and appreciates his 'tough' love. The audience was told an extremely vivid story of Kwame's involvement in a car accident with him and his father on the New Jersey Turnpike as they headed to Harlem-they traveled to Harlem every year for Thanksgiving for an annual 'book fair'.
Kwame was 12 years old, and the car flipped over at least 10 times or more after his father fell asleep at the wheel. After the accident, we were all ok, but still upside down in the car well with the exception of the books which were scattered all over the highway. After ensuring the family was ok, Kwame's dad yelled to help pick the books up and restore back to the crates. Fortunately, he lived to recall the story, but Kwame admits it was then that he knew his dad loved books just as much as he loved his own children. Most of the lessons taught by his father contributed to Kwame being the award-winning storyteller that he is today. One member from the audience asked, "Has he healed" and Kwame was quick to respond with honesty "I'm still growing, and this memoir is a part of the process, and it is the first step but, I admit I have more to do."
Use for 'words'
A graduate of Virginia Tech University, Kwame had aspirations of becoming a doctor-until professor, mentor, and lifelong friend 'Nikki Giovanni' world-famous poet, educator, and activist changed his mind and suggested he become a poet due to him being an intellectual at such a young age-his use for 'words' was extremely impressive. According to Kwame, his mother always made certain that he and his siblings were polite, said "thank you" and used 'grammar' correctly, eloquently, fluently and spoke clear English, plus reading books expanded his knowledge of words.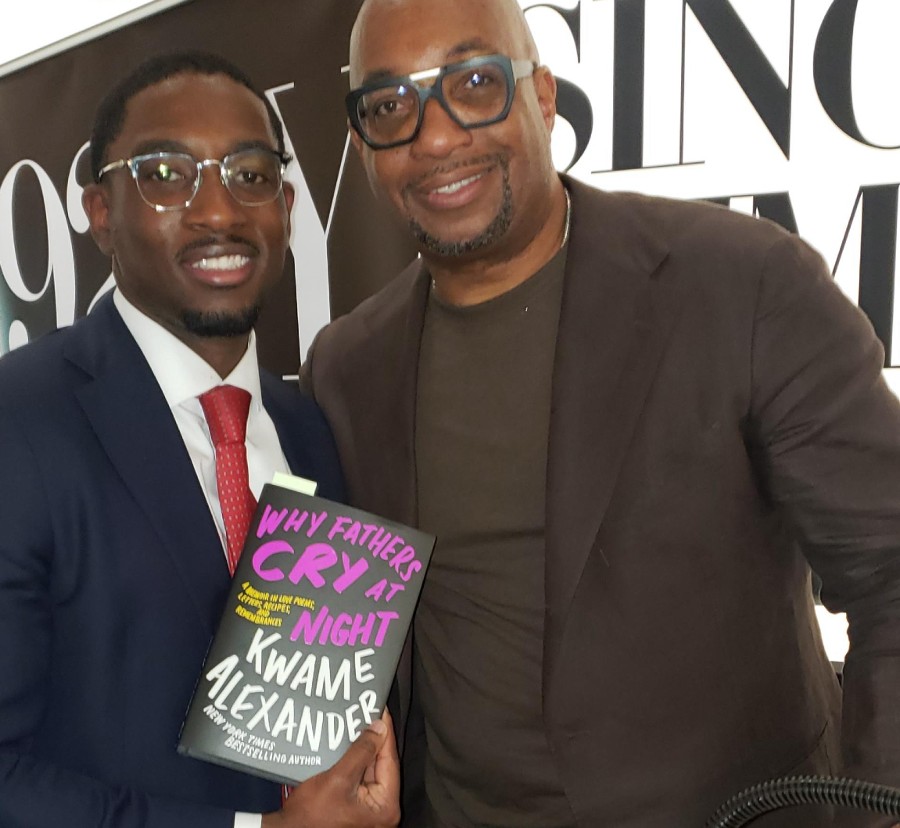 The evening was filled with many long-time admirers of Kwame, but one new reader "Alpha Phi Alpha Fraternity Inc." member- Asher Kennedy was not familiar with his works and noted, Kwame was recommended to him a few years ago. Kennedy lost his father a few years ago but warmly noted as a 'Black' man and avid reader, Asher wanted to learn more about 'fatherhood' and to gain some insight early on the subject. Asher doesn't have any children at this time, but the hope is to be the best dad possible when the time comes, and he stated, "The evening helped him obtain some early lessons and insight on parenting."
Kwame Alexander is open and honest during this discussion and invites the reader into his world of hardships, healing, and forgiveness. The book is not your everyday talk of growing up and learning from your mistakes-this memoir takes you on a 'round-trip' to the discovery of love and appreciation. While writing this memoir, Kwame was able to heal with every stroke! Congratulations to The 92nd. Street Y as they celebrate 150 years of discussions, edutainment, and merriment that matter to All!
Stephanie Woods-McKinney
Stephanie Woods-McKinney is a Bronx native who graduated Magna Cum Laude from The College of New Rochelle with a Bachelor of Arts Degree in Liberal Arts. She is a vocal community activist who sits on Community Board #10 in the Bronx; is a Co-chair of the Youth & Education Committee and holds a deep love for Hip Hop culture and community activism.
Stephanie writes throughout NYC, and Harlem, she has also received countless awards and letters of recognition for her hip-hop photojournalism and a 'Citation of Merit' from Eric Adams. https://www.linkedin.com/in/stephanie-w-2637a229/
Photo Credit: 1) Christine Platt and Kwame Alexander. 2) Asher Kennedy and Kwame Alexander. By Stephanie Woods-McKinney.
---