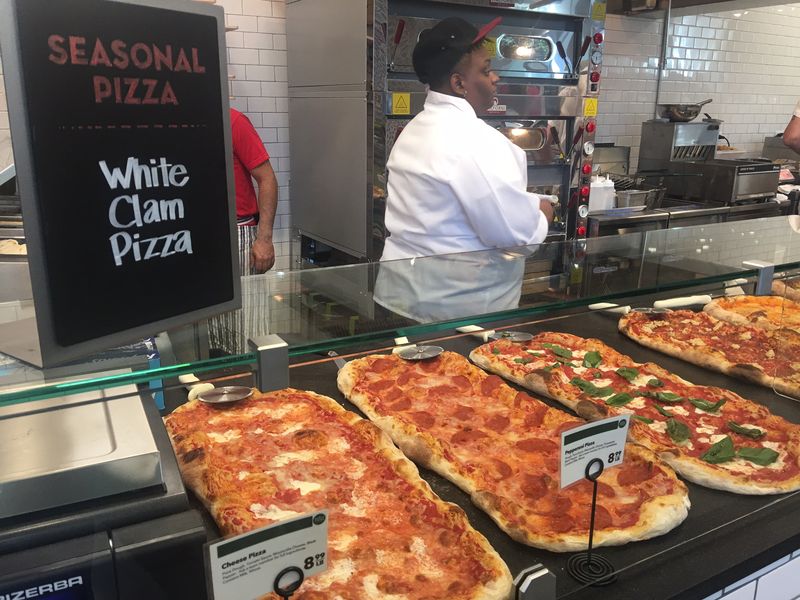 In a recent NY Eater article posted today, may give us some insight into what the new Whole Foods Harlem store may look like when it's completed in 2017-2018.
A glistening, highly efficient food dispensary has sprouted in an area that was once considered the heart of artisanal Brooklyn. Say hello to Whole Foods Williamsburg, in which you will find:
— A coffee bar serving smoothie bowls

— A poke counter

— A refrigerator case with ready-made salads and grain bowls

— A bulk flour fill-up station

— A pastry case stocked with Roberta's baked goods

— A tower of La Croix

— A glass container filled with real live "skilled butchers"

— A subterranean brew pub called N4
The store also has frozen Four & Twenty Blackbirds pie crusts, a yogurt parfait station, a Luke's Lobster tail cart, a No 7. Veggie counter, and a pizzeria (see lead photograph). Oddfellows is also going to operate an ice cream cart outside the store. It's kind of like a CliffsNotes version of the North Brooklyn food scene, but with poke, and it's already slammed with people. Whole Foods first announced plans to open the store at 238 Bedford Avenue way back in spring 2012. It sits just a few doors down from the Apple Store, which is also slated to open this week.
Take a look around HERE.
Perfect for a healthy Harlem.
Related Articles
---