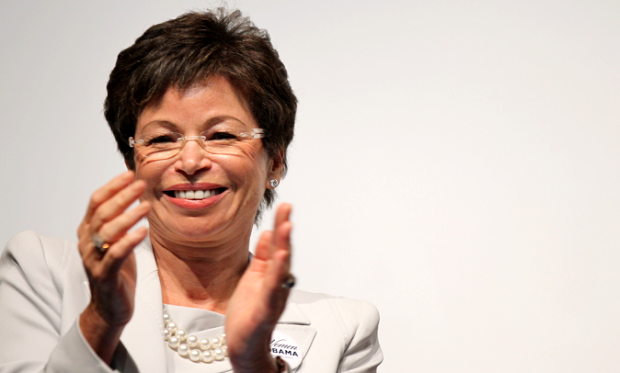 This Thursday during National Action Network's (NAN) 25th Annual National Convention, Valerie Jarrett, Senior Advisor to the President of the United States, will be honored with the NAN President's Award at the "Keepers of the Dream" Dinner and Awards Ceremony. This special distinction recognizes Jarrett's exemplary service, commitment, and leadership in the fight for civil and human rights in the United States. Rev. Al Sharpton, NAN Founder and President, will present the award on Thursday, April 14th at the Keepers of the Dream dinner and awards ceremony along with Martin Luther King, III, the eldest son of Dr. Martin Luther King, Jr. 
Each year, National Action Network presents awards to those who have kept Dr. Martin Luther King Jr.'s dream alive. Like Dr. King, these individuals have devoted their lives and careers to advancing the cause of justice. This year, Anthony Anderson, actor, writer, and executive producer of ABC's hit sitcom, "Black-ish" will host the ceremony.
In addition to Jarrett, this year's honorees include Judith Jamison, Artistic Director Emerita, Alvin Alley American Dance Theater; Robert F. Kennedy, Jr., President, Waterkeeper Alliance, Author and Attorney; Raymond J. McGuire, Global Head, Corporate and Investment Banking, Citi; Gloria Steinem, Feminist Activist, Organizer and Writer; and Andrew Young, Chairman, Andrew J. Young Foundation. Juanita Abernathy, the widow of civil rights icon Reverend Ralph David Abernathy will be present to deliver remarks.
Thursday, April 14, 8:00 p.m.
Sheraton New York Hotel & Towers, Metropolitan Ballroom 2nd Floor. 811 7th Avenue, New York, NY 10019
Related Articles