---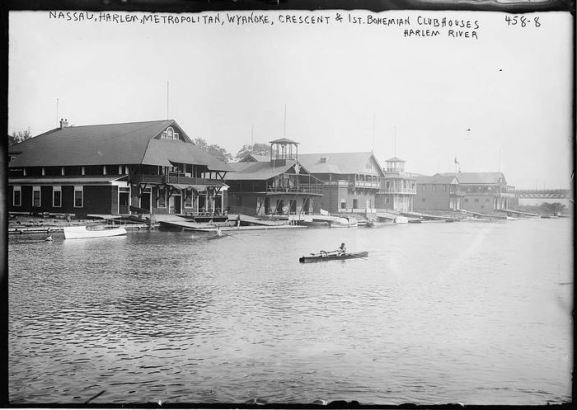 Uptown Harlem was the home of rowing clubs called "Sculler's Row" along the Harlem River from Harlem to Inwood in the 1840s, today rowing is making a comeback uptown.
Architectural Digest writes that on any given day, boats dot the Harlem River between Upper Manhattan and the Bronx. Far from the romantic Central Park rentals, though, these are professional athletic vessels. And their crews comprise mostly young people. Established in 2003 by former collegiate rower Amanda Kraus, nonprofit Row New York provides both rowing training and academic support to young New Yorkers, picking up the tab for its mostly low-income students. Previously, sport and school were separated between a boathouse on the Harlem in Washington Heights and classrooms in Midtown. But thanks to a fortuitous email chain, and shared love for the crew, the organization will soon house its twofold operations under one roof for the first time, in a 16,000-square-foot riverside facility designed by Lord Norman Foster in association with Bade Stageberg Cox.
It's not every day that an acclaimed architect like Foster designs a boathouse, particularly pro bono. But when Kraus mentioned to Row New York funder—and former Harvard rower—Richard Cashin that the nonprofit was looking for a design partner to create a community boathouse in New York City, he suggested reaching out to his old friend Foster (the two-cycle together every year) to gauge his interest. Cashin put Kraus and the architect on an email chain together and ideas flew between them. Foster was intrigued.
Even after plans for a partnership had been set in motion, Kraus had her doubts that a world-known designer would take on the project for her organization, which currently serves approximately 300 middle- and high-school-age kids annually. That was, until her eagle-eyed team spotted an Instagram post on Foster's official page: The architect is seated at his Martha's Vineyard drafting table sketching what appeared to be their future boathouse.
Read the entire article and see photographs of design here.
Photo credit: Sculler's Row Wikipedia.
---