---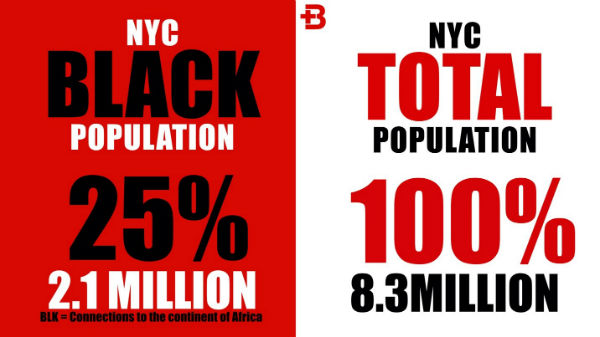 That's the question the New York City Black Community and allies should be asking!
In 2019 NYC Agencies spent $62Million with Black Businesses, which totals less than 1% of contracts and spending as compared to the almost $6.3Billion in total contracts and spending for all businesses. This is the issue, according to US Census data, among New York City residents and taxpayers— 25% are Black meaning we are missing over 24% of contracts and spending to the benefit of the Black Community.
That Is The Definition of Racial inequity!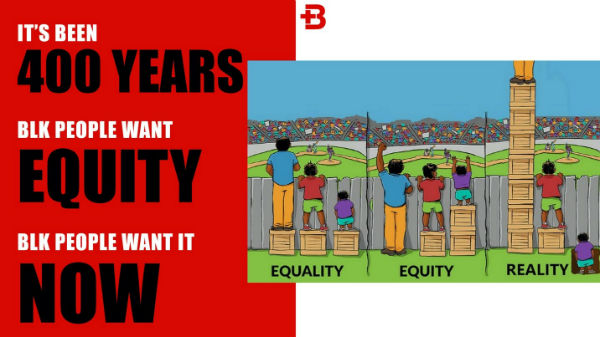 If Black Businesses received an equitable portion of NYC Contracts, 25%, that means an extra $1 Billion would be flowing through the Black NYC community to create more jobs, businesses, income, investments, and contributions to Black Churches, Houses of Worship, and community organizations.
But instead, we are left with nearly a $1 billion hole in the NYC Black Economy annually. Add that up over the last five years, ten years, twenty years, and we can begin to see why Black communities continue to struggle and be left out! When the numbers are added up we can begin to actually see the tale of two cities in the most "Progressive" City in the Nation, and we must demand change now.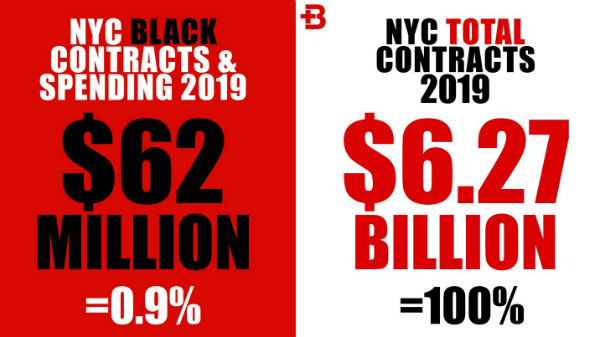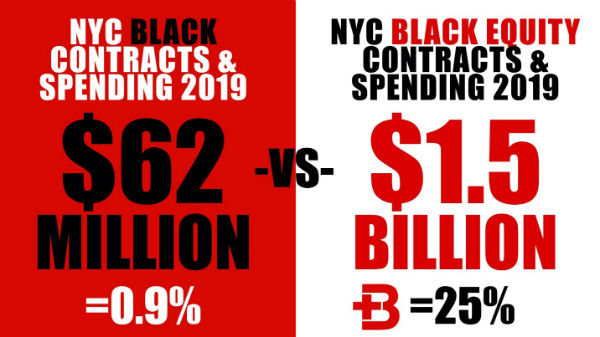 Can you see one of the many reasons why— we have poor health conditions making us more susceptible to COVID-19 infection and death— unnecessary crime because of the rising tide of frustration and too many people fighting over too small a piece of the NYC economic pie— poor public education because we have less tax revenue— poor living conditions and over gentrification, because we lack income and wealth to stay in our communities— and too many people making the difficult decision rather to pay rent, buy food, or pay for medical prescriptions because the economic ends just don't meet?
What Are We Going To Do About It?
The time for BLK Acceleration is now! We must PROTEST and MARCH to show the world that "we are sick and tired of being sick and tired" and it is a whole lot of us feeling that way, BUT we must also ORGANIZE TO MOVE AS A POLITICAL BLOC to get policy and elected officials who will represent our interest AND as an ECONOMIC BLOC to ensure our interest are met ("power concedes nothing without a demand") and channel our spending power back into the Black community.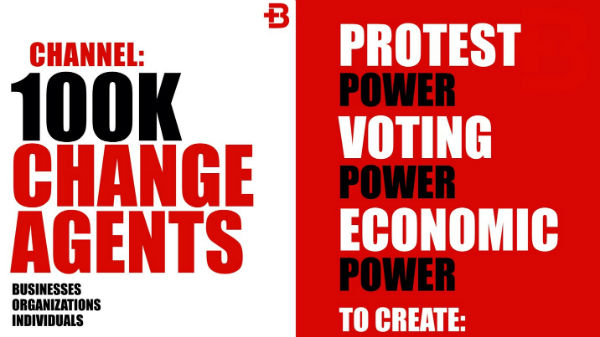 WE APPEAL, to every citizen to stand up on behalf of the tens of thousands of Black martyrs whose lives have been prematurely and unnecessarily snuffed out due to COVID-19, to the named and unnamed masses of Black men and women who have died unnecessarily at the hands of those who have sworn an oath to protect us and by our own Black people. We appeal for those who will help us take this first step and stand up to ensure 2020 forward we take back the $1Billion annually of revenue and opportunity that should be flowing through the Black Community in NYC to start creating a new economic future.
WE APPEAL, to anyone and everyone whose hearts and minds have not been dulled by the apathy of inaction and those whose consciousness has not been numbed by the violence of silence to hear the cry of a people who will not rest until Black Equity and justice are no longer unfulfilled promises— but are present realities for every man, woman, and child of our city.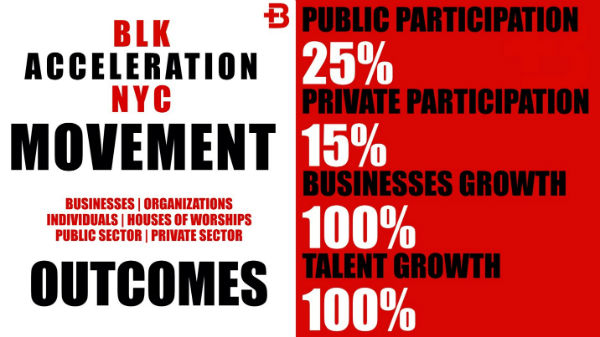 In order to perfect this vision for New York City called BLK Equity, we ask three things:
Join the movement and register at blackacceleration.com to participate physically or virtually in the #March4BLKEquityNYC and learn more about our plans for BLK Acceleration.
Download and share the social media material from blackacceleration.com with every man, woman, and age-appropriate youth to join the Movement and commit to BLK Equity in NYC.
Join the conversation now and follow us on Social Media @BLKAcceleration and @The400Foundation
Respectfully,
Rev. Reginald Lee Bachus
President, The 400 Foundation, Inc.
Associate Pastor, The Abyssinian Baptist Church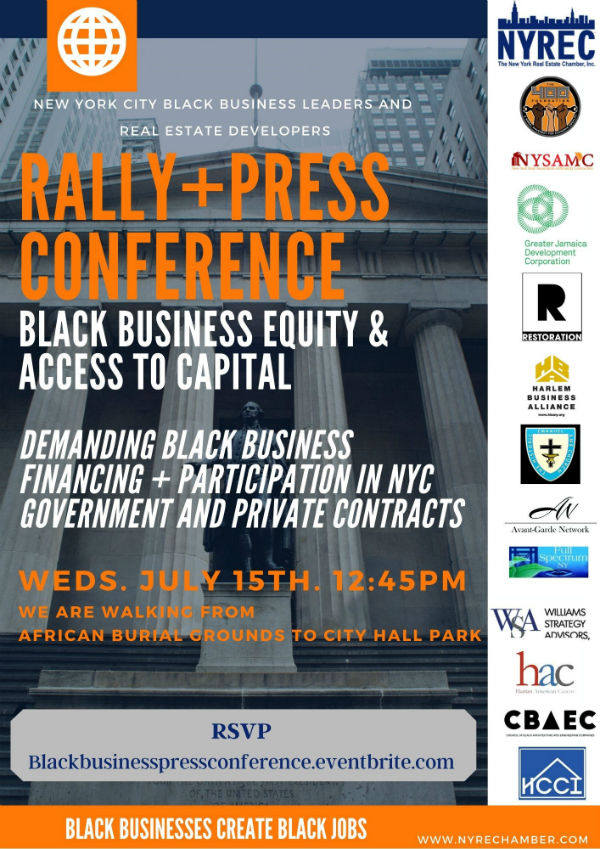 ---