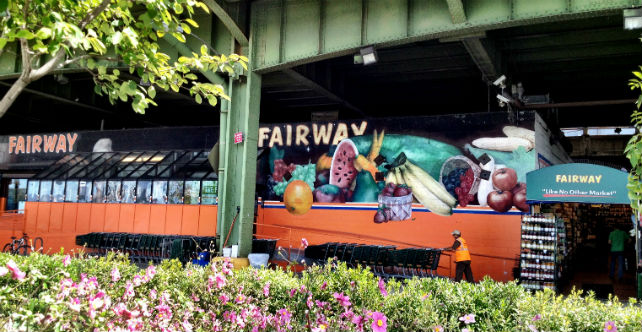 Fairway, the popular but struggling supermarket chain, filed for bankruptcy protection late Monday. The grocer said all 15 stores (including the one in Harlem) would remain open and customers should see no impact.
The trip to bankruptcy court, long expected in the financial community, is intended to significantly cut Fairway's debt burden and ease pressure on a retailer that has posted losses every quarter since going public in 2013.
"Fairway can survive, but they need to do things differently, starting with making the stores easier to shop in," said Peter Schaeffer, a partner at advisory firm GlassRatner who predicted nearly four years ago that the grocer was headed for bankruptcy. "They sell Cheerios in one part of the store and organic Cheerios in another, and the customer rejects that."
Fairway's flagship store on the Upper West Side is one of those only-in-New York experiences, a place where shopping is a contact sport and where the deals on everyday and harder-to-find items can be really good, if you act fast. The retailer was once so popular that store openings were treated as major news.
Fairway has struggled in recent years, as major national chains like Whole Foods and Trader Joe's moved into the city and proved to be much tougher competitors than local stalwarts like Gristedes and Sloan's. Another formidable rival, upstate New York-based Wegmans, plans to open a store in Brooklyn.
Existing Fairway shareholders will see their stakes wiped out in bankruptcy proceedings. On the face of it, that would appear to be bad news for Sterling Investment Partners, the Connecticut-based private equity firm that acquired the retailer from the founding Glickberg family in 2007 for $150 million. But Sterling has recouped all the cash it used to buy Fairway and then some, pocketing more than half the proceeds from 2013's IPO, along with dividend payments, management fees, management-termination fees and stock sales over the years.
Chief Executive Jack Murphy described the reorganization plan as "the best opportunity for Fairway to restructure its balance sheet on an expedited basis, strengthen its operations, retain jobs and create long-term value." Fairway said that many creditors support its restructuring plans and have agreed to swap their debt for shares in the reorganized company. Fairway added that it has secured a $55 million credit facility to fund operations while in bankruptcy and all agreements with unionized workers will remain in effect.
Schaeffer said that a new management team would be needed to take a fresh look at operations. While the company plans to keep all its stores, he added that some locations outside the city, such as one near Clifton, N.J., don't fit with Fairway's upscale image.
Fairway bankruptcy filing via crainsnewyork
Related Articles
---