---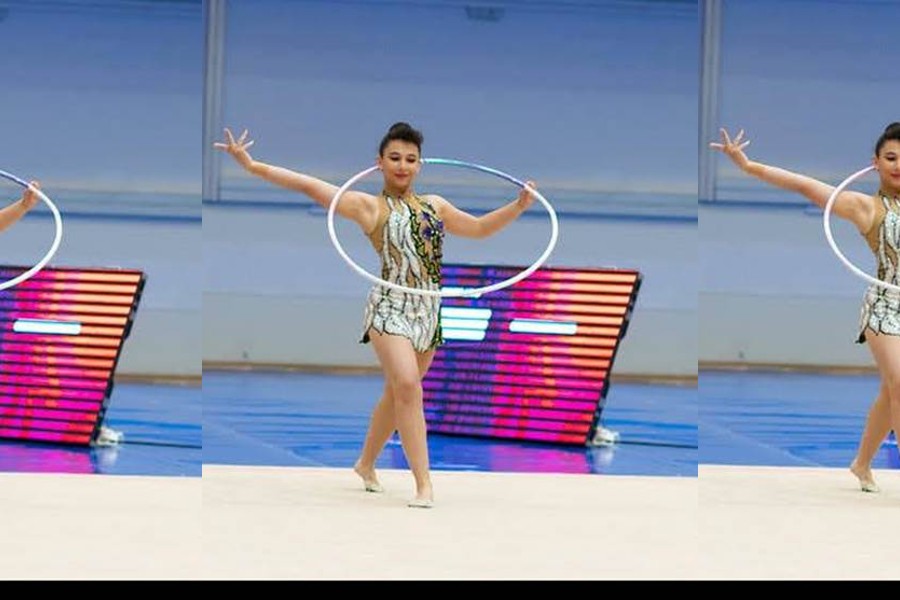 Aries Wickham is an ideal ambassador to carry the flag for the Wendy Hilliard Gymnastics Foundation (WHGF) in Harlem, NY.
Through many years devoted to training with WHGF, the 16-year-old rhythmic gymnast has transformed her athletic prowess into a two-time regional champion in floor, club and ball exercises.
This past summer she became Harlem's first representative for Team USA in last summer's Maccabiah Games, recognized as the Jewish Olympics and third largest sporting event in the world with 10,000 competitors from 80 countries taking part in 42 different sports.
"We're doing a sport that's extremely difficult while we have to make it look easy," Wickham said. "We have to smile and make it enjoyable to watch. This isn't a soccer game where everyone knows you're an athlete and you can sweat and cry as long as you're still playing. This is a performance. You are performing in a competition where everything is being judged and people don't realize how hard it is.
"Let's say you mess up early in a routine; you have to pretend that never happened. It's a lot of mental fortitude because you have to keep being strong all the way until the end."
Wickham simply loves her sport, especially when showcasing her skills in events like the upcoming February 24-26 Harlem Gymnastics Invitational at the HCZ Harlem Armory.
"It's like this big family game where we all celebrate our hard work," Wickham said. "For all the hours training, when we compete, we see it.
"It's not being rewarded for it, but I like the performing. I love performing for the parents. The kids come and watch me and say they love to watch me perform and they want to do gymnastics. That's really a special feeling."
Wickham excels in rhythmic gymnastics despite many injuries, including suffering a severe foot injury when she suffered multiple fractures as a 10-year-old.
Her positive mindset has been the cure-all to any recovery. Wickham says she'd rather go through the pain of any physical ailment than persevere the emotional stress of missing rhythmic gymnastics.
"The hard part is truly taking a break and not letting the injury get worse by practicing," she said. "You love doing gymnastics and that's what I want to do. It gets to the point where it's really hard to stop and take a break sometimes. I think the fact that I've gotten a lot better really shows how strong I am."
Today, Wickham devotes 12 hours of training during weekdays and 4 hours on weekends alongside her WHGF teammates. That doesn't include two hours a week dedicated to physical therapy and ballet workouts.
She's a sponge when it comes to receiving instructions, whether it's from Hilliard, founder of WHGF and USA Gymnastics Hall of Famer, or WHGF Rhythmic Gymnastics head coach Alexis Page, herself a former member of the U.S. Rhythmic Gymnastics National Team.
"Every time (Wendy Hilliard) comes and watches my routine or watches me practice," said Wickham, "she explains something to me. She says, 'That's why I get paid the big bucks.'
"When (Alexis Page) started coaching me she was 17. I feel like we have this bond because of mutual respect. She doesn't coach me like a little kid. She choreographs routines for me specifically where it has my energy in them."
Away from training and competition, Wickham is a typical high school sophomore at Columbia Secondary School in Manhattan. She keeps up with her studies and homework – it helps that her father is a teacher – and enjoys life's simple things like spending time with her family and friends, relaxing, and watching TV.
So far, the Maccabiah Games have been her biggest stage. While performing in Israel, some of Wickham's classmates tuned in, even watching her perform live at 4 a.m. ET and posting Instagrams.
"I'm just doing another hobby outside of school," she said. "I'm just doing a sport. I just happen to be doing it on a very large scale.
"I'm not a celebrity or anything."
Speaking of celebrities, her trip to Israel provided an opportunity to meet rhythmic gymnast sensation Linoy Ashram, who in 2021 in the Tokyo Olympics became Israel's third-ever gold medalist. "I thought I was going to pass out," Wickham said of their encounter. "I was in awe."
Israeli Olympian Nicol Zelikman, a two-time medalist in the 2016 European Junior Championship, was in attendance to watch one of Wickham's training sessions.
"I did a routine which was one of my favorites at the time and she clapped and said she liked it," Wickham said of Zelikman's appearance. "I thought I was going to faint…She liked it and that's kind of crazy. She's a national team member and she liked my routine."
That's a feeling many come away with after watching Wickham perform.
Following is a link to photos and a training session video of Aries Wickham. Photos of Wickham by Larry Slater; video by Nicholas & Lence Communications.
Wendy Hilliard and WHGF
Born and raised in Detroit, Michigan, Wendy started gymnastics at age 12. She trained through the Detroit Recreation Department with coaches from the former Soviet Union. She was the first Black athlete to represent the U.S. in international competition in rhythmic gymnastics and competed in three World Championships. In 2008 she was inducted into the USA Gymnastics Hall of Fame. Following her competitive and award-winning experience as a world-class athlete and coach, Wendy recognized the lack of gymnastic opportunities among urban youth, which inspired her to launch the Wendy Hilliard Gymnastics Foundation in 1996 in Harlem, New York, and expanded to Detroit in 2016.
Today, the Foundation serves urban youth between the ages of 3 to 17, helping to improve their physical and mental health and providing various programs focused on Health & Nutrition, Sports Safety to Career Path Internships, Public Speaking, and NYC Public School Admission Assistance. At WHGF, young gymnasts learn about time management, responsibility, teamwork, leadership, and sustainable health habits.
Last year WHGF in New York City celebrated its 25th anniversary. WHGF is headquartered in Harlem and has a location in Hilliard's hometown of Detroit, which opened in 2016. Since its inception, WHGF has provided FREE and low-cost gymnastics to underserved communities, serving nearly 25,000 urban youth to date.
Throughout the years, WHGF has developed elite athletes and competitive gymnasts who have gone onto the national and international stage. BJ Mensah, from Harlem, competed in tumbling at the World Age Group Championships in Azerbaijan in 2021. Last November, Harlem's ZaQuae Carter advanced to the finals of the Men's Tumbling Age Group 3 in the 29th Federation International Gymnastic (FIG) World Age Group Competitions. Carter finished seventh overall during the November 23-26 event in Sofia, Bulgaria with an overall score of 23.900. During this past summer Carter finished runner-up in the junior division in tumbling during the USA Gymnastics Championships in Des Moines, Iowa. In July 2022, rhythmic gymnast and Tenth grader Aries Wickham became the first Harlem athlete representing the United States in Israel at the Maccabiah Games, the renowned sporting event open to Jewish athletes from around the world.  Current Gymnastics Manager and WHGF head coach Alexis Page was a three-time U.S. Rhythmic Gymnast National Team member and International Gold Medalist. Alexis Page joined the WHGF foundation in 2003, and by 2012, she started teaching to inspire young gymnasts to chase after their dreams, as she did. In addition, Niahlah Hope trained at WHGF from 2002 to 2010 and is now a professional Hollywood stunt double, including in the film Black Panther, while Olivia Boisson trained on the WHGF rhythmic gymnast team and is now a professional dancer at New York City Ballet. 
For more information, please visit https://www.wendyhilliard.org/. Visit Wendy Hilliard Gymnastics Foundation on Facebook, Instagram, Twitter, and YouTube.
Photo credit: Aries Wickham performs in the Maccabiah Games. by Larry Slater
---