---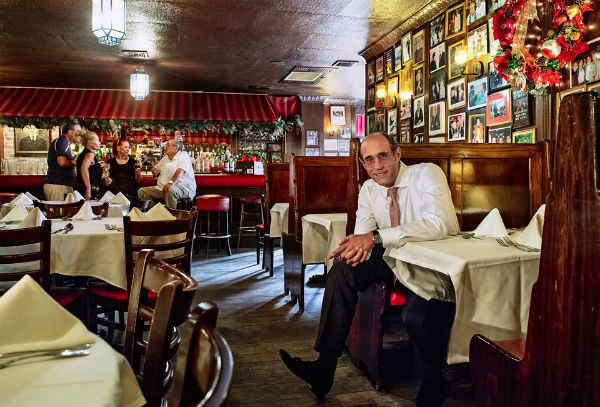 When Frank Pellegrino Sr. walked into Rao's on a Tuesday night recently, wearing a black blazer, white shirt, gray slacks, gold bracelet, and signet ring, he led with his black velvet smoking slippers.
He took a Chivas on the rocks off the bar, seated himself outside the restaurant's front door on its small cement patio, at the corner of East 114th Street and Pleasant Avenue, in Manhattan, and lit a Parliament 100, ready to greet his guests in style. As he has been doing five nights a week for the past 22 years as the co-owner of Rao's, Pellegrino was entertaining at home.
He didn't wait long. A group of men arrived, and the first one embraced him. "You look great, Frank," he said.
"I feel good," Pellegrino answered.
"You know who you look like?" the man asked.
The 72-year-old Pellegrino beamed. "Richard Gere?"
His admirer looked puzzled. "No. Peter Lawford!"
Pellegrino considered. "I'll take it," he said. "Enjoy, guys."
They were certain to; the fact that they are among the few people in America who will ever eat here practically guarantees it. Since 1977, when Mimi Sheraton awarded it three stars in The New York Times, Rao's, with only four tables and six booths, has been among the toughest restaurant reservations in the country.
For the uninitiated, Rao's has been at this corner in East Harlem, an Italian neighborhood that was even larger than Little Italy back in the day, since 1896. (And if you're looking for the safest corner in Manhattan to park your car, look no further.) This year marks the restaurant's 120th anniversary. It began as a saloon and is still in its original one room (slightly remodeled after a 1995 fire), whose paneled walls are festooned with Christmas lights and photos of Frankie Valli and Frank Sinatra. There is a bar at one end, a jukebox along the wall, and seating for about 60. It looks like the finished basement that belonged to the most popular kid in high school, class of 1962.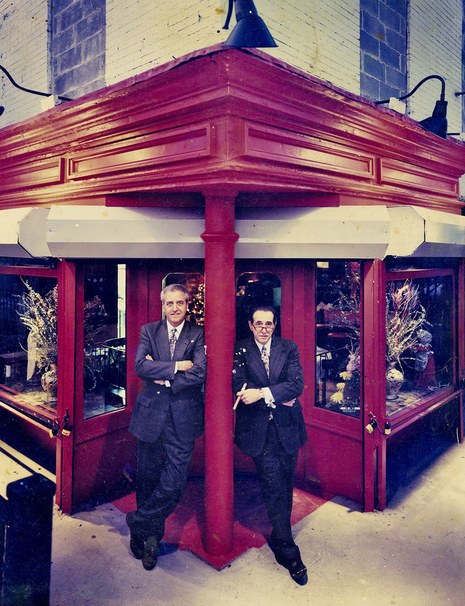 Known by its regulars as the Joint, Rao's serves Monday to Friday (dinner runs about $75 per person, cash or check only). Typically there are no reservations, just table assignments, which were designated decades ago by Pellegrino Sr. and his aunt Anna Pellegrino, who owned the place with her husband, Vincent Rao. (It was named for his father, Charles.) After Anna and Vincent died, in 1994, Pellegrino Sr. and Vincent's nephew, Ron Straci, a lawyer, became co-owners. One table each night belongs to Straci, who is 81. Some customers come weekly, others come monthly, quarterly, annually, or only at Christmas. When any of the 85 original "owners" die, their families will often inherit the table.
On their appointed night, diners arrive when they like, and the table is theirs for the duration. If they can't come, they either give it to family or friends, sell it as a donation for a favorite charity, or, rarely, turn it back to the house. Which means that if you want to get in you have to know someone who knows someone who knows someone else. Which is how Pellegrino got his nickname, Frankie No.
Some of Rao's regulars are connected—to show business—which is how Pellegrino was cast by Martin Scorsese for GoodFellas (see the cigar-smoking chef in the cooking-in-prison scene), along with five other Rao's regulars; he went on to play an F.B.I. bureau chief on The Sopranos. Bo Dietl, the private investigator who began his career as an East Harlem cop and was granted his weekly table in 1977 (the big one, up front), joined him in GoodFellas and shot his scenes in The Wolf of Wall Street with Leonardo DiCaprio here. Through the years you could find Keith Richards, Billy Joel, Celine Dion, and Rod Stewart singing along with the jukebox until all hours. Also Jimmy Fallon and Gloria Estefan. Jay Z shot his "D.O.A. (Death of Auto-Tune)" video here. When Hillary Clinton ran for the Senate, in 2000, she came for a late dinner, and the Secret Service locked the door from the outside. Donald J. Trump ate here years ago, his daughter Ivanka more recently. She sent a handwritten thank-you note.
Unless requested, there are no menus at Rao's. Staples such as seafood salad, lemon chicken, and super-size meatballs are served family-style. The food is homey and most often delicious; Rao's marinara sauce, sold retail through the family-owned Rao's Specialty Foods since 1991, is a historic cornerstone of the kitchen's success. Next month marks the publication of the fourth Rao's cookbook, Rao's Classics, written by Pellegrino and his 46-year-old son, Frank. Pellegrino Jr. is the managing partner of the Rao's that opened at Caesars Palace, in Las Vegas, in 2006 (350 seats, which includes the outdoor terrace; come and get 'em) and also the Rao's that opened in Hollywood, in 2013 (100 seats; ditto). New York remains the beating heart of the empire, the man-cave mother ship that abhors the world of celebrity chefs and blogging locavores. As Dietl says, "It's like walking back into the good old days."
Photo credit: 1)  Frank Pellegrino Jr. and patrons, photographed at Rao's in New York City. Photograph by Jonathan Becker. 2)  Rao's co-owners Ron Straci and Pellegrino Sr. outside the restaurant, 1995.By Bernd Auers.
Related Articles
---