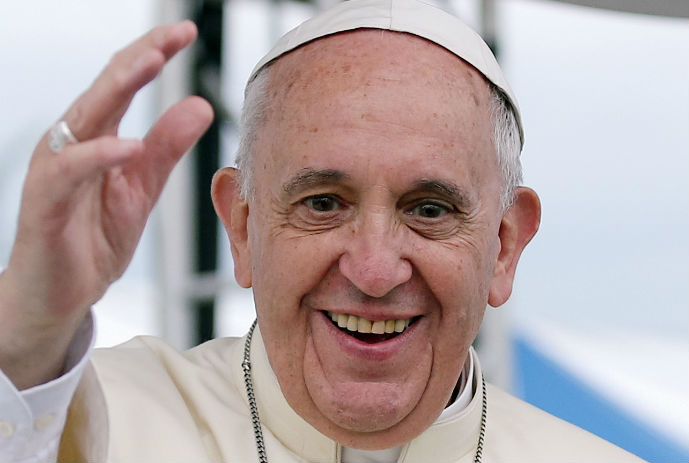 In honor of Pope Francis' visit to the United States from September 22ndto 27th, Catholic Charities of New York today launched CharityHasNoBoundaries.org, a new digital site where people throughout the country, regardless of religious beliefs, can share a greeting with the Pope along with a message of charity.
A diverse group of celebrities, newsmakers and elected officials including Giants coach Tom Coughlin, Brooklyn Nets, New York Islanders, New York Yankees, Harry Belafonte, former Secretary of State Hillary Rodham Clinton, Senators Kirsten Gillibrand, New York City Council Speaker Melissa Mark-Viverito, New York Attorney General Eric Schneiderman, NY Police Commissioner William Bratton, Former New York City Mayor David Dinkins, are among the first to share welcome messages.
Harlemites can upload their video – or a simple text message or photograph – by visiting the site and following the online instructions.  A collection of these messages will be shared with the Pope when he visits this September.
"Pope Francis' message of charity has resonated with people throughout the world," said Monsignor Kevin Sullivan, Executive Director of Catholic Charities, Archdiocese of New York. "We are thrilled that the Holy Father is visiting the United States and wanted to give everyone the opportunity to share a message of welcome and charity."
In addition to asking people to share a brief welcome, Monsignor Sullivan is encouraging those participating to include in their message these universal words of charity from the Gospel of Matthew (25:31):
For I was hungry and you gave me food, I was thirsty and you gave me drink, I was a stranger and you welcomed me….
On September 25, Pope Francis will meet and bless a group of immigrants and refugees served by Catholic Charities of New York.  "Our country and NYC in particular, has long been a beacon to those tired and oppressed who seek a better life," Monsignor Sullivan said. "The Pope's visit with recipients of Catholic Charities' work, reflects the importance of charity and also recognizes the generosity that is a tradition of the United States."
Representing those that Catholic Charities works with, and who will meet with and be blessed by the Pope, are day laborers from Westchester, immigrant mothers from Yonkers and East Harlem, unaccompanied youth fleeing persecution in Central America, and refugees from the Middle East and Africa.
Launch your video, photograph and/or text at CharityHasNoBoundaries.org.
Related Articles
---