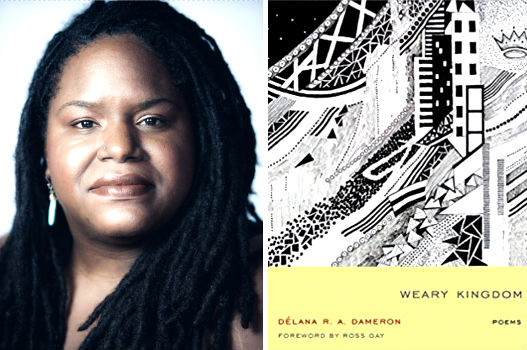 In this new collection of poems, [easyazon_link identifier="1611178096″ locale="US" tag="harlemworld-20″]Weary Kingdom[/easyazon_link], DéLana R. A. Dameron maps a journey across emotional, spiritual, and geographic lines, from the familiarity of the honeysuckle South to a new world, or a new kingdom―Harlem. Her poems traverse the streets of this Black mecca with a careful eye cast toward the intimacies of the exterior. Still, as the poems move throughout the built environment, they navigate matters of death, love, love loss, and family against the backdrop of a city that has yet to become home. Indeed what looms over this weary kingdom is a longing for the certainties of a lover's touch, the summer's sun, and the comforts of a promised land up North. And as the poet longs, so do readers. Ultimately they grow aware of Utopia's fragility.
Dameron writes poetry attuned to migration, the environment, and history; her lyrical voice inscribes her personal history into a deep communal history of black migration and belonging. Her writing blends the mythic with the quotidian, the spiritual with the concrete, crafting a lyrical celebration of black life and urging us to consider radical ways of existing in and transforming our world.
Thursday, July 20, 2017, 6:00 PM – 8:00 PM EDT
Click HERE To Attend The Event
Caribbean Cultural Center African Diaspora Institute, 120 East 125th Street, New York, NY 10035
Related Articles
---
VIDEO
---
"We re-imagine, recreate, and redeem cultural omissions and misrepresentations of Blackness, for the culture. ...." This post is made in partnership with British Pathé.