---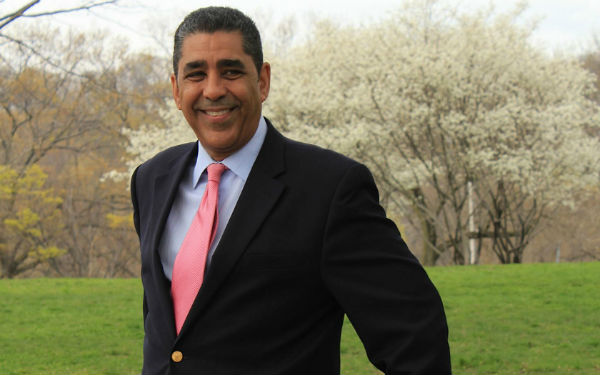 Today, Harlem Representatives Adriano Espaillat, a member of the House Small Business Committee, introduced H.R. 6343 to provide economic injury grants.
The grants will be administered through the Small Business Administration for small business concerns impacted by the novel coronavirus 2019 ("COVID-19"):
"Small businesses have told us point blank that it is only a matter of time before they will have to close and any steps they take along the way to weather COVID-19 will only harm their employees who they will have to let go. Additionally, they will be left unable to pay suppliers and vendors because their businesses cannot bear such drastic loss of customer activity. COVID-19 has made a significant impact on small businesses and I introduced this bill to support small businesses in an effort to help them remain vital to the communities in which they serve," said Rep. Adriano Espaillat (NY-13).
H.R. 6343 provides grants worth up to $100,000 to small business concerns suffering economic injury in order to:
Provide paid sick leave to employees unable to work due to COVID-19 diagnosis or instruction to remain in quarantine or isolated from the public.
Maintain employee payroll in order to mitigate business disruptions or substantial slowdowns.
Meet the increased costs to obtain materials necessary for business or commercial revenue that have become unavailable from the applicant's original source due to interrupted domestic and foreign supply chains.
Make regular payments on rent or mortgage loans specific to the site and operation of business concern.
Repay any normal business obligations that cannot be met due to revenue losses.
"There is no question that COVID-19 has caused great disruptions to many lives and sectors of our economy. Changing our daily habits in order to keep ourselves as safe and healthy as possible as instructed by our local health officials is the number one priority. No one disputes this fact less small business owners and their employees. But there are real economic impacts we are already seeing take place. It is incumbent on Congress to do everything in its power to blunt some of the unintended consequences of the COVID-19 response and make sure that at the end of this public health emergency we can return to a semblance of normalcy where small businesses can grow and thrive," he concluded.
First elected to Congress in 2016, Rep. Adriano Espaillat is serving his second term in Congress where he serves as a member of the influential U.S. House Foreign Affairs Committee, the House Committee on Transportation and Infrastructure, and the House Small Business Committee.  He serves as a Senior Whip of the House Democratic Caucus and is a member of the Congressional Hispanic Caucus (CHC) where he also serves in a leadership role as CHC Whip. He is also chairman of the CHC Task Force for Transportation, Infrastructure and Housing. Rep. Espaillat's Congressional District includes Harlem, East Harlem, northern Manhattan and the north-west Bronx.  To find out more about Rep. Espaillat, visit online at https://espaillat.house.gov/.
Spanish
Hoy, el congresista Adriano Espaillat (NY-13), miembro del Comité de Pequeños Negocios de la Cámara de Representantes, introdujo el proyecto de ley H.R. 6343 para proporcionar, a través de la Administración de Pequeñas Empresas, subvenciones por daños económicos para aliviar las preocupaciones de los pequeños negocios afectados por el nuevo coronavirus 2019 ("COVID-19").
"Los pequeños negocios nos han dicho directamente que es solo cuestión de tiempo antes de que tengan que cerrar y cualquier paso que tomen en el camino para capear el COVID-19 solo perjudicará a sus empleados, a quienes tendrán que dejar ir. Además, no podrán pagar a proveedores y vendedores porque sus negocios no pueden soportar una pérdida de actividad de clientes tan drástica. El COVID-19 ha tenido un impacto significativo en los pequeños negocios e introduje este proyecto de ley para apoyar a este sector en un esfuerzo por ayudarlos a seguir siendo vitales para las comunidades en las que sirven", dijo el Rep. Adriano Espaillat (NY-13).
La H.R. 6343 proporciona subvenciones por un valor de hasta $100,000 a pequeñas empresas que sufren daños económicos para:
Proporcionar licencia por enfermedad pagada a los empleados que no pueden trabajar debido a un diagnóstico de COVID-19 o por la instrucción de permanecer en cuarentena o aislados del público.
Mantener la nómina de los empleados para mitigar las interrupciones del negocio o bajas en beneficios sustanciales.
Enfrentar el aumento de los costos para obtener los materiales necesarios para el negocio o ingresos comerciales, que no estén disponibles en la fuente original del solicitante debido a la interrupción de las cadenas de suministro nacionales y extranjeras.
Realizar pagos regulares de alquileres o préstamos hipotecarios específicos para el sitio y la operación de la empresa en cuestión.
Reembolsar cualquier obligación comercial normal que no pueda cumplirse debido a pérdidas de ingresos.
"No hay duda de que el COVID-19 ha causado grandes interrupciones en muchas vidas y sectores de nuestra economía. La prioridad número uno es cambiar nuestros hábitos diarios para mantenernos lo más seguros y saludables posible de acuerdo con las instrucciones de nuestros funcionarios locales de salud. Nadie niega este hecho y menos los propietarios de pequeñas empresas y sus empleados. Pero hay impactos económicos reales que ya estamos viendo. Corresponde al Congreso hacer todo lo que esté a su alcance para mitigar algunas de las consecuencias no deseadas de la respuesta al COVID-19 y asegurarse de que al final de esta emergencia de salud pública podamos volver a una normalidad donde las pequeñas empresas pueden crecer y prosperar", concluyó Espaillat.
Elegido por primera vez al Congreso en 2016, el congresista Adriano Espaillat está cumpliendo su segundo mandato en el Congreso, donde se desempeña como miembro del influyente Comité de Asuntos Exteriores, del Comité de Transporte e Infraestructura, y del Comité de Pequeños Negocios de la Cámara de Representantes de los Estados Unidos. Sirve como Coordinador Superior (Senior Whip) del Caucus Demócrata de la Cámara y es miembro del Caucus Hispano del Congreso (CHC) en el cual desempeña un papel de liderazgo como Coordinar (Whip) del CHC. También es presidente del Grupo de Trabajo sobre Transporte, Infraestructura y Vivienda del CHC. El Distrito Congresual del Cong. Espaillat incluye Harlem, East Harlem, el norte de Manhattan y el noroeste de El Bronx. Para obtener más información sobre el congresista Espaillat, visite la página de internet https://espaillat.house.gov/.
---