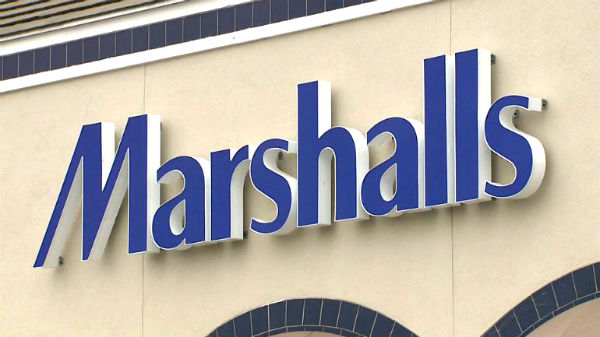 One of the largest stores in the new retail section of the renovated George Washington Bridge bus terminal is gearing up to open after years of construction delays.
NJ Transit Speeds Bus Boarding At GWB Bus Station In Washington Heights New Jersey Transit (NJ Transit) has announced it will expedite the boarding process at the George …May 12 2017harlemworldmag.com
Marshalls, which will open its Washington Heights store soon, will hold two hiring events at Harlem's Workforce 1 Career Center next week, according to notices acquired by Patch. The hiring events will be held Tuesday, Aug. 15, and Wednesday, Aug. 16, from 9 a.m.-5 p.m., according to the notices. The Harlem Workfore 1 Career Center is located 215 W. 125th St. — between Frederick Douglass and Adam Clayton Powell Jr. boulevards — on the sixth floor.
Washington Heights With Help From Harlem Developer Is Getting Its Own Food Hall The construction for Washington Heights' North End Food Hall from Sugar Hill Capital Partners is un…Jul 11 2017harlemworldmag.com
The notices did not specify what kind of positions Marshalls will be looking to fill or exactly when the store will open. The new department store will be one of the biggest businesses in the renovated George Washington Bridge terminal.
The renovated concourse opened in May after a beleaguered construction effort took two-years longer than anticipated. The renovation project was expected to cost $183 million and take one year to complete — it ended up taking three years and close to $200 million, officials said in May.
Check out fliers for the Marshalls hiring events below.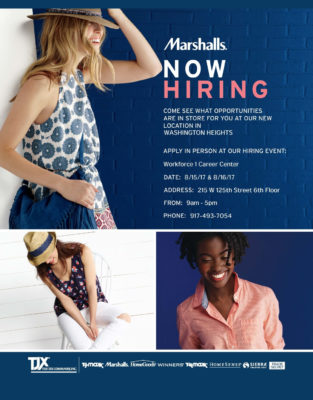 The development was a public-private venture between the Port Authority of New York and New Jersey and an entity called the George Washington Bridge Bus Station Development Venture.
Related Articles
---