---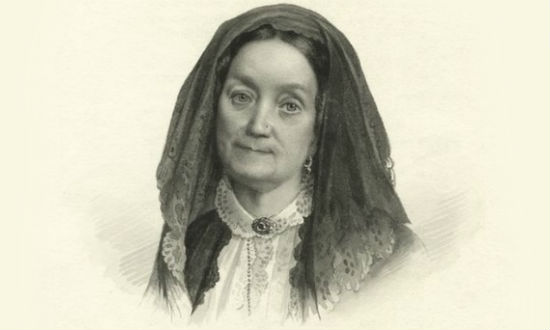 Eliza Jumel Burr was born Eliza Bowen in Providence, Rhode Island to a working-class Irish Catholic family. Eliza's mother, Phebe Kelley Bowen, was a domestic servant in a boarding house.
For a time, Phebe and John Bowen may have also hosted a boarding house in their own home. Eliza's father, John Bowen, was a Revolutionary War veteran and merchant sailor. As a child, Eliza worked as a cleaning girl in the same boarding house where her mother was a domestic servant.
Eliza's father died when Eliza was ten. Her mother, Phebe, later remarried a wealthy Southern merchant, bringing the mother and daughters briefly into society. The family's fortune was short-lived, however. Both Phebe and her second husband succumbed to yellow fever when Eliza and her sister were teenagers. Neither sister inherited their stepfather's estate, and were forced back into domestic work. After her parents' deaths in the 1790s, the ambitious young Eliza moved to New York, where she became an extra in the local theater. Eliza's sister later joined Eliza in New York. During her early years in the city, Eliza may have also found work as a domestic servant. Her acting career failed to develop.
Through either her performing career or servant work, Eliza met and later married the wealthy French-Haitian merchant Stephen Jumel in 1804. Stephen and Eliza may have found a common bond in their humble origins, their ambitious nature, and their Catholic backgrounds. Stephen's reputation for charity won him respect as a merchant. Due to her low social standing, and what some called a dramatic temperament, Eliza was continuously rejected by New York society. In 1810, Stephen and Eliza moved to what became known as the Morris-Jumel Mansion in northern Manhattan, turning the historic home into their summer villa. They continued to maintain a townhouse near Battery Park for their main residence.
In 1815, Eliza and Stephen traveled to Paris, where they were linked to Bonapartist sympathizers. Eliza later stated that Stephen had even offered Napoleon safe passage to New York after his defeat at Waterloo, an offer which Napoleon declined. Eliza's ownership of several relics from Josephine Bonaparte's extended family were once attributed to Napoleon's fondness for Stephen and Eliza. It is now believed, however, that Stephen and Eliza had only a distant acquaintance with the Bonapartes, and that they bought most of the Napoleonic items at auction in Paris.
Eliza had taken lessons with a French tutor during her courtship with Stephen, and she and Stephen easily conversed in both French and English (though Eliza never became totally fluent). Despite later accounts of an acrimonious marriage, their personal letters show them to have been an affectionate couple throughout their union, although letters on both sides were occasionally marked by fears of abandonment.
Either illness or controversial political opinions lead to Eliza leaving France in 1816. Eliza returned to her home in New York, while Stephen Jumel remained in France. Stephen saw his fortunes decline during a series of economic depressions, leading to the collapse of his merchant trade in Paris. Eliza, however, managed their American estate and holdings with a good business acumen, and proved an astute investor. She made herself unpopular as a businesswoman in New York, however. Several of Stephen's business acquaintances were dishonest with his finances during the Jumel's absence, and it became Eliza's task to both make accusations and recoup money lost. Through her initiative, the couples' finances were saved from ruin. The couple continued to travel between New York, Paris, and Stephen's family home in Bordeaux. During these travels, Eliza amassed a large and respected art collection, often considered the first great collection of European Art in North America.
…married the controversial former United States Vice President Aaron Burr
Stephen Jumel died in 1832 of pneumonia at the age of 67. Fourteen months after Stephen's death, the fifty-eight-year-old Eliza Jumel married the controversial former United States Vice President Aaron Burr. She may have married Burr to increase her stature; while Burr may have wanted access to her fortune. They may have also been drawn to each other by mutual ambition, social isolation, and a desire for companionship. Burr, however, mismanaged the liquid assets remaining in the Jumel fortune, and the two separated only ten months after their marriage. Eliza's prudence in real estate management, however, allowed her to remain financially solvent. The two divorced on September 14, 1836, the date of Burr's death.
(she housed) a famous chef and wife of the kidnapped, enslaved black musician, Solomon Northup,
Eliza Jumel continued to travel throughout Europe and to the summer retreats of New York for twenty years. In 1842, an encounter with Anne Northup, a famous chef and wife of the kidnapped, enslaved black musician, Solomon Northup, lead to Anne and her three children living at Eliza's Manhattan mansion in 1842-1843. In her last significant travels, Eliza accompanied her two adopted grandchildren on a Grand Tour of Europe in 1856, during which time a large, life-size oil portrait of the three was executed by Alcide Ercole.
As symptoms of dementia took their toll on Eliza's memory and behavior, stories about her eccentricity spread through New York and Saratoga Springs. Apocryphal stories from the 1880s suggests that Eliza may have become a regular target of mockery in Saratoga Springs. Eliza remained at her Manhattan mansion for the last six years of her life, dying there at age 90 in 1865. She was buried in Manhattan at the Trinity Church Cemetery and Mausoleum. Her life (1775-1865) spanned from the last year of the American colonial period to the last year of the Civil War.
A seventeen-year struggle over Eliza's estate after her death lead to the invention of discrediting stories about her character. Many of the legends surrounding Eliza's early life, including the story that Eliza had been a child prostitute with her mother in a Providence brothel, where she gave birth to an illegitimate son, as well as the story that she had murdered Stephen Jumel, first appear in questionable depositions from these trials. Eliza did embellish her own life story in old age, however, making personal reinvention difficult to distinguish from malicious fiction. Over time, Eliza's colorful exaggerations were confused with negative character stories, forming a legendary narrative of her life that has proved far more enduring and dramatic than the more prosaic reality of her life as an ambitious and highly intelligent, but also personally insecure, businesswoman.
It's rumored she still walks the hall ways of the Jumel Mansion at 65 Jumel Terrace, New York, NY 10032.
Photo credit 1801 via source
Related Articles
---