---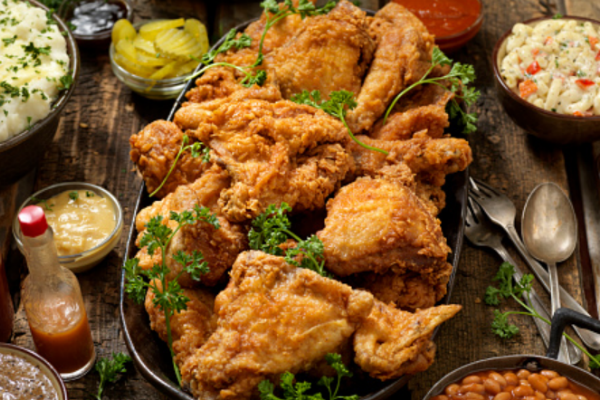 So you feel like cooking something special. Maybe your in-laws are coming over. Maybe it's your first time cooking for a potential new partner. Maybe you and your friends just need a little treat. Or you and your dog.
Contrary to popular belief, preparing mouth-watering fried chicken is simple and takes way less time than you would expect. The following will break down the steps you need to take to prepare crispy and tender fried chicken, with or without any previous chef-experience.
Pick Your Chicken With Care
You can buy pre-cut chicken at the grocery store or your local butcher, but the best-fried chicken seems to come from buying the full chicken (two medium-sized chickens should be more than enough for your occasion). When you buy the full chicken you'll have to cut it up yourself. You should end up with four breasts, four thighs, four legs, and four wings (provided you took our advice and got two).
As well, the world is constantly learning new things about the food preparation industry. If available, free-range, organic, and grass-fed chickens are far superior. Not just in regards to taste, but when it comes to nutritional value and environmental friendliness as well.

Choose Your Frying Method
There are three ways to fry up your chicken:
Deep-fryer

Air Fryer

A heavy pan full of oil
Each of these methods can produce the perfect mixture of crispy and tender, and your choice will likely come down to personal preference.
When choosing between air frying or oil-based frying, many people look at the health benefits of air frying. Air frying significantly reduces the number of calories in fried foods, as the frying oil needed is greatly minimized. Despite this, the texture and flavor are completely comparable to oil-fried chicken.
If air-frying is entirely foreign to you, and you're wondering how it works, the process is fairly simple. This list of air fryers breaks down some of the more popular options in detail, but more broadly, an air fryer works by coating the food (chicken in this case) in a very thin layer of oil, while at the same time, circulating hot air with a mechanical fan on high speed. The result is simulated deep frying with far less oil used.
Whichever method you choose, you're going to need at least a little oil. You're going to want to select your vegetable oil with care. There are dozens of oils on the market and some are far healthier than others. Olive oil and avocado oil are two of the healthiest. Take note of the temperature your frying method requires and check the smoke point of the oil you're considering. You don't want to push oil past its smoke point, as there are several health risks associated with this.
Additional Ingredients
Perfect fried chicken is made with buttermilk (around two cups for two medium-sized chickens). If you're cooking for non-dairy folks, add cream of tartar to dairy-free milk to mimic the flavor and texture of buttermilk.
Besides buttermilk, you can add the dry mixture ingredients of your choice. Flour or cornstarch is common, about six cups will do. Typical spices include ground black pepper, salt, garlic powder, onion powder, and cayenne pepper. Of course, you can fiddle around with the ratios of these to your taste, but a good jumping-off point would be:
4 tablespoons of ground black pepper

4 tablespoons of salt

2 tablespoons of garlic powder

2 teaspoons of cayenne pepper (Ask your guests about their heat tolerance and adjust accordingly. Be kind.)

1 tablespoon of onion powder
The Preparation
Preheat your oil or turn on your air fryer. While that's warming up, combine all your dry ingredients, mixing thoroughly, and putting them to the side. Immerse the chicken in the buttermilk or dairy-free alternative and then set in a separate bowl. Keep the buttermilk, spice mix, and chicken close together for easy cooking.

The Cooking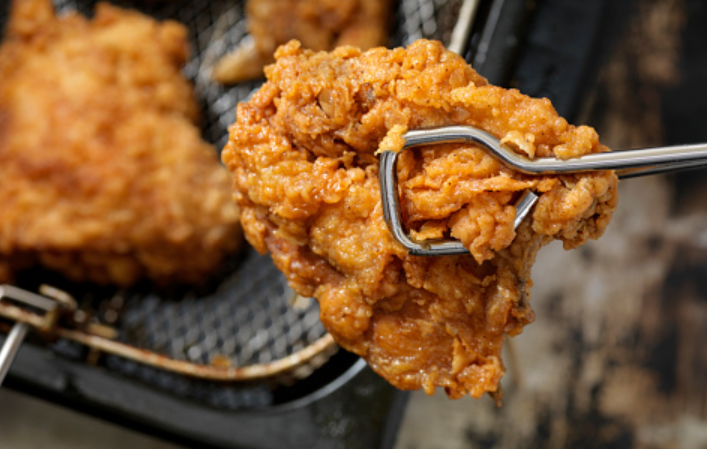 Dust the chicken with your dry mixture, dip them in the buttermilk, and when they're coated fully, pop them back into the dry mix. Press the flavor into the wet chicken, making sure it's evenly coated (this is what's going to make it extra crispy.)
Then fry. Start with the biggest pieces of chicken as they will take longer to cook. Once each piece is frying away, set a timer for 15 minutes. Be careful when removing the chicken from whatever fryer you use and make sure to let it sit for a few moments before eating as it will be extremely hot.
Yes, it's that easy. All you need is some chicken, a frying method, a few cups of buttermilk, and a little dry mix. Fifteen minutes to prepare, fifteen minutes to cook, and five to ten minutes to cool down. This recipe will produce about sixteen pieces of perfectly crispy fried chicken.
---