---
By Walter Rutledge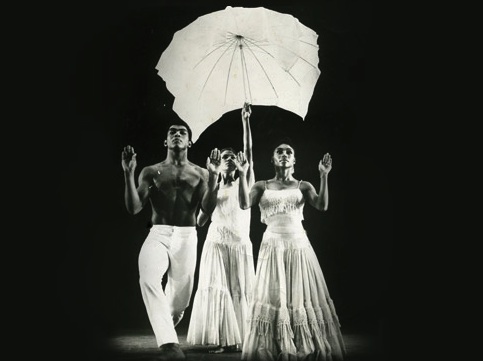 Last week we spent Thursday packing on the calories and then burning them off in the shop til you drop weekend madness. This first weekend of December has dance in Midtown and Brooklyn and musical theater and dance history in Harlem. Here are a few of the many arts event happening around our city and in our community.
Before 5: Loretta Abbott, Wednesday, December 4, 2013, 2 – 3:30 p.m at the Schomburg Center for Research in Black Culture, 515 Malcolm X Boulevard, is the premier event of Remembering Clark Center. Join Loretta Abbott, distinguished dancer and choreographer, for an afternoon talk on her enduring career and the legacy of Black performers and dance companies. Ms. Abbott will be in conversation with Clark Center alumni, Sheila Rohan and Jill Williams. This event is free, but registration is required and space is limited. You can make your reservation online at www.schomburgcenter.eventbrite.com.
The Alvin Ailey American Dance Theater will begin their 55th season and the 42nd consecutive year at New York City Center, 131 West 55th Street, between 6th and 7th Avenues, on Wednesday, December 4, 2013. The five-week season, which runs through January 5, 2014, will present the world premiere of Lift by Aszure Barton, the company premiere of British choreographer Wayne McGregor's Chroma, Ronald K. Brown's Four Corners and Bill T. Jones' groundbreaking D-Man in the Waters (Part I).
New productions of Alvin Ailey's The River and Pas de Duke set to music by Duke Ellington will be presented with returning favorites Ronald K. Brown's Grace, Jiří Kylián's Petite Mort, From Before by Garth Fagan, Ohad Naharin's Minus 16, Paul Taylor's Arden Court, Kyle Abraham's Another Night, and Rennie Harris' Home. On Tuesday, December 17th a special program celebrating Ailey guest artist Matthew Rushing will feature excerpts of Pas de Duke, Home, Grace, Revelations and A Song for You. Tickets can be purchased at the New York City Center Box Office, through CityTix® at (212) 581-1212 or online at www.alvinailey.org or www.nycitycenter.org.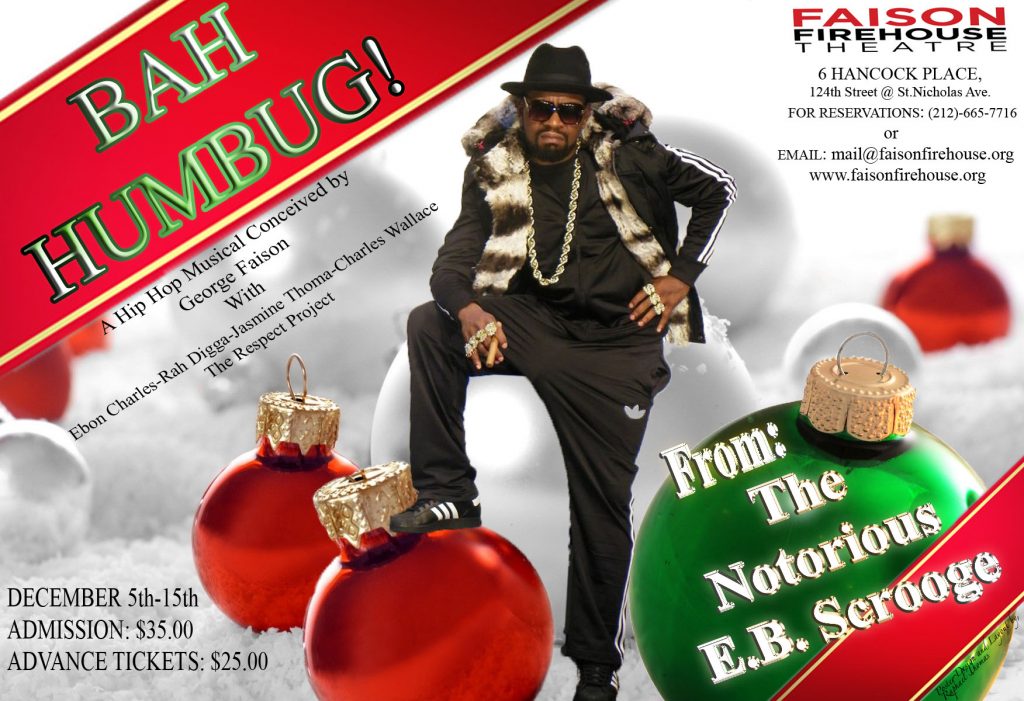 The Notorious E. B. Scrooge a new musical adaptation of the Charles Dickens classic A Christmas Carol will be presented at the Faison Firehouse Theater, 6 Hancock Place, West 124th Street between St. Nicholas and Morningside Ave. Performances begin December 5 at 8pm and the opening is scheduled for Friday, December 8 at 8pm and runs on selected dates through December 15. Conceived by Tony Award winner George Faison the production is collaboration between Faison, Hip Hop artist Rah Digga and poet Ebon Charles.
The musical is the tale of Hip Hop mogul, The Notorious E.B. Scrooge and his spiraling decent into the evils of the 21st Century. His humanity and compassion were replaced by his craving for power, fame and "bling", until he learns the true meaning of Christmas. The sixteen-member cast includes featured performers Stephanie Berry, Daniel Carlton, Ebon Charles, Rah Digga, Jasmine Thomas, Charles Wallace, members of the Firehouse Respect Project and the George Faison Universal Dance Experience. Tickets are $ 25.00 advance purchase, $ 35 day of performance. To order tickets and for information including a complete performance schedule call the Faison Firehouse 212-665-7716 or 347 210-8679. Tickets can also be ordered email at mail@faisonfirehouse.org.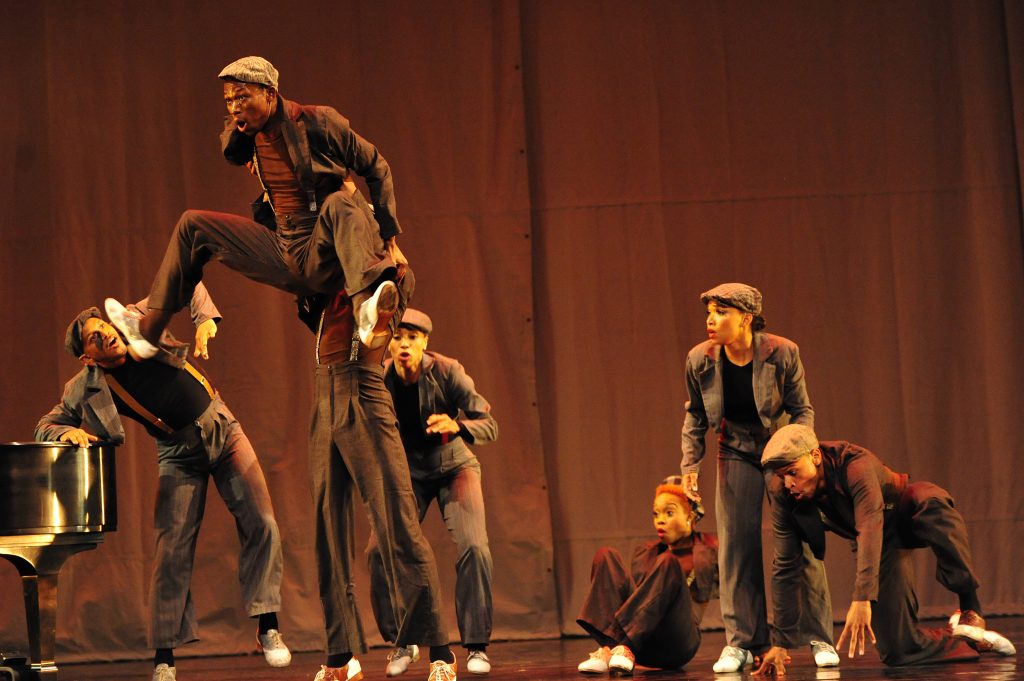 Camille A. Brown's 2013 Mr. TOL E. RAncE ! will be performed Friday, December 6 and Saturday, December 7, 7:30pm at the Kumble Theater at LIU Brooklyn 1 University Plaza, Brooklyn. Mel Watkins' book, On The Real Side, Spike Lee's controversial movie Bamboozled, and Dave Chappelle's "Dancing vs. Shuffling" analogy inspired this evening-length dance/theatre experience. The thought provoking work explores the historical African-American role in entertainment and popular culture exposing the stereotypical roles dominating current popular Black culture.
Camille A. Brown's 2013 Mr. TOL E. RAncE ! is presented as part of the 651 Arts 25th Anniversary Season, Black Dance: Traditions and Transformation series. Tickets can be purchased through the Kumble Theater for the Performing Arts by calling (718) 488-1624 or in person at the box office. Prices for performances range from $15 – $20.
As always thank you for letting me share my world with you.
In Credit: 1) Alvin Ailey, Lucinda Ransom and Loretta Abbott 2) Loretta Abbott 3) Antonio Douthit-Boyd 4) The Notorious E. B. Scrooge Poster 5) Camille A. Brown and Company. Photo Credit 1) Courtesy of the Alvin Ailey American Dance Theater Foundation 2) Andrew Eccles 3) Courtesy Clark Center NYC 4) Faison Firehouse Theater 5) Grant Halverson.
Related articles
Related Articles
---