By Walter Rutledge
Complexions Contemporary Ballet Company recently concluded a two-week season at the Joyce Theater on Sunday, December 1, 2013. The program featured returning audience favorites Moon Over Jupiter and an excerpt from Hissy Fits by Artistic Director Dwight Rhoden, and Associate Artistic Director Jae Man Joo's Flight. In addition the company also presented three world premieres by Gary W. Jeter II, Rhoden and Joo, and a company premiere by Alejandro Cerrito
The world premiere of You Do What You Can … by choreographer Gary W. Jeter II opened in silence. The trio performed by Edgar Amide, Mark Caserta and Jeter II, immediately established the work's own inner music through the use of foot-stooped rhythms, breath-timing, staccato and isolated movements and simultaneously executed solo passages. Jeter wisely avoided unison dance phrases; instead he established individual harmonies and counterpoint, which assisted in creating three distinctive characters through the choreography.
Throughout the work there was an economy, and the imagery was provided through dancing- not posing. The fresh movement vocabulary with appealing masculine bravado developed through good structure. He wisely also avoided arbitrary repetition, choosing to carefully develop reoccurring themes. Jeter's clear and consistent abstract story communicated pathos for the dancers to the audience.
The stark lighting greatly contributed to the visual drama. Jeter use of the light and at times the absence of it to assisted his messaging. This was most evident in the works' closing; where the dancers simply, yet poetically walking upstage into the darkness.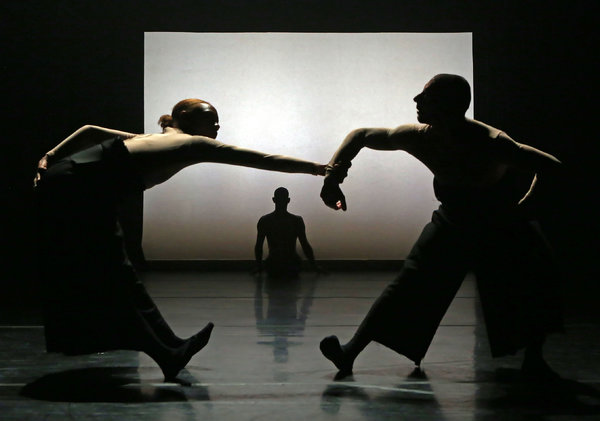 Associate Artistic Director Jae Man Joo's new work Recur (world premiere) was more about the intent than the physical movement. He accomplished this through the use of strong visual imagery, which revealed the scenario on a multiplicity of levels. The strong structure and effective use of lighting produced universally perceived symbolism. The work had a modern art sensibility that allowed the audience to internalize it on a personal and individual level.
The duet Never Was, the company premiere by Alejandro Cerrito began with subdued lighting. The initial effect artfully shadowed dancers Youngsil Kim and Phil Orsano accentuating their musculature while leaving their faces in silhouette. Both dancers bought an ease of movement and performed with a great deal of panache and vigor. As the work intensified the lighting remained minimal, this obscured the nuance and ultimately detracted from the work.
Years ago Robert Joffrey shared with me the complexities of running a not for profit arts organization. Forced by necessity to wear so many hats; choreographer, figurehead/spokesperson, chief fundraiser, teacher, recruiter, visionary and ultimately the guy standing in front of that proverbial fan, took a toll on the proper amount of time he needed to invest in his craft. It seemed a bit ironic that the very reason to start a company, to provide a nurturing environment to perfect and present your gift, would also be the instrument to impede his artistry.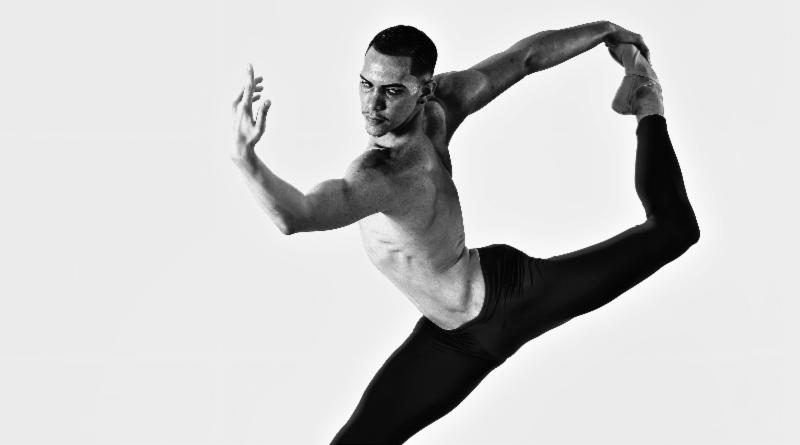 ---
---
Innervisions choreographed by Dwight Rhoden was listed as a world premiere, but work-in-progress would have better served the work. Although well rehearsed and executed the dance felt under choreographed. What I mean by that statement is that Rhoden presented many great ideas and each selection showed promise; although skillfully constructed it did not have the type of invention that proper creative time usually produces.
Very often choreographers in midcareer begin to "borrow" from themselves confusing trademark and signature with their obligation to reach past their own convention; I refer to this as cannibalizing. The pressure to produce a new work (or works) every season, or the rigors of earning a living as a guest choreographer can often deny the artist the time to research, inquire and invent. Rhoden is a talented and prolific dance maker who has choreographed over eighty ballets for his company. In the future it would be to his advantage to look through his treasure trove of work and delight his public with a work from his expansive repertoire.
Stevie Wonder was a brilliant choice for a rousing finale; on the surface his music appears buoyant making the sound deceptively simple. He belongs to a R&B triumvirate of great contemporary music makers, Wonder (Black Bach) Gaye (Black Brahms) and Brown (Black Beethoven). Their textured arrangements, seductive harmonies, and driving percussions are balanced by thought-provoking, groundbreaking and oft-time revolutionary themes and lyrics.
Innervisions, as homage to Stevie Wonder works conceptually; but in its present form the work requires more varied content, choreographic invention and editing. The section set to Village Ghetto Land made the most complete and consistent movement statement. Here Rhoden was able to visually portray Wonder's satirical richness of pitting Baroque inspired music against a tale of inner city depravity.  The choreography was both musical and abstractly meaningful, and Rhoden accomplished this with a concise focused economy.
In contrast his 2010 ensemble work Moon Over Jupiter has matured into a strong, and powerful work. The tour de force contemporary ballet set to a lush score by Rachmaninoff was an excellent vehicle to showcase the company's virtuosity. Solos and duets were juxtaposed against ensemble passages, which created a visual orchestration through the dancing bodies.
In Photo: 1) Terk Waters  2) Gary W. Jeter II,  Edgar Amide and Mark Caserta 3) Samantha Figgins and Phil Orsano 4) Mark Caserta
Photo Credit 1,2,&4) Jae Man Joo 3) Andrea Mohin
Related Articles