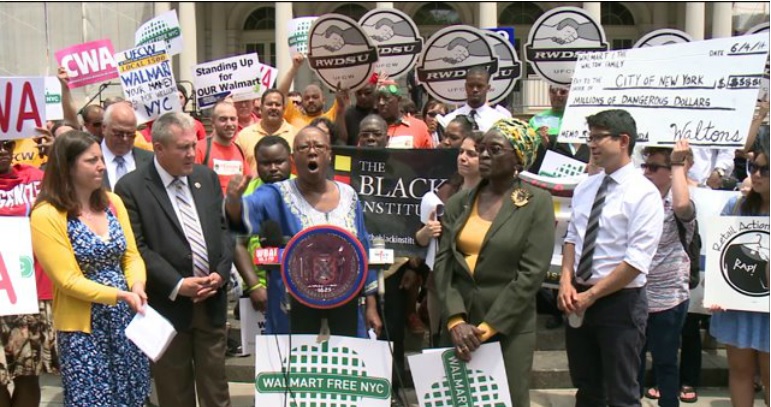 The Walton Family, which owns a majority stake in the Walmart, has given at least $350 million to causes they deem worthy, included $2.5 million to a Harlem school and other New York City charter schools attended by thousands of students.
But a majority of New York city council-members on Wednesday publicly said they disapprove of the Walton Family's generosity and want it to stop. A closer look at the donations shows that this is not a simple situation.
"For several years, we have successfully kept Walmart out of the five boroughs," exclaimed Audrey Sasson at a lunchtime news conference on the steps of City Hall Wednesday. Sasson, the director of the organization Walmart-Free NYC, let out a whoop after her statement, and the union workers, community activists and city councilmembers who surrounded her cheered their support.
They vocally and visibly showed their opposition to the wealthiest family in the world, by chanting slogans and making speeches, all of them critical of the world's largest retailer, and some downright hostile.
"Walmart," proclaimed Bertha Lewis, founder and president of the Black Institute, "sucks!"
The protesters then lifted a three foot by six foot facsimile of a check from the Walton Family Foundation and Walmart to the people of New York, and councilmember Daniel Dromm, the head of the council's education committee, wrote the word "void" across it.
"The problem for me," Dromm said in an interview, "is the corporate influence on these charter schools. That's something all New Yorkers should be concerned about."
He's among 27 councilmembers who have signed a letter to the Walton Family Foundation that says they're making sure that Walmart, which has a reputation for fighting minimum wage hikes, some gay rights initiatives and other liberal causes, is not welcome in New York. For its part, and by Walmart-Free NYC's own admission, the megastore chain has no plans currently to open a store here.
Sasson said in an interview that that's no reason not to keep Wal-Mart on her organization's radar screen of protest. "Walmart is the same size in terms of sales and revenue," she said, "as its seven largest competitors combined. We really need to set our sights on the one company setting the standard, and that standard is way too low for any of us."
Because the Walton Family Foundation supports causes generally considered conservative, such as charter schools, Sasson's organization and many labor and other groups feel that Walton money should not be accepted in New York, even when it appears to be helping, as is the case in some schools whose test scores have been strong.
Success Academies in Harlem are among those schools.
Success Academies in Harlem are among those schools. Its administration did not respond to inquiries, but families who attend one of its campuses in Central Harlem did.
Sean Nicholson was picking up his second grade niece and fourth grade nephew from the Success Academy school on 118th Street and Lenox Avenue. The foundation's grants, he said, which total $2.74 million, "aren't going to a liquor store on the corner, or to fried chicken spot."
---
---
Instead, he said that it's only good that the Walton Family is investing in the education of members of the community, like his nephew, who will be skipping 5th grade next year, after the school determined that he's ready for 6th grade work.
Another aspect of the story is that the $2.74 million and counting that the Waltons have given represents a tiny percentage of the money needed to run New York charter schools — in some cases the Walton Family donations cover as little as a quarter of one percent of a school's costs.
Re-emphasizing that point was a statement made by the foundation. "Our grantees are running some of the best public schools in New York City, serving families that for decades did not have access to high-quality schools. We're proud of the work they are doing to transform the public education landscape and proud to have played a small part in their success."
Again, with some charter systems having to spend tens of millions of dollars to educate thousands of students, the $2.74 million spread across at least seven schools is a very small part of the schools' success (source).
Related Articles