---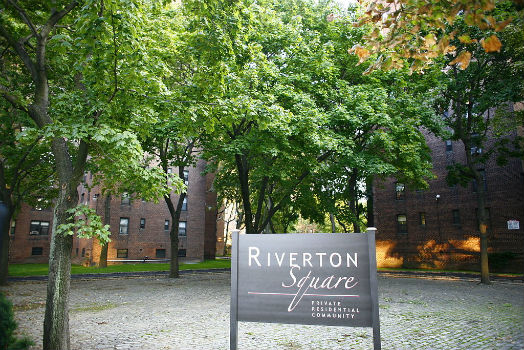 6sqft reports that East Harlem's Riverton Square complex is once again accepting applications for its 7,500-name waitlist for one-, two- and three-bedroom apartments. The affordable seven-building development, built by the Metropolitan Life Insurance Company, first opened in 1947 for World War II veterans, later becoming a coveted address for middle-class families. After it was sold to A&E Real Estate for $201 million in 2016, the city mandated that 975 of its 1,229 units be reserved for working- and middle-class families for 30 years. The waitlist opens tomorrow, with apartments set aside for New Yorkers earning 110 percent of the area median income. Units range from a $1,968/month one-bedrooms to $2,729/month three-bedrooms.
Riverton, located on a site bound by 135th and 138th Streets and Fifth Avenue and the Harlem River, was once home to jazz pianist Billy Taylor and former Mayor David Dinkins. The gated community features amenities like green space, a basketball court, a playground, 24-hour security and onsite laundry.
Qualifying New Yorkers can apply to enter the waitlist for the affordable Riverton Apartments until January 2, 2018. Completed applications will only be accepted either by mail or online and 7,500 randomly selected applications will be placed on a waiting list. Complete details on how to apply are available here (pdf). Questions regarding this offer must be referred to NYC's Housing Connect department by dialing 311.
If you don't qualify for the housing lotteries mentioned, visit CityRealty.com's no-fee rentals page for other apartment deals in the city.
---