---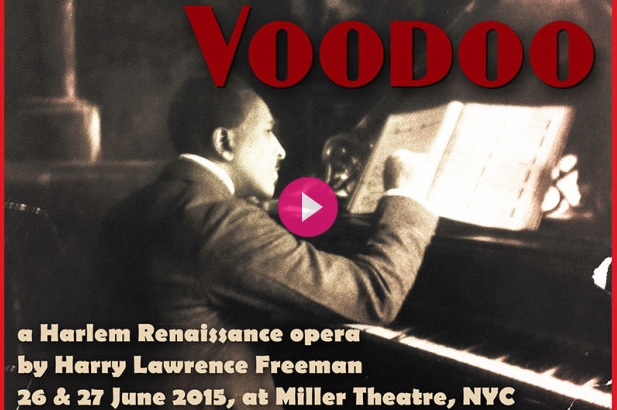 Morningside Opera, the NYC-based opera company that most recently presented the acclaimed Here Be Sirens and ¡Figaro! (90210), teams up with Harlem Opera Theater and The Harlem Chamber Players to present a concert of the long-lost and historical opera VOODOO, by African-American composer Harry Lawrence Freeman, with a 30-piece orchestra and full chorus. Gregory Hopkins is the conductor.  Last performed in NYC in 1928, VOODOO, will play two concert performances only on June 26 and 27, 2015 at 7PM at Miller Theatre at Columbia University (2960 Broadway, at the corner of Broadway and 116th street) in Manhattan. Terrance McKnight of WQXR Radio is the evening's host. Tickets are $25 advance/$30 at the door, with discount tickets available for students and seniors at $20. They can be purchased by visiting http://voodoo.brownpapertickets.com/ or by calling 800-838-3006.
Set on a Louisiana plantation just after the Civil War, VOODOO centers on a classic love triangle between three former slaves, one of whom turns to voodoo to entice her sweetheart and do away with her rival. This historical opera blends Western classical music with extended passages of period dance music, including a "Cake-Walk," and incorporates settings of several African-American spirituals, such as "Swing Low, Sweet Chariot."
Composer Harry Lawrence Freeman (1869-1954) was well known in the Harlem community during his lifetime, and gained some acceptance in mainstream classical music circles in the 1920s-1940s.  A contemporary of Scott Joplin, his operas were performed at the historic Lafayette Theater and at Carnegie Hall. Freeman considered himself a student of Richard Wagner (to whom he was compared by contemporary journalists), but he also incorporated American folk music and jazz into his compositions. Freeman received the Harmon Award for significant achievement by an African-American in the field of arts and letters in 1930, for VOODOO (sharing the award with Adam Clayton Powell). In 1934 he was the composer and musical director of the pageant "O Sing a New Song," a prestigious performance at the Chicago World's Fair that celebrated the African-American experience. The pinnacle of his career was the 1947 production of his opera The Martyr at Carnegie Hall.
Despite these achievements, most of Freeman's operas remain unpublished and there are no professional recordings of his music. As an African American composer, Freeman was denied access to many mainstream venues. Therefore, this performance is designed primarily to stimulate interest in Freeman, to raise awareness about and access to his music, and to foster new audiences for opera. His papers and scores reside in Columbia University's Rare Books and Manuscripts Library.
"We are very excited to be recording this concert live and to make this recording available through Columbia Libraries," said Annie Holt, co-founder of Morningside Opera. "We are also transcribing the score into digital music software, which will increase access to Freeman's music, encouraging future productions much sooner."
"Besides sharing Freeman's music with the public, we hope to spark a dialogue about some of the issues this project raises," said Gregory Hopkins, Artistic Director of Harlem Opera Theater. "Issues such as defining American opera, what kinds of communities can enjoy and produce opera, the role of opera in the Harlem Renaissance, and how might popular music – especially American forms like jazz and spirituals – influence opera," he continued.
Columbia University will also sponsor a conference called "RESTAGING THE HARLEM RENAISSANCE: New Views on the Performing Arts in Black Manhattan" on June 26 and 27, 2015, in conjunction with the performances. This two-day interdisciplinary symposium on African-American performing arts will include an array of events related to the VOODOO revival, including a keynote address on the significance of Freeman's work, a round-table discussion with performers, and an exhibit of Freeman's papers in Columbia's Rare Book and Manuscript Library. The symposium is co-sponsored by Columbia University's Department of Music, PhD Program in Theatre, Center for Study of Race and Ethnicity, the Heyman Center for the Humanities, the Institute for Research in African-American Studies and the IRAAS Alumni Council, and the Rare Book and Manuscript Library. For more information please visit: http://heymancenter.org/events/restaging-the-harlem-renaissance-new-views-on-the-performing-arts-in-black/
Morningside Opera www.morningsideopera.com
The Harlem Chamber Players also create opportunities for classically trained minority musicians. www.harlemchamberplayers.org
Related Articles
---