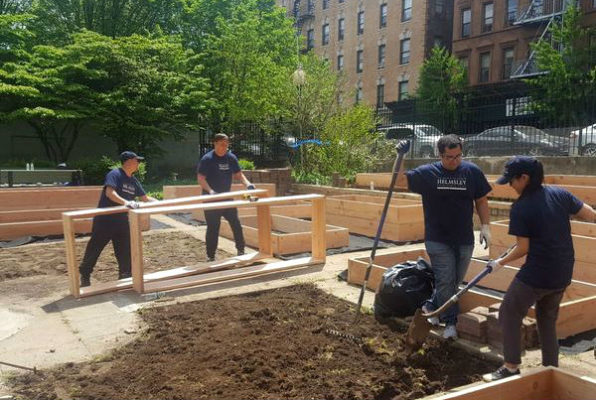 After a long winter, the sun is finally coming out — which means gardening season is right around the corner. But for many senior citizens living in the converted PS 139 building in Harlem, physical limitations that can come with age can get in the way of gardening.
To remedy the situation, the New York City Housing Authority — which operates the senior living center — and Grow NYC teamed up to install raised gardening beds in the facility's community garden. The gardening beds sit several feet above the ground, so seniors don't have to bend over as much to garden.
"NYCHA resident gardeners are important community leaders who work to advance our vision of safe, clean and connected communities," Sideya Sherman, NYCHA's executive vice president of community engagement and partnerships, told Patch in a statement. "Thanks to the hard work of Grow NYC and volunteers, the senior NYCHA resident gardeners at PS 139 will have a beautiful garden to call their own and a much easier time using this wonderful resource."
NYCHA and Grow NYC installed the gardening beds Tuesday, aided by volunteers from the Helmsley Charitable Trust.
The senior citizens living in PS 139 plan to use the garden to grow fresh produce such as fruits, vegetables and herbs, the center's resident leader Audrey Clemmons told Patch. On the outside edge of the garden facing the street, Clemmons plans to plant flowers to make the space more inviting.
Clemmons told Patch that the garden will give residents of PS 139 an opportunity to enjoy the warm weather and ease their minds. Clemmons also said the garden will provide incentive for relatives to visit the seniors living in PS 139.
"This is for the seniors, and I know I appreciate it," Clemmons told source. "And I was telling one of [the volunteers] I feel like crying, because to come together to do this, I love it."
Via source
No related posts found...