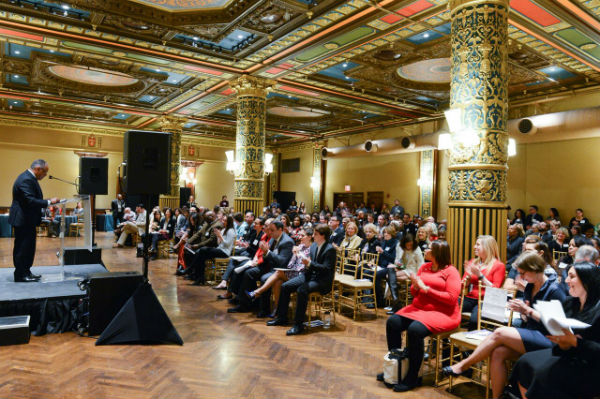 Last night, Wednesday, March 8, 2017, with the support of Harlem Speaker Melissa Mark-Viverito and hosted by the Partnerships for Parks at the 4th annual It's My Park Awards Reception to recognize New York City park volunteers .
These volunteers who have demonstrated exceptional leadership and commitment to their local parks through service, advocacy and collaboration.Held at the Prince George Ballroom in the Madison Square neighborhood of Manhattan, the event welcomed 250 community parks volunteers for an evening of food, drinks and celebration. Local leaders including Manhattan Borough President Gale Brewer and Manhattan Parks Borough Commissioner William T. Castro joined City Parks Foundation's Executive Director Heather Lubov and NYC Parks Commissioner Mitchell J. Silver in honoring these dedicated volunteers.
Partnerships for Parks presented seven awards at the ceremony, including the 2016 Golden Trowel Awards for each of the five boroughs, as well as the Community Parks Initiative Award and the Tim Tompkins Leadership Award, both of which went to groups from the Bronx. The ceremony included remarks from Sabina Saragoussi, Director of Partnerships for Parks; Heather Lubov, Executive Director of City Parks Foundation; NYC Parks Commissioner Mitchell J. Silver; and Carol Hasenstab, Retail Market Manager at TD Bank. Manhattan Borough President Gale Brewer, Council Member Costa Constantinides, and City Parks Foundation Board Trustee Claire Pellegrini Cloud presented the Golden Trowel Awards for Manhattan, Queens, and the Bronx, respectively. City Parks Foundation Board Chair, John Troubh, presented the final award of the night, The Tim Tompkins Leadership Award, to Loving The Bronx.
The Golden Trowel Award recognizes volunteers' commitment to transforming their parks and green spaces into dynamic community assets. It is presented to a community group from each borough that has led It's My Park and other programs, and has demonstrated exceptional organizational growth. This year's Golden Trowel award for Manhattan went to the Sutton Place Parks Conservancy, led by Jack Barnett and Patricia Scharlin-Taylor.
In 2016, the Sutton Place Parks Conservancy, which serves Sutton Place Parks (5 pocket-parks located on the banks of the East River in midtown), received a Partnerships for Parks Capacity Fund Grant and used the funds to incorporate the group as a 501(c)(3) non-profit organization. The organization raised over $75,000 from private and corporate resources, and used the money to restore landscaping in a portion of the park. The group also worked with the nearby Cathedral High School to restore another section of the park, and the students are developing a landscape plan that will include all native plants. In addition, the group has developed a community visioning strategy for 2017 that includes an online survey, interviews in the park, focus group meetings, reporting, and committees within the Conservancy to help implement each stage of the process. In 2016, the group also grew their mailing list to over 350 people, solidifying a strong network of local stakeholders with whom to engage in their upcoming visioning outreach.
This year's It's My Park Award honorees were seven outstanding community groups selected from over 450 that participated in the 2016 It's My Park program. Together, these groups amounted to more than 24,500 New Yorkers who organized and participated in over 1,000 park clean-ups and events in more than 330 parks across the city. These volunteers are vital in maintaining and improving New York City's 29,000 acres of greenspace from parks and pools to nature centers and skateparks. Their dedicated stewardship helps build long-term investment in these public spaces and strengthens the social fabric of their neighborhoods.
More information about Partnership for Parks is available here.
Partnerships for Parks is funded in part by the Parks Equity Initiative of the NYC Council under the leadership of Speaker Melissa Mark-Viverito.
Photo credit: Commissioner Mitchell J Silver speaks at the Partne…y Daniel Avila. By Daniel Avila/NYC Parks. 
No related posts found...
---