---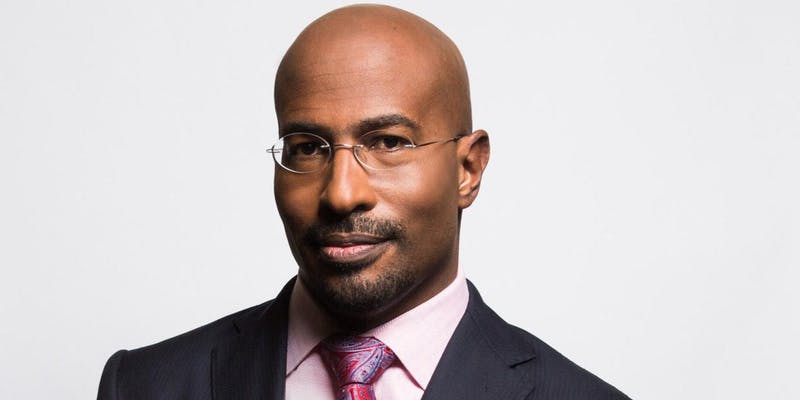 On Monday, October 21, 2019, 6:30 pm at the Apollo Theatre, 253 W. 125th Street, Harlem, New York, Rev. Al. Sharpton and National Action Network will recognize a range of leaders influencing Black culture at the Triumph Awards. Honorees include leaders in civil rights and social justice, the arts, entertainment, education, business, and sports. Each recipient has made a positive impact on society by utilizing their talents and resources to help change humanity in their respective fields and NAN will recognize and shine a light on how these leaders use their platforms to further the social justice agenda.
Honorees:
Naturi Naughton, award-winning actress & singer-songwriter
Alicia Garza, co-founder of Black Lives Matter & civil rights leader
Van Jones (pictured), CEO of REFORM, news commentator, author & attorney
Isiah Thomas, retired NBA Player & Hall of Famer, business leader, and philanthropist
Dominique Morisseau, actress & American playwright
Ivy McGregor, global business leader
Performances by gospel singer Le'Andria Johnson, The Greater Allen AME Cathedral Ensemble, Grace Baptist Church Choir, and the Cast of "Ain't Too Proud The Life & Times of The Temptations."
**Upon arrival, all photo and video media must check-in at security (the silver door to the right of the main entrance on 125th St) to receive their photo or video passes.
At a time when the country's current administration is continually trying to reverse the efforts and progress of the civil rights movement, NAN's activism is needed more than ever. This year's honorees include individuals who recognized the power in their voice and utilized it to positively impact and engage their communities. The Triumph Awards honorees include: Naturi Naughton, award-winning actress, singer and songwriter; Alicia Garza, co-founder of Black Lives Matter and a leading organizer, writer and the Special Projects Director for the National Domestic Workers Alliance; Van Jones, a criminal justice leader who continuously sheds light on injustices through his work as CEO of REFORM Alliance and his CNN show "The Van Jones Show"; Ivy McGregor, a licensed ordained minister, author and CEO of Ivy Inc. & Social Responsibility/ BEYGOOD; Dominique Morisseau, an actress and playwright whose work reflects and highlights the lives of individuals and communities grappling with economic and social changes; and NBA Hall of Famer Isiah Thomas, a businessman, philanthropist and one who dedicates his free time enhancing youths' access to academic enrichment programs and recreation through his non-profit Mary's Court named after his mother. The Triumph Awards will be hosted by award-winning NY1 anchor and author Cheryl Wills with a performance by award-winning gospel singer-songwriter Le'Andria Johnson.
National Action Network is one of the leading civil rights organizations in the Nation with chapters throughout the entire United States. Founded in 1991 by Reverend Al Sharpton, NAN works within the spirit and tradition of Dr. Martin Luther King, Jr. to promote a modern civil rights agenda that includes the fight for one standard of justice, decency and equal opportunities for all people regardless of race, religion, nationality or gender.
---