---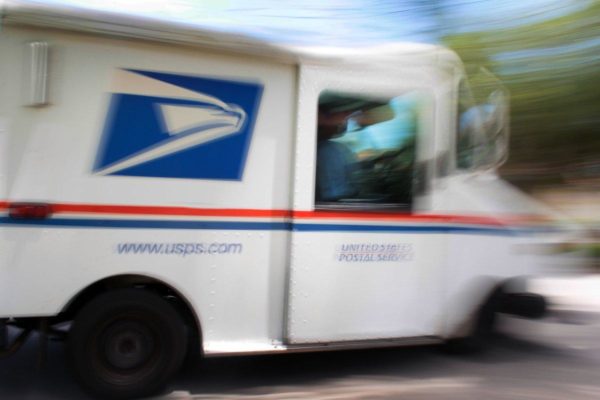 The pandemic-led upsurge in online shopping has put the U.S. Postal Service (USPS) in a serious crunch.
The crunch has leading agency employees and postal industry tracking firms to warn shoppers not to put too much hope in having all their gifts under the tree by December 25, 2020.
Making matters worse, the Washington Post reports that private express carriers FedEx and UPS have completely cut off delivery service for some retailers, sending tons of packages to USPS, which bogs down the system even further.
"We're really gridlocked all over the place," a Postal Service transportation manager in Ohio told the Post. "It's bad. I've never seen it like this before." Things are bad enough that one Grinch'y USPS carrier reportedly dumped 19 packages in the garbage in a Chicago woman's trash can.
Letter carriers in Detroit and Philadelphia said that some of their peers have been assigned two eight-hour routes each day, and some offices have gone as far as rerouting employees to other facilities to try and get caught up.
"I don't think anyone, including the post office itself, knows just how bad delays are," the Philadelphia carrier said.
This week is make it or break it
The USPS tried to put its best foot forward in a press release, saying that it's continuing "to flex our network, including making sure the right equipment is available to sort, process and deliver a historic volume of mail and packages this holiday season." But past that spin, it laid out exactly what consumers should expect from the agency.
Shipping deadlines: The Postal Service recommends the following mailing and shipping deadlines for expected delivery by Dec. 25 to domestic U.S. addresses and Air/Army Post Office/Fleet Post Office/Diplomatic Post Office addresses:
Dec. 15 — USPS Retail Ground service
Dec. 18 — APO/FPO/DPO (except ZIP Code 093) USPS Priority Mail Express service
Dec. 18 — First-Class Mail service (including greeting cards)
Dec. 18 — First-class packages (up to 15.99 ounces)
Dec. 19 — Priority Mail service
Dec. 23 — Priority Mail Express service*
Packages to Alaska and Hawaii have separate deadlines and are available here.
*Not a guarantee, unless otherwise noted. Dates are for estimated delivery before Dec. 25. The actual delivery date may vary depending on origin, destination, Post Office acceptance date and time, and other conditions. Some restrictions apply. For Priority Mail Express shipments mailed Dec. 22 through Dec. 25, the money-back guarantee applies only if the shipment was not delivered, or delivery was not attempted, within two business days.
Weekend Delivery: USPS already delivers packages on Sundays in most major cities and will continue to do that.
Christmas Day Delivery: For an additional fee, mail carriers will also deliver packages on December 25 in select locations.
Expanded hours: Available in select locations
Expanded package delivery window: "Where volume warrants," USPS will deliver outside of its normal times, including in the morning, afternoon, and early evening.
Busiest mailing and delivery days: Crunch time is officially here. This week, December 14-21, is predicted to be the busiest mailing, shipping, and delivery week.
Tips to help improve the chances of an on-time delivery
The Postal Service realizes that being in crunch time puts guaranteed delivery times in an iffy position, but it says there are a few things consumers can do to better their chances.
Skip the trip and shop online: "Consumers don't have to leave home to ship their packages. In these socially distant times, they can simply visit usps.com or use the Click-N-Ship feature for help shipping that holiday gift, ordering free Priority Mail boxes, printing shipping labels, purchasing postage and even requesting free next-day Package Pickup," the service said, adding that usps.com is "always open."
Use free Priority Mail Flat Rate boxes: This is available for free at Post Office locations or online at www.usps.com/freeboxes.
Make it easy with Click-N-Ship: If you have a computer, you can create shipping labels and pay for postage online at www.usps.com/ship.
Schedule a free Package Pickup when the carrier delivers your mail:  This seldom-used tip might be worth its weight in gold for those who hate standing in line. More importantly, it's free regardless of the number of packages. Pickups can be scheduled at www.usps.com/pickup.
One important note, though: Mail and packages that weigh more than 10 ounces or are more than a half-inch thick and use stamps as postage cannot be dropped into a collection box or left for a carrier to pick up. Instead, people have to take them to a local Post Office.
---