---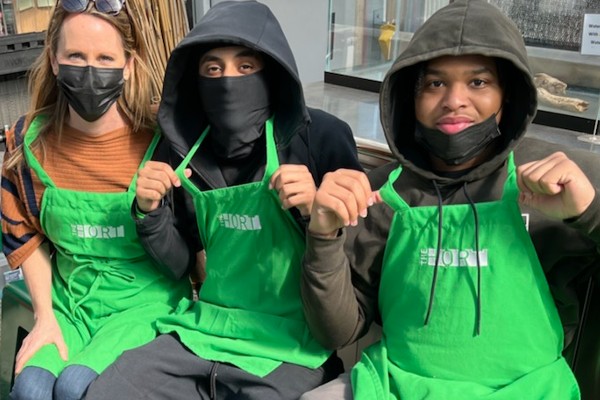 On March 11th, 2022, four days after the NYC schools mask mandate lifts, the Urban Assembly School for Global Commerce will host a Social Emotional Learning (SEL) Showcase.
The showcase is to highlight the positive impact of SEL.
Students and educators from Harlem to Hollis will demonstrate how SEL has impacted their lives in the classrooms, at home, and in their community.
This event falls on International Social and Emotional Learning Day and is part of the Urban Assembly's partnership with the Social-Emotional Learning Alliance for the United States (SEL4US) in calling for SEL to be at the center of the post-COVID-19 education system.
"As we come out the other end of a global pandemic that has impacted the psyche of all our students and teachers, prioritizing social-emotional learning could not be more important," said David Adams, CEO of Urban Assembly. "Social-Emotional Learning Day falls during the same week COVID-19 restrictions are being lifted in our schools. It is the perfect opportunity to refocus on our shared mission of helping students learn and grow. Our students have seen profound changes in their education in the past two years and many have fallen behind. Social-emotional learning can help all of us move forward."
Urban Assembly and SEL4US are committed to ensuring that all students receive purposeful instruction to develop the social-emotional competencies that impact students' success in school, work, and life.
At Urban Assembly schools, these goals are accomplished through multiple programs and frameworks curated for students, teachers, and school leaders to ensure safe learning environments where students can build on their resiliency, develop prosocial behavior, and take part in positive experiences beyond the classroom.
"We have long called for social-emotional learning to be at the cornerstone of our education system, and we are renewing these calls on International Social and Emotional Learning Day," said Nova Biro, Co-Director of SEL4US. "Social-emotional learning is a proven method that has helped students both before and during the pandemic – it must be a priority in the post-COVID world too. Many aspects of social-emotional learning such as emotional empathy, perspective-taking, maintaining positive relationships, and healthy goal-setting are more important now than ever before."
Nationwide, over 1,500 partners will be engaged in celebrating SEL Day. This year's sponsors include Move This World, Inspire Teaching & Learning and Harmony Social Emotional Learning, Education Development Center (EDC), Committee for Children, Panorama Education, Lions Quest, Up2Us Sports, and Aperture Education.
All individuals and organizations can sign up to participate in Social Emotional Learning Day here.
The Urban Assembly and FedEx are helping 190 students in Harlem discover more than one path to postsecondary education, through mentorship opportunities that connected FedEx employees with students, helping them uncover their unique strengths.
Lats years Career Day, The Urban Assembly and FedEx, in November 2021, Vizcaino and Silver coordinated a Student Career Day geared toward seniors and former UASGC graduates. FedEx Express and Ground leadership, including directors and Board members, were onsite at UASGC to provide information around upcoming job opportunities and careers with FedEx.
The Urban Assembly
The Urban Assembly is a non-profit school support agency that develops learning tools and programs that boost student growth and school performance.
In partnership with the NYC DOE, the UA created a network of 23 high-performing schools that offer career-centered specialized education without admissions screening or testing.
The mission of The Urban Assembly is to advance students' economic and social mobility by improving public education through social-emotional learning.
Through rigorous academic programming, postsecondary readiness, and a deep commitment to equity and social justice, Urban Assembly schools graduate young people who are prepared for success in college, career, and community.
SEL4US
SEL4US (sel4us.org) was founded in 2019 to empower local advocates to influence and support their communities to implement high-quality social and emotional learning.
SEL4US is a national membership organization that works at the state and community levels to raise awareness of the benefits of SEL, promote and support SEL implementation, and advance policies and funding to sustain and spread the use of high-quality SEL.
FedEx Cares
FedEx Cares (http://fedexcares.com/) is our global community engagement program and one way that we live out our purpose of connecting people and possibilities.
FedEx is actively fostering economic mobility and creating a path through which students can follow their interests.
Photo credit: Urban Assembly.
---