---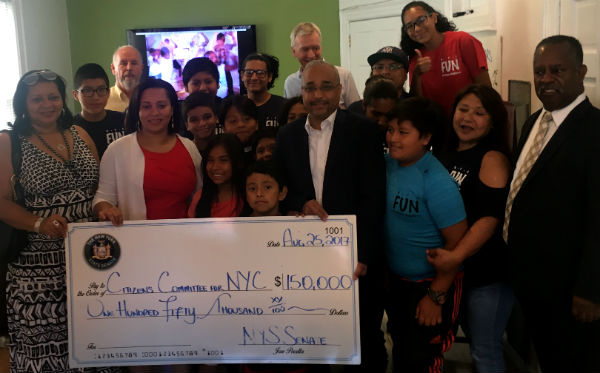 To help community-based organizations which work to improve the quality of life of neighborhoods and their residents, State Senator Marisol Alcantara and State Senator Jose Peralta announced a state allocation of $150,000 for Citizens Committee for New York. The money will fund community programs, not just in Senator Peralta and Alcantara's districts, but also throughout Queens and the rest of the city. The announcement took place this morning at Fit Urban Neighbors (FUN) in Corona, one of Citizens Committee's grantees in Senator Peralta's district.  
"Since its founding by Senator Jacob Javits in the 1970s, the Citizens Committee for New York City has provided needed support to volunteer organizations which take ownership in their communities. For the first time in its history, Senator Peralta and I were able to secure state funding for these important efforts. From after school programs to community gardens, the effects of this funding will be felt in every borough and neighborhood of our great city," said Senator Marisol Alcantara.
"Citizens Committee provides grants to community-based organizations, and associations that work to strengthen neighborhoods through a wide range of activities, from painting murals and setting up literary workshops and community forums, to transforming vacant lots into local community gardens and health and physical education classes," said Senator Peralta. "I am happy Senator Alcantara and I were able to secure these funds for Citizens Committee and support the amazing work the grantees do to make our communities better."
"The thirty grants from Citizens Committee for New York City we are announcing today in neighborhoods represented by Senators Peralta and Alcantara are among nearly four hundred grants we are making this year in one hundred and eighty seven neighborhoods in all five boroughs," said Peter H. Kostmayer, CEO of Citizens Committee for New York City. "All the grants have two features in common, they engage community residents and they improve our neighborhoods. We are grateful for the New Yorkers here in Queens and across the city who do this good work and we are grateful to the State Senate for the support we have received in this year's budget, which serves the people and the communities of our great city."
"Senator Peralta and the Citizens Committee has long been a champion of healthy living and local sustainable gardening. Their continuous support of plant based lifestyles has allowed PS 13 to create a burgeoning vegetable garden that serves as an example of green city living," said Evelyn Velez, Principal at P.S. 13. "PS 13's lush gardens provide our students with locally grown produce to eat during lunch as well as an inspirational landscape to lead the Elmhurst community towards further green endeavors.  None of this would have been possible without the dedication of Senator Peralta and the Citizens Committee."
"Fit Urban Neighbors thanks Senator Alcantara and Citizens Committee for joining the fight against youth obesity and overweight, a serious growing health problem affecting nearly 60% of New York City residents. Their dedication and support has facilitated FUN's youth based organization to bring awareness to childhood obesity and prevent chronic diseases. Through after school programs, FUN has been able to focus on nutritional education, organized sports, like soccer, and exercises. FUN, with the help of Senator Peralta and Citizens Committee, has ultimately empowered children and their families with the tools needed to live a healthier lifestyle and improve their quality of life," said Jorge Xavier Alulema, Founder Fit Urban Neighbors (FUN).
"Citizens Committee for New York City is one of the best funding sources for local communities throughout NYC. Our community gardens and block associations across the city have prospered and benefited through its Neighborhood Grants program. We are very grateful to have them as a partner," said Demetrice Mills, Board President of the Brooklyn Queens Land Trust. The Malcolm X Community Garden that the group manages is located in Senator Peralta's district.
The Citizens Committee's grantees in Senator Alcántara's district are: Washington Heights/Inwood Food Council, Overlook Towers, P.S. 178 Professor Juan Bosch, City College of New York Green, Forest House of Manhattan, Marble Hill Garden Project, Washington Heights Expeditionary Learning School, Mama Tingo Childcare and Learning Center, Listen Closely Inwood Chamber Music Initiative, Mott Hall II Green Team, School Art League, Launchpad Arts Collective, Eagle Condor Community Center, Friends of Inwood Hill Park, Satellite Fitness, Survivors Inspiring Sisters Through Art and Advocacy for Health, West 111 Street People's Garden, M.S. 328 Community Math and Science Prep.
---