---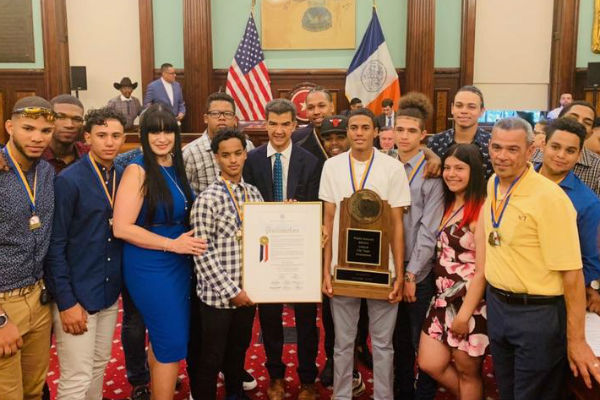 Uptown council Member Ydanis Rodriguez was joined today by colleagues, the Gregorio Luperon 'The Generals' Baseball team, family and friends.
The team was presented with a proclamation for their outstanding 2019 season and for their win of the PSAL AAA Baseball Championship.
A team composed of young immigrants recently arrived from Latin America, who in the process have excelled and become role models to their community. This story fills us with hope and renews our faith in continuing to create opportunities for our young people to develop their potential and achieve their dreams.
The Luperon Baseball Team made Washington Heights history as they became the PSAL AAA Baseball Champions by defeating Beacon High School 4-2 on the last inning. This was the first time both teams made it to the PSAL AAA Baseball finals, the first time a school of less than 600 students won the title, and the longest game played in PSAL in more than 100 years.
The students and their coaches have truly distinguished themselves throughout their phenomenal season, with 16 outstanding wins and 0 losses. The Generals are comprised of 19 student-athletes of Dominican descent and new arrivals in the USA. Throughout this championship season, they have demonstrated what hard work, talent, and discipline can achieve when individuals are given opportunities. The players owe their achievements to the leadership and encouragement of their tireless coaches and their families, who together instilled in them the value of teamwork, imparted in them a desire for success and helped them develop a sense of fair play and competition.
"Luperon does not have a big baseball field or 2,500 students; Luperon is a small school. We are here to celebrate the hard work of this team, and the many victories they were able to achieve." said Council Member Ydanis Rodriguez "These students did not have a nice field or private coaches like many other schools that receive more funding, yet there were still able to win the cities 2019 PSAL championship."
---