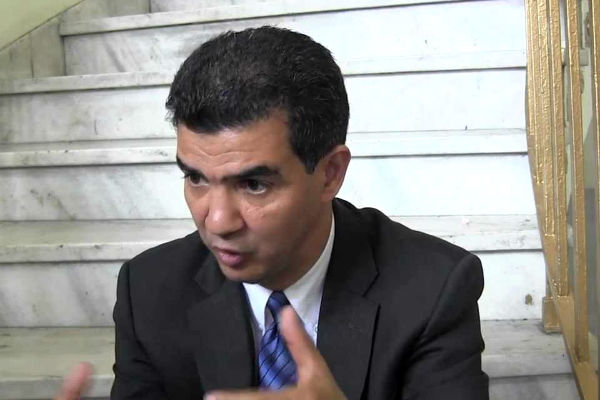 Council Member Ydanis Rodriguez, Chair of the Council Committee on Transportation, Council Members Rafael Espinal and Antonio Reynoso joined by Rebecca Bailin, Campaign Manager for Riders Alliance, Joseph Catrufo, ….
.. Director of Communications for Transportation Alternatives, Transportation Advocates, and other elected officials announced oversight hearing on the Metropolitan Transportation Department's mitigation plans for the 2019 L train tunnel shutdown.
The MTA and the New York City Department of Transportation have not shared any plans on how to replace L train service since the project was announced in 2016. The shutdown will affect 400,000 daily riders in Brooklyn and Manhattan during the 15-month process starting in April 2019.
Chair Ydanis Rodriguez called on the MTA and DOT to create a plan that encouraged the use of environment-friendly alternatives. Resolution 1443 introduced by Council Member Rafael Espinal also stresses the importance of greener transit options by calling for electric buses to be a robust part of its replacement service.
According to an inventory of New York City Greenhouse gas emissions, released in 2016, the transportation sector accounted for 21 percent of the greenhouse gas (GHG) emissions of the entire city.
Sandy storm is an example that Climate change is an existential threat to our city, our country, and our planet. As the L-train shuts down the MTA and NY DOT must have efficient and safe ways to mobilized those daily riders throughout the city without increasing the level of green gas emissions.
During the last ten years the Citywide Green House Gas emissions decreased 11.7 percent, what means that even though New York City has one of the world's most extensive mass transit systems in the world, with subways, buses, commuter railways, and ferries, we have found ways to decrease emissions levels. By committing to implement the use of electric buses we are diminishing the possibility of having another storm like Sandy in our city.
"The MTA and NYC DOT must guarantee a seamless transition for the hundreds of thousands of L train riders that depend on the subway to get work, doctors' appointments, school, and their loved ones," said Council Member Ydanis Rodriguez. "As we work to improve the resiliency of our city in the face of natural disasters, we must also seek ways to decrease the potentially negative environmental impacts by implementing a plan heavily relying on electric buses, and incentivize opting for riding bikes and other greener ways to move about the city."
"We know the L Train shutdown is coming, but we don't know how the City plans to accommodate this devastating disruption in the public transit network," said Transportation Alternatives Executive Director, Paul Steely White. "There's no way to accommodate the L train's 250,000 daily riders through private car trips or without a clear plan, so we're calling upon Mayor de Blasio and the New York City Department of Transportation to dramatically improve surface transit and dedicate more space for buses, bicyclists and pedestrians along the entire L Train corridor. Core to any plan must be PeopleWays on Grand Street in Brooklyn and 14th Street in Manhattan, both of which are critical streets for L Train commuters."
Rebecca Bailin, Campaign Manager for the Riders Alliance, said, "The L train shutdown will be devastating for transit riders and for the communities that depend on the L. Everyone recognizes that the MTA has to do the work, but the burden is on the MTA and the City to produce an ambitious, credible plan to help New Yorkers get around town during the period of construction. This is no time for half-measures. Hundreds of thousands of L train riders are looking to Mayor de Blasio and MTA Chair Joe Lhota to provide a plan that helps people get to work and avoids the paralyzing traffic that could result if we don't have a strong enough plan."
Related Articles
---
VIDEO
---
"Dr. Harry Delany is a renowned Harlem born and raised surgeon, the son of the great jurist and civil rights leader, Hubert Delany...." This monthly post is made in partnership with Harlem Cultural Archives.