---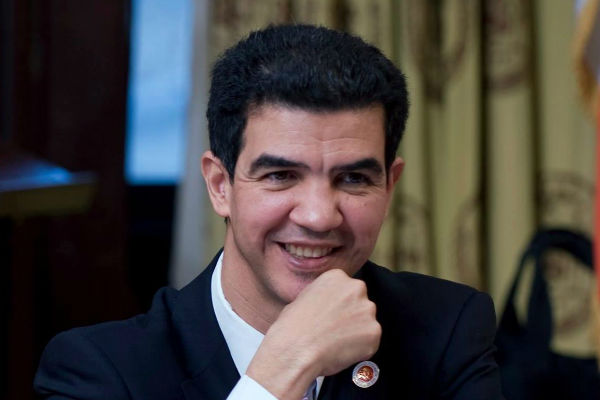 Here are remarks, as prepared for delivery, by uptown Council Transportation Chair Ydanis Rodriguez at the Committee on For-Hire Vehicles hearing on Monday, April 30th:
"Good morning. I am Council Member Ydanis Rodriguez, chair of the Council Committee on Transportation.
"Today, we'll be hearing Introductions 854, 855, and 856 which aim to level the playing field for yellow taxicabs and for-hire vehicles. They intend to hold for hire vehicles to some of the same rules as yellow taxis: (1) create a cap of 1,000 licensed for-hire vehicles that may be affiliated with each base in the City, (2) require half of all black cars licensed by the Taxi and Limousine Commission-including those using app-based companies-to be accessible to persons with disabilities by 2025, and (3) require the Taxi and Limousine Commission to consider, among other things, the possible adverse effects on the quality of life, traffic congestion, sidewalk congestion, parking availability, noise, and the environment, whenever a new or relocating black car base or luxury limousine base applies for a license to operate.
"This is not the first time we discuss some of these measures. This hearing is the continuation of a longstanding conversation and fight.
"Over the next few years, FHV companies are predicted to put tens of thousands of vehicles on the road. The current situation where FHVs can grow without limitation, environmental impact studies or accessibility requirements makes no sense.
"The recent tragedies of medallion owners committing suicide out of their sense of total despair have served as a shocking wake up call to the dire state of the medallion.
"The bills I am introducing today are not about saving an industry. They are about doing justice by the many medallion owners who put their trust into a market we created and now they are left to fend for themselves. These medallions represented college tuitions, buying homes, and securing their retirement. For many, medallions represented the American dream.
"I also raise my voice today in support of our livery taxi drivers and all the small livery bases that have been hurt and need tremendous support from all of us too. I am open to discuss my bills with any stakeholders of the industry. I will take their feedback very seriously.
"It has long been my position that there can be a place for everyone in our taxi and for-hire vehicle industry. New York is a city of opportunity and innovation. Yet, the current situation of uneven rules is unfair.
"I look forward to today's discussion, hearing from the TLC and those from the public who are testifying."
Spanish translation:
"Buenos días. Soy el Concejal Ydanis Rodríguez, presidente del Comité de Transporte del Consejo.
"Hoy hablaremos de los proyectos de ley 854, 855 y 856, que tienen como objetivo anivelar el campo de juego de los taxis amarillos y los vehículos por contrato [ó for-hire, FHV como son conocidos en inglés]. Tienen la intención de regular a los vehículos por contrato [ó black cars) a algunas de las mismas reglas que los taxis amarillos: (1) crear un límite de 1,000 vehículos por contrato autorizados por la Comisión de Taxis y Limusinas (TLC) por base, (2) requerir que la mitad de todos los taxis negros con licencia de la Comisión de Taxis y Limusinas -incluidos aquellos que utilizan compañías basadas en aplicaciones- sean accesibles a las personas con discapacidad para 2025, y (3) requiera que la Comisión de Taxis y Limusinas estudie, entre otras cosas, los posibles efectos adversos sobre la calidad de vida, la congestión del tráfico, la congestión en las aceras, la disponibilidad del estacionamiento, el ruido y el medioambiente cuando una base de taxis negros nueva o reubicada o una base de limosina de lujo solicita una licencia para operar.
"Esta no es la primera vez que discutimos algunas de estas medidas. Esta audiencia es la continuación de una conversación y una larga lucha .
"En los próximos años, se predice que las compañías de FHV pondrán en circulación decenas de miles de vehículos. La situación actual donde los FHV pueden crecer sin limitaciones, estudios de impacto ambiental o requisitos de accesibilidad no tiene sentido.
"Las recientes tragedias de propietarios de medallones suicidándose por la desesperación total han servido como un impactante llamado de atención al estado calamitoso del medallón.
"Los proyectos de ley que presentaré hoy no tratan de salvar una industria. Ellos tratan de hacer justicia por los muchos propietarios de medallones que ponen su confianza en un mercado que creamos y que ahora tienen que valerse por sí mismos. Estos medallones representaban matrículas universitarias, comprar una casa y seguridad economica para la jubilación. Para muchos, los medallones representaban el sueño americano.
"También elevo mi voz hoy para apoyar a nuestros taxistas de "livery" y todas las pequeñas bases que han sido perjudicados y que necesitan un tremendo apoyo de todos nosotros también. Estoy abierto a discutir mis proyectos de ley con cualquier parte interesada de la industria y tomaré sus comentarios muy en serio.
"Ha sido mi posición desde hace mucho tiempo que puede haber un lugar para todos en nuestra industria de "for-hire" y taxis. Nueva York es una ciudad de oportunidades e innovación. Sin embargo, la situación actual de reglas desiguales es injusta.
"Espero ansiosamente la discusión de hoy, el testimonio del TLC y aquellos del público que testificarán".
Related Articles
---