---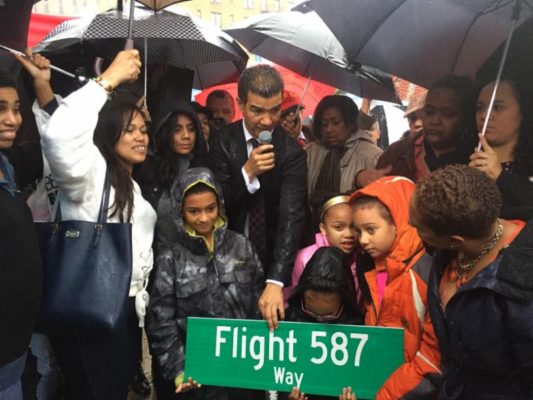 Yesterday Sunday, October 29, 2017, with their friends, families, and community leaders, New York unveiled "Flight 587 Way" at 181st Street and Amsterdam Avenue in honor to the victims and their families whose lives have been marked on Monday, November 12, 2001 by this tragic accident.
On the Morning of November 12, 2001, American Airlines Flight 587 bound to the Dominican Republic crashed into the Belle Harbor neighborhood of Queens. The passing of time has not erased the pain that all 265 victims left in their family, friends, and loved ones' lives. This is the second deadliest plane crash in the United States aviation history, and to many – in the Dominican community – is essential to remember this catastrophic plane crash.
"There are no words to comfort the families of the victims of Flight 587. They remain in our hearts and in our minds forever," said NYC Councilman Ydanis Rodriguez. "November 12, 2001 is a date that not only Latinos will remember, but New Yorkers as a hole. By co-naming this street as 'Flight 587 Way' we will forever memorialize them. It's an honor to be with leaders, and relatives of those who passed away to unveil 'Flight 587 Way' in an area where most of the victims used to live". 2001 is a date that not only Latinos will remember, but New Yorkers as a whole.
I have no doubt this is the most meaningful tribute that has been made in honor of our loved ones who passed away on November 12, 2001." said Oscar Abreu, one of the victims' family member. "And one way that we can always remember and having them present is having this name of Flight 587 as a street name.
"I'm proud to join my colleagues in government to honor the 265 victims by unveiling "Flight 587 Way". said U.S Congressman Adriano Espaillat (NY-13). "The crash of Flight 587, on November 12, 2001, claimed the lives of all 265 victims, most of whom were Dominican or Dominican-American. We must always remember the lives of those lost that day, and I am proud to stand with the Dominican community to help memorialize those affected by this catastrophe."
"Many members of New York's Dominican community still remember the tragic crash of American Airlines Flight 587. Many of us have family members or friends who died in the crash. Co-naming 181st street and Amsterdam Avenue after this fateful event is a fitting way to honor their lives and their deaths, and I am proud to stand with the entire Dominican community as we honored the victims and families who lives where affected on this tragedy." NYS Senator Marisol Alcantara.
"It has been over a decade since the American Airlines Flight 587 tragedy happened affecting many families, most of Dominican descent. 265 lives were lost and today we still mourn and stand in solidarity with their families to remember their sudden departure. This street co-naming of "Flight 587 Way" is in the heart of Washington Heights as we pay tribute and respect to their loved-ones by dedicating our most important corridors in honor to the loving memory of the victims of this tragic incident." Said NYS Assemblywoman Carmen De La Rosa.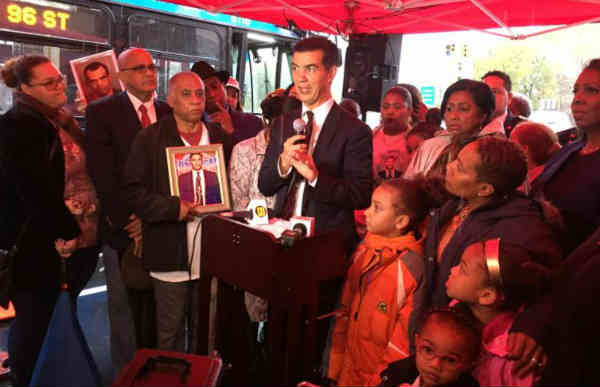 "Honoring the victims of the crash of flight 587, the second deadliest plane crash in U.S. history, is overdue," said Manhattan Borough President Gale A. Brewer. "The deaths of the passengers, who were mostly Dominican Americans, along with the crew and those on the ground in Queens, have sometimes been overshadowed by tragedy of 9/11, which occurred just a few weeks earlier. With this street co-naming, we're honoring their lives and tragic deaths and remembering them as a city."
Related Articles
---