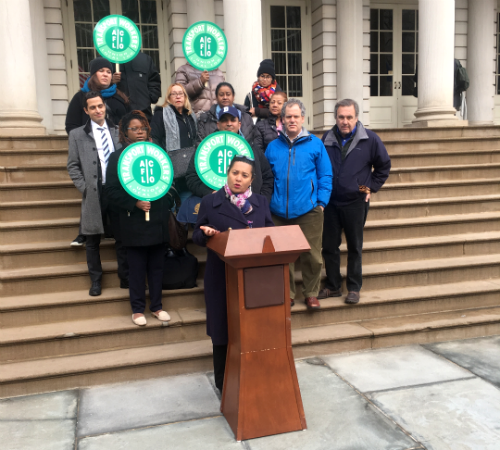 State Senator Marisol Alcántara (D-Manhattan) celebrated the passage of her bill, the Promoting Employee-Owned Businesses Act, together with worker-owners, advocates, union members, and employee-ownership transition specialists at New York City Hall today.
The new law, which was signed by Gov. Cuomo In November, creates a twelve-member advisory panel responsible for identifying and recommending strategies to promote the creation and development of new employee-owned enterprises. The members of the panel, who will be appointed by commissioners, elected officials, and legislative leaders, will produce a report detailing the existing worker-controlled businesses in New York State and how state and local governments can encourage the further growth of such businesses.
"As a longtime labor activist, I understand the importance of workers holding power in their places of work. What better way to ensure that companies and workers thrive together than to encourage worker-owned companies? The New York State worker cooperative community has shown that companies with democratic management structures can succeed, and it's past time that the state government take this model seriously as a way to tackle the problems of inequality in our society all while keeping good jobs in New York. This advisory panel will finally make the decades of work by the cooperative community visible to state government so that we can learn how best to support these worker-owners," said State Senator Marisol Alcántara.
Assemblyman Sean Ryan said "The employee-owned business model is growing in popularity in New York and across the country, as businesses look to new ways to empower employees and create durable businesses that can last for generations. We need to adjust our laws in New York to keep up with the growing popularity of employee-owned businesses. The new law we passed creates a system to develop a framework for the future, to ensure employee-owned businesses can thrive in the Empire State."
"Extensive research shows that employee ownership leads to more stable jobs, greater job growth, and more asset accumulation for employees. It is a bipartisan solution to economic inequality that works well for employees, companies, and communities," said Cory Rosen, PhD, Founder and Senior Staff for the National Center for Employee Ownership.
"As the largest worker cooperative in the United States, Cooperative Home Care Associates is thrilled that New York State will begin a review of legislation and systems so that others can do what we have done: combine good jobs, empowerment and service to our customers through employee ownership. We are happy to have led the way and are eager for others to join us," said Adria Powell, Executive Director of Cooperative Home Care.
"Around the world, worker ownership has helped retiring business owners find buyers for their companies, stabilized communities, and improved public services. We're so happy Senator Alcántara is leading the effort to find ways we can create these kinds of positive results here in New York." said Matt Berlin of the Industrial Cooperative Association.
"Our firm has been designing and installing Employee Stock Ownership Plans (ESOPs) for over 30 years," said Donald M. Israel of Benefit Concept Systems, Inc. "An ESOP will provide employees with one of the best retirement plans a company can offer. The employees become beneficial owners of some or all of the company's stock, generally at no cost to them, and as the company prospers their ownership stake grows. In most cases the employees will receive the value of the stock in their account over 5 years at retirement or the vested value if they leave before retirement. There are also tax benefits to the company and the shareholder(s) who sold the stock to the ESOP."
"Employee-owned companies ground wealth locally, stabilizing communities and protecting against the offshoring of good quality jobs. New Yorkers are innovators in the growing national employee-ownership movement and an advisory panel would ensure that policymakers have access to vanguard developments and experts in the sector," said Democracy Collaborative Director of Employee Ownership Jessica Rose.
"This bill is a significant step forward in the workers' rights movement, creating policy in New York that helps transition existing, healthy businesses to employee ownership. Our efforts to support employee ownership not only furthers the cause of workers' rights and economic democracy, but also helps retiring business owners, local communities and the state's bottom line. We are proud to see this legislation move forward," said Mary Douglas of Democratize the Enterprise.
Related Articles