---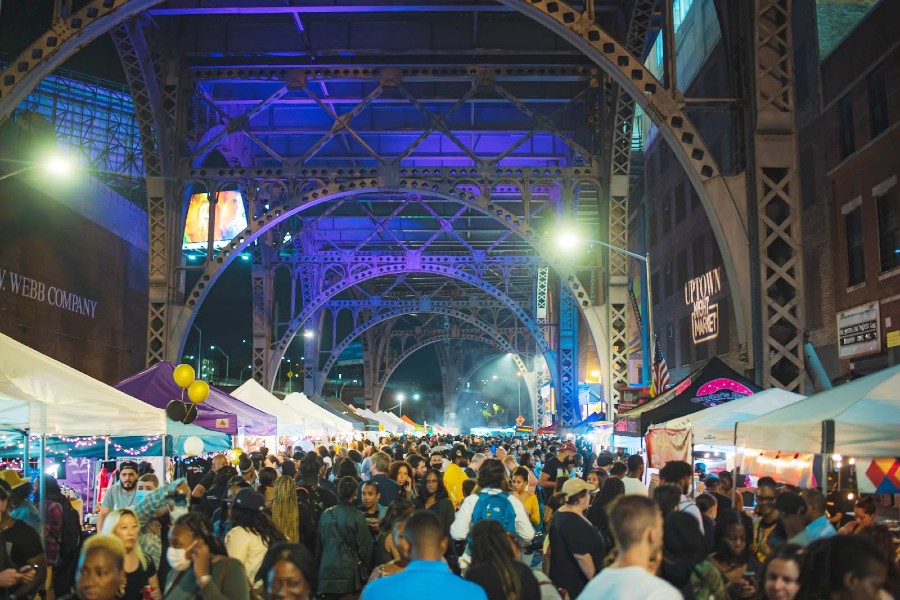 MHG Events, producers of  Uptown, Bronx, Brooklyn, Vegan, and Latin Night Markets –  is hosting, for the last time this season, the successful uptown foodie series, celebrating Harlem's culinary diversity.
 Uptown Night Market, which broke the attendance record in 2023 with more than 110K attendees patronizing more than 300 small businesses, promises to go all out on the grandest foodie event season finale on October 12th, 2023, at 4 p.m. on 133th St and 12th Avenue. 
With over 70 food, beverage, and merchandise vendors, the Uptown Night Market will showcase the diverse flavors of West Harlem and bring together local small businesses to create an unforgettable evening for visitors for the last time in 2023.  The vendor list includes some incredible options, such as Perros Locos' gourmet Mexican-style hot dogs, Down East Lobstah's authentic Maine lobster rolls, Tacos El Guero's traditional taco flavors, Lechon Bae sweet, salty, and sour Filipino essence, Treat YourSelf Jerk's spicy offerings,  La Braza's popular shish kebabs, Wood Fired Arepas, and the best-selling fried ice cream in town from  Sam's Fried Ice Cream. 
Marco Shalma, owner of MHG Events, said, "I am so proud of my team, putting together this historical series, allowing Harlem and NY'ers to celebrate community and resilience through cuisine and culture. And I am so grateful to the West Harlem community for embracing us and feeding us the energy to create something extraordinary for our uptown family." 
All of this culinary display will be accompanied by a curated music selection in collaboration with Harlem Late Night Jazz featuring The Danaya Band; also, Bessie and The Rainbowkids will be rocking the stage along with DJ KG3 and DJ Cosi. This authentic Harlem experience comes to an end this season; don't let others tell you how amazing it was.
Come and enjoy the biggest foodie experience of the year. RSVP HERE
The event is sponsored by West Harlem Development Corporation, Green Mountain Energy, Truly Hard Seltzer, Samuel Adams, Fresh Direct, and Vitamin Water.
MHG is a New York City-based hospitality group passionate about delivering innovative food and beverage experiences for the love-to-eat community. With a focus on diversity, inclusivity, and equity, MHG is dedicated to producing safe, affordable, and aesthetically pleasing events such as Uptown, Bronx, Brooklyn, Vegan, and Latin  Night Markets. The MHG works with various organizations, including NYBG, SummerStage, NYRR, and NYC Ferry, Central Park. Their predominantly female POC team is committed to delivering excellent customer experience, leveraging data analytics, tech innovation, and social media marketing.
---