---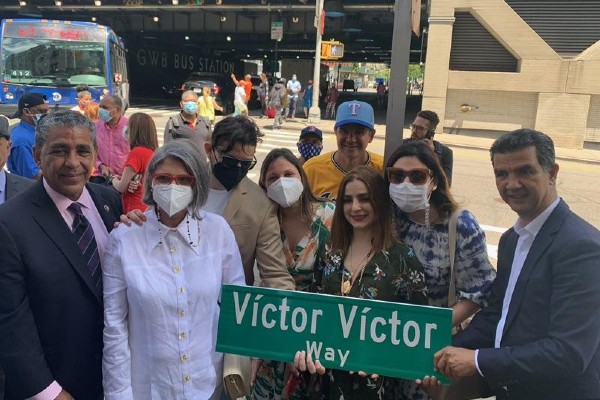 Today, Thursday, May 27th, 2021, uptown Council Member Ydanis Rodriguez, Harlem Congress Member Adriano Espaillat, Assembly Member Carmen De La Rosa,
Manhattan Community Board 12 Chairman Eleazar Bueno, Comisionado Dominicano De Cultura En USA, and community residents held a street co-naming ceremony to honor the life and legacy of Víctor Víctor.
Víctor Víctor remains a beloved and influential artist for hundreds of thousands of Dominicans in New York City.
His social-themed compositions gave shape to the hopes, dreams, and everyday experiences of Dominicans as economic and political immigrants to the USA.
His social-themed compositions gave shape to the hopes, dreams, and everyday experiences of Dominicans as economic and political immigrants to the USA.
To memorialize his life and legacy, the intersection of 178th St and Fort Washington Ave, where he resided for years, was co-named Víctor Víctor Way.
Víctor José Víctor Rojas was born in Santiago de los Caballeros, on December 11, 1948. He began his artistic life as a composer in 1968, when he wrote the songs: "Como Tú, Una Flor," affectionately called "La Confusión" by his audience, and "El Camino De Los Amantes," better known as "La Casita."
Based on the success of these songs, recorded in 1972 by Felipe Pirela and Fernando Casado, the Nobel author decided to launch his career as performer and composer, work that led him to become an important part of the anthology of the Dominican romantic song genre, and that transcended to all parts of the Americas and Europe through interpreters for whom he created numerous songs.
In the 1970s, his dissatisfaction with the political and economic directions in which the Dominican Republic was moving, and the ensuing international upheaval, led him to take on the social protest song as his aesthetic compass.
In 1973 he founded and directed the Nueva Fortuna group, with whom he toured all over the country with his participation in the 7 Días Con El Pueblo festival.
In 1978 he founded the group Flamboyán, through which he projected his music as a sample of rhythmic intermixing.
For five years he shared the stage with some of the most celebrated figures of the Latin American song and performed in Puerto Rico, Venezuela, Cuba, the United States and Italy.
Víctor Víctor was a student of the musical roots of merengue and bachata. In the process, he recreated and enriched the genres. Hits like "Mesita De Noche," "Ando Buscando Un Amor" and "Así Es Mi Amor" are made with simplicity and beautiful metaphors, and have been performed by many renowned Dominican and foreign vocalists.
In 1990 he released his Inspiraciones album, which contains the theme "Mesita De Noche," to international success.
The album successfully fuses Caribbean rhythms, creating a new style. By 1996 the relevance of "Vitico," as he was affectionately called by many, is such that he is appointed as President of the "Consejo Presidencial de Cultura," achieving with his work the law that creates the Dominican Republic's first State Secretary for Culture, currently known as the Ministry for Culture.
In his years of musical work, Víctor Víctor delivered 17 musical productions, two hundred songs and obtained wide recognition and multiple awards, in his native country and abroad.
He also participated in many celebrated festivals and events in various countries.
Víctor Víctor was awarded the Premio Lo Nuestro, Aplauso 92, Ronda, ACE, Aplauso 98, ASCAP and ONDA. Among the interpreters who have made his compositions great successes are Ángela Carrasco, Celia Cruz, Guadalupe Pineda, Maridalia Hernández, Milly Quezada, La Sophy, Charytín, Azúcar Moreno, Marc Anthony, Emmanuel, Dyango y Danny Rivera.
In his 2006 production Bachata Entre Amigos, he performed as a duo and in bachata, classic hits by singer-songwriters such as Joan Manuel Serrat, Joaquín Sabina, Silvio Rodríguez y Fito Páez, among others. Many of these authors performed their songs for the first time in the bachata genre rhythm.
He was an ambassador for bachata, presenting it as the most novel Dominican musical genre, and succesfully advocating to get it recognized as "World Heritage" by UNESCO.
He demonstrated his love for rhythm through his productions, his concerts, and his keynote lectures, which he delivered throughout his country and in Colombia, Chile, Venezuela, Spain and the United States, among others.
Víctor Víctor's social sensitivity was evident throughout his life. His last 5 years were dedicated to developing the "Creative Neighborhoods" project, creating more than 40 cultural locations offering popular music and dance education programs for children and young adults.
This project gave him great satisfaction and will continue operating through the efforts of those that worked with him as a tribute to his life and work.
He lived for bachata and died for bachata, because he always said: "Bachata Salva!"
"Victor Victor will live forever through his songs, family, and loved ones. It is an honor to co-name a street in the Heart of Little Dominican Republic, Victor Victor Way to celebrate all of his contributions to the Latino music genre and to our community, " said Council Member Ydanis Rodriguez. "It is important that the next generation knows about the life and legacy that Victor Victor left. I thank my colleagues in government Congress Member Adriano Espaillat, Assembly Member Carmen De La Rosa, Community Board 12, El Comisionado Dominicano de Cultura en los Estados Unidos, family and friends for joining us today as we co-name 178th st and Fort Washington, Víctor Víctor Way."
Co-Naming Ceremony Honoring Víctor Víctor / Ceremonia De Co-Nombramiento de Calle Para Honrar A Víctor Víctor. https://t.co/2zfOPGJNap

— Ydanis Rodriguez (@ydanis) May 27, 2021
Víctor Víctor died on July 16, 2020 in the city of Santo Domingo. He is survived by his wife Zobeyda de Víctor and their children Ian and Amy Víctor.
"Víctor Víctor was a legend of Dominican bachata, and his album entitled Inspiraciones, which contains the theme "Mesita de noche," achieved international success and helped propel Dominican music to audiences around the world," said Congressman Adriano Espaillat (NY-13). "Throughout his life and throughout his illustrious musical career, Víctor Víctor delivered 17 musical productions, two hundred songs and touched us all with the richness and beauty that was reflected in his music. His defense of Dominican culture and the sounds he created through his musical talent will be cherished and remembered forever."
---