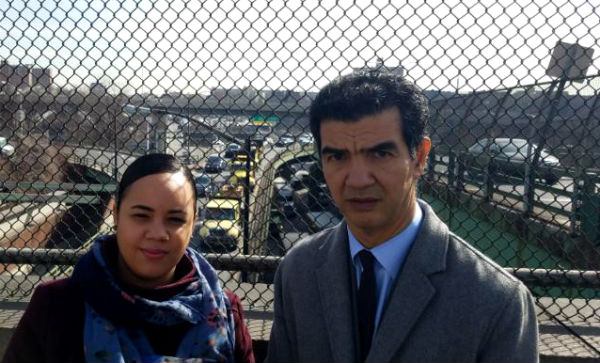 Following the announcement that the Cross Bronx Expressway is the most congested roadway in America, NYC Council Transportation Chair Ydanis Rodriguez and NYS Assembly Woman Carmen De La Rosa proposed solutions to ease traffic and the harmful emissions that cause asthma in surrounding communities.
Moving freight from trucks to rail, easing congestion and reducing carbon emissions. This would be accomplished by moving forward on plans to build a Cross Harbor Freight Tunnel, currently being studied by the Port Authority.
A study from the MTA and Port Authority on commuting patterns and the possibility of adding transit along the Cross Bronx to move more people faster.
Decks over the Cross Bronx with parkland for the many disconnected communities that the expressway decimated when it was built. The parkland could be helpful in reducing the terrible carbon emissions that add to the highest asthma rates in New York City along the congested corridor."
The Cross Bronx has created problems for surrounding communities since its inception," said NYC Council Transportation Chair Ydanis Rodriguez. "Since then, it has become hell for drivers, feeling more like a parking lot than an expressway. If we want to be proactive about solving congestion and the dangerous emissions it produces, we need to start taking trucks off this stretch, moving people faster and reversing the damage done to neighborhoods along the CBE. This starts with investing in our infrastructure, moving freight by rail instead of trucks. It also means investing in the Bronx, using decks to build new park land, bringing fresh air and open space to an area that needs and deserves it."
"Washington Heights and the South Bronx have the top asthma rates in the City, in no small part caused by the Cross Bronx Expressway," said NYS Assembly Woman Carmen De La Rosa. "These lower-income communities of color bare the brunt of this serious problem, a major social justice issue that must be corrected. We need to wean our society off of the prevalent car culture and start commuting in sustainable ways. This starts with infrastructure investment and I can think of few better places to start than with the Cross Bronx."
The Cross Harbor Fright Tunnel is thought to be able to reduce 90% of truck traffic in New York City, much of which travels along the Cross Bronx, to and from Long Island. The price tag on this project has been estimated around $10 billion dollars, costs that Council Member Rodriguez said should be picked up by the federal government, with President Trump's yet-to-be-revealed infrastructure plans. This plan has been pushed for years by Congressman Jerry Nadler and studies are underway about environmental impact and total cost.
A study of commuting patterns for drivers who fill up the Cross Bronx every day could provide greater insight about whether transit could be employed along this stretch. Moving people from cars into buses, with potential for dedicated lanes along the CBE, could make sense if it is found that most commuters are taking similar routes. For those travelling down the northeast corridor and simply passing through, Amtrak provides a quicker solution and efforts should be made to lower pricing or increase service.
For communities decimated by the Cross Bronx Expressway, there needs to be a serious investment in public health and open space. Ideas have been put forward by the Tri-State Transportation Campaign and others about putting decks over the Cross Bronx Expressway to build new parkland, with trees capable of reducing the ill effects of carbon. The Cross Bronx has led to major increases in asthma in its neighboring communities, not to mention the destruction and subsequent disinvestment in the South Bronx, following its construction. By reconnecting communities impacted by the Cross Bronx with parkland, neighborhoods can start to recover, providing healthier communities for residents.
Related Articles
---