---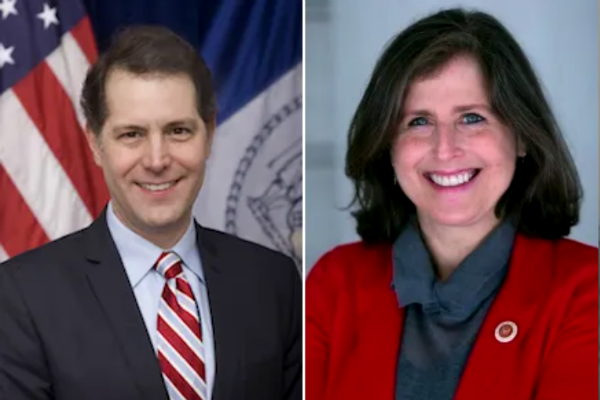 On Wednesday, October 28th, 2020, at 10 am the Committees on Women & Gender Equity and Health, chaired by uptown Council Members Helen Rosenthal and Mark Levine respectively.
They will conduct a legislative hearing focused on sexual and reproductive health in New York City.
The committees will review several pieces of pending legislation, which address a wide range of important health issues — gender equity in healthcare; access to contraceptive care; prevention of female genital mutilation and cutting; lactation spaces for employees; resources for parents of infants with intersex traits; Title X funding for abortion; and racially targeted bans on sex-selective abortions.
Wednesday's hearing begins at 10 am and will be live-streamed here. (Click on "Room 1.")
More details on the legislation being reviewed:
Int 1625-2019, CM Carlina Rivera
This bill would require the Department of Health and Mental Hygiene (DOHMH) to make available FDA-approved methods of non-surgical contraception, as well as long-acting reversible contraception (LARC), which includes, but is not limited to, intrauterine devices, injections or injectable, or subdermal contraceptive implants. DOHMH would be required to make non-surgical contraception and LARC available at health centers, health stations, health clinics, and other health facilities operated or maintained by DOHMH which also offer services relating to the diagnosis and treatment of sexually transmitted diseases. DOHMH would also be required to offer cultural competency training to its employees.
Int 1662-2019, CM Robert E. Cornegy, Jr.
This bill would require the Department of Health and Mental Hygiene to provide mandatory annual training to staff at locations required to make lactation rooms available, including protocols for providing access to the rooms and cleaning and maintaining them. In addition, the Department would be required to inspect the lactation rooms at least quarterly for cleanliness, safety and accessibility.
Int 1748-2019, CM Daniel Dromm
This bill would require the Department of Health and Mental Hygiene (DOHMH) to create informational resources that may be distributed when an infant is born with intersex traits—that is, a person born with reproductive or sexual anatomy that does not fit the typical definitions of male or female. DOHMH would design the resources for parents and/or guardians as well as medical practitioners. The materials would specifically address important considerations when deciding whether medical intervention may be safely delayed until the infant is older and can voice thoughts about the procedure.
Int 1828-2019, CM Alicka Ampry-Samuel
This bill would establish a committee on female genital mutilation and cutting (FGM/C) within the Mayor's Office to End Domestic and Gender-Based Violence (ENDGBV). The committee, headed by the ENDGBV director or a designee, would be responsible for preparing and implementing a comprehensive strategy aimed at preventing and eliminating the practice of FGM/C among individuals and communities in the City. The mayor or a designee would appoint committee members from various fields, including City government, healthcare, and non-profit organizations, among others. The committee would be required to meet a minimum of four times per year and to submit an annual report detailing its activities to the Mayor and Speaker of the Council.
Int 2064-2020, CM Helen Rosenthal
This bill would require the Department of Health and Mental Hygiene (DOHMH) to create an advisory board to study gender equity in healthcare and inequities related to gender at hospitals in New York city, and to analyze factors and social determinants leading to such inequities. The advisory board would consist of a multi-disciplinary panel of representatives and be required to submit a report including recommendations for addressing and eliminating such inequities by December 1, 2021, and December 1 annually thereafter.
Res 0919-2019, CM Diana Ayala
Calling on the Federal Government to dismiss the change to Title X funding, specifically to prohibit recipients from using Title X funds to perform, promote, refer for, or support abortion as a method of family planning.
Res 0920-2019, CM Margaret S. Chin
Support a woman's right to abortion and to oppose sex-selective abortion bans that perpetuate racial stereotypes and undermine access to care.
Pre-considered T2020-6774, CMs Helen Rosenthal, Farah N. Louis
This bill would require the Department of Education, the Department of Health, the Police Department, the Administration for Children's Services, the Mayor's Office to End Domestic and Gender-Based Violence and service providers who work with families and contract with such agencies conduct culturally competent training for all staff on recognizing the signs of female genital mutilation and cutting, including with regard to information on resources for individuals who have undergone physical or psychological trauma.
Photo credit (l to r): Mark Levine and Helen Rosenthal.
---