---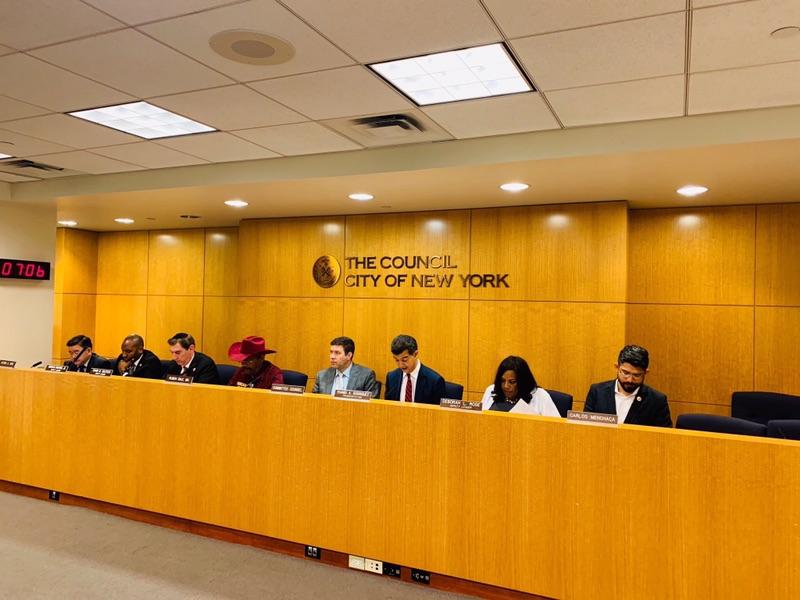 Today, May 28th, 2019, the Committee on Transportation, chaired by Council Member Ydanis Rodriguez, passed the Vision Zero Street Design Bill (Int.322-A). The bill ent through alongside Council Member Rivera's temporary bicycle lane bill (Int. 1163-A. Council Member Ydanis Rodriguez, was joined by colleagues, Transportation Alternative, Families for Safe Streets, and advocates during today's committee vote. The Council will be voting on both bills tomorrow, May 29, at the City Council's stated meeting occurring at 1:30 PM.
Today, introduction 322-A, which currently holds 43 Co-sponsors alongside the support of Speaker Corey Johnson, passed the Committee of Transportation. Int. 322-A, also named the Vision Zero Street Design Standard Bill, will mandate the Department of Transportation (DOT) to develop a standard checklist of safety-enhancing street design elements that the department must consider for major transportation projects. DOT will include the following aspects when redesigning streets:
ADA accessibility
Public amenities
Protected bicycle lanes
Dedicated mass transit facilities
Dedicated unloading zones
Narrow vehicle lanes
Pedestrian safety islands
Signal-protected pedestrian crossings
Signal retiming
Wide sidewalks
In addition to other appropriate street design elements, under legislation 322-A, the DOT would be required to post the standard checklist on its website for public access. Furthermore, DOT would be required to complete a checklist stating which street design elements were applied and justify which elements were not applied. The City of New York has seen a 30% increase in traffic related deaths in the last few years. This legislation will reinvigorate Vision Zero, and ensure that the Department of Transportation looks at all possible redesigning elements, and implement the best solutions thus ensuring the safety of all New Yorkers.
The Committee on Transportation also passed Int. 1163-A, a bill introduced by Council Member Carlina Rivera. The bill will require DOT permit holders who are completing work affecting a bicycle lane, to maintain a temporary bicycle lane until construction is completed. Currently, cyclists are constantly put in danger whenever construction is affecting their lanes. Cyclists are forced onto the streets or sidewalks which puts them at higher risks of running into an accident.
"This bill reflects my top priority as chairman of the Committee of Transportation that is, to ensure that we make our city the most walkable, pedestrian and cyclist friendly in the nation", said Council Member Ydanis Rodriguez, Chairman of the Committee on Transportation. "This important piece of legislation will provide transparency into the DOT's street redesign process. As Chairman, ensuring the safety and efficiency of our streets and public transportation has been my top priority"
"We are grateful to Council Member Rodriguez for championing this new law, which we believe will lead not only to more life-saving and family-friendly street designs in New York City, but also to greater transparency and insight for residents into how transportation decisions are made in their own neighborhoods", said Marco Conner, Interim Executive Director, Transportation Alternatives. "We thank Council Member Rodriguez, Council Speaker Johnson and the entire New York City Council for enacting this critical Vision Zero law."
"The American Heart Association supports the Street Design Checklist bill because daily physical activity, like walking, running, and biking reduces the risk of heart disease, stroke, hypertension, and diabetes," said Yuki Courtland of the American Heart Association's New York City Advocacy Committee. "Having a checklist of best practices for safe streets, like the inclusion of bike lanes, pedestrian islands and other elements that enhance the safety of all road users, would not only reduce injury and death from traffic violence, but also improve health equity in New York City. Creating safe active transportation options for all New Yorkers provides an opportunity for daily physical activity and results in better health outcomes for all New Yorkers."
---